Did you miss the Diesel of the Year? Watch the video here
The Diesel of the year 2023 was awarded to Scania Power Solutions' Next Generation DC13. In this post you will find the video of the award ceremony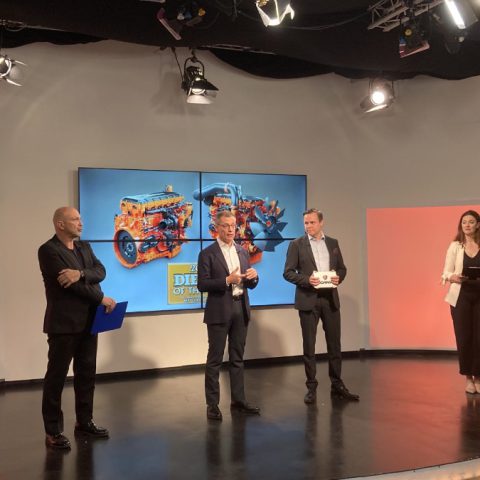 The wait for the Diesel of the Year 2023 award ceremony is over. Scania Power Solutions' Next Generation DC13 received the official endorsement by the jury. The celebration was held at the television studios located in the Milanese broadcasting district. Follow this LINK to land on the recording of the ceremony. Agile, explanatory, which brought together the main protagonists of this event.
Scania Power Solutions Next Generation DC13, Diesel of the Year 2023
The commemorative plaque was received by Johan Thell, Marketing and Sales Area Manager of Scania, supported by Paolo Carri, Power Solutions Director Scania Italy. Leading the dance was Fabio Zammaretti, partner of Vado e Torno Edizioni and President of the jury, flanked by journalists Maria Grazia Gargioni and Fabio Butturi, from the editorial staff of POWERTRAIN magazine.
We give you a preview. When asked about the feedback from the Super, the truck engine from which the Diesel of the Year 2023 is derived, and about the expectations for its industrial applications, Thell commented as follows. "The Scania Super won the Green Truck Award 2022, reflecting the value offered by Scania. As for the first platform feedback of the Next Generation DC 13, it comes from customers, who were impressed by its performance. This engine is based on the same platform as our trucks, but has been specially designed and developed for industrial and power generation applications. The main difference between the truck engine and the industrial engine is power and torque, without compromising fuel efficiency. On our industrial engines we have used high performance turbos to obtain maximum transient response and, in industrial applications, the requirements of our engines are high both in terms of performance and reliability".
How to tackle decarbonisation, here and now
Honoring the merits, in this case of the Scania Next Generation 2023, does not only mean emphasizing the virtuous crossings between the specific curves and enhancing the exuberant performance of the engine. For this, the datasheets are enough. The Scania project, anticipated in the preparation for the heavy Griffin, as can be seen from the words of Johan Thell, expresses its complete relevance in reconciling the needs of end users, in terms of Tco, and those who oversee the environmental emergency. Hic et nunc, equipping a work machine, whether it's a maxi excavator, a power generator or something else, means optimizing the thermodynamic yield. In other words, squeezing the maximum conversion into mechanical energy from the inserted fuel. In a word, efficiency.
This is essentially what emerges from the vision of the award ceremony. An uphill road, the one that the Diesel of the Year 2023 will have to travel, equipped with everything needed to do it in the most brilliant way.