Kohler with Kramer for TH and Wille for wheel loader
Kohler provides Kramer the 55.4 kW KDI 2504 TCR and supplies the KDI 3404 Stage V to Wille Machines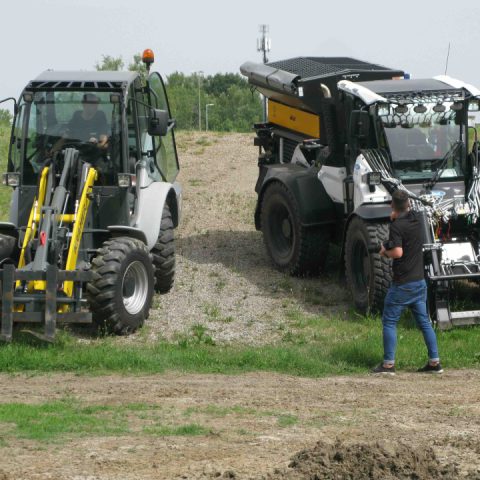 In Reggio Emilia we also observed a case of assonance, since both Kohler and Kramer are names of German origin. Manufacturer of wheel loaders and telehandlers for the agricultural and construction industries, Kramer uses the Kohler KDI 2504 TCR Stage V engine on its Series 5 models 5075, 5085 and 5095.
Kohler supplies the KDI 2504 TCR to Kramer
With an output of 55.4 kW, the KDI 2504 TCR by Kohler provides high-performance efficiency while keeping noise levels low to Kramer. The engine is combined with a DOC and a DPF, enabling it to effectively reduce emissions and meet Stage V standards. The Kohler engine is specifically designed to meet stringent Stage V exhaust emission regulations, ensuring Kramer-Werke's compliance and environmental sustainability. The engine's compact size contributes to the overall maneuverability of Kramer models, enabling them to operate smoothly in typically offroad and dusty environments even with limited space. Despite its compact size, the Kohler engine delivers impressive power and torque, ensuring optimal performance and productivity even at low engine speeds.
Wille Machines, the all-around Finnish
During the field tests we also appreciated the skills of the Wille, a Finnish company as Avant Tecno. Designed to operate in all four seasons, especially in winter when maintenance operations are more demanding and expensive, Finnish Wille needs engines that provide great power but that also respect the environment in which they operate. This dual need is reflected in the choice of a Kohler engine for the Wille 675Δ, a low, agile, multifunctional wheel loader that can work smoothly even in narrow places. The Kohler 3404 Stage V engine is compact, with a layout that facilitates installation. In addition, with a particulate filter and SCR catalytic converter that meets the latest emission standards, this engine makes the Wille 675Δ more environmentally friendly. Kohler allows the use of HVO100. Unlike conventional biofuels, HVO is a renewable fuel derived from biological waste and 100% recycled. Equipped with one of the most powerful operating hydraulic systems on the market, with two hydraulic circuits and a variable displacement pump with load sensing, this machine has a wide range of working attachments available.