ConExpo: Delta-Q Technologies showcases 3-in-1 charging system
Delta-Q Technologies will be exhibiting at ConExpo the new 3-in-1 mid-power charging system, which has now entered into production.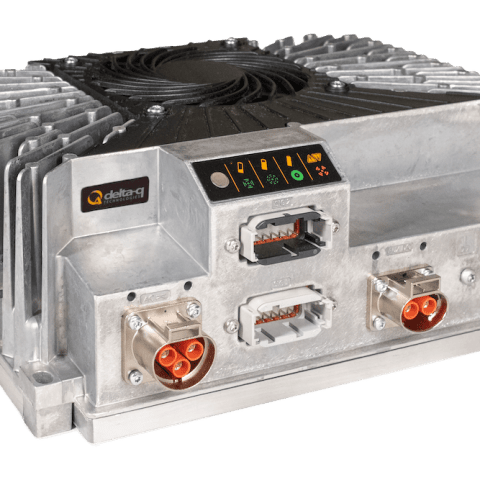 Delta-Q Technologies, a ZAPI Group company, will be exhibiting at ConExpo-CON/AGG 2023 in Las Vegas, Nevada, from March 14-18, 2023. Visitors to the company's booth will have the opportunity to evaluate Delta-Q's major innovation in powertrain electrification as a 3-in-1 mid-power charging system, which has now entered into production.
"We are excited to showcase our range of charging solutions to enable the electrification of the global construction industry," said Lloyd Gomm, Vice President of Business Development and Marketing at Delta-Q Technologies. "The XV3300 will be of particular interest to OEMs looking to easily homologate new electric drive versions of combustion engine-powered equipment."
Delta-Q invites construction equipment OEMs interested in transitioning to electric drivetrains to see firsthand the compact, ruggedized and flexible design of the XV3300. The company engineered the XV3300 to deliver reliable performance even in the harshest conditions. The automotive-grade battery charger includes an integrated AC/DC 3.3kW battery charger, a DC/DC 500W converter (to power the vehicles' auxiliary loads), and an electric vehicle charging station interface for easy charging. It complies with both SAE J1772 (levels 1 and 2) and IEC 61851 (modes 2 and 3), enabling it to charge from standard electric vehicle AC charging stations across North America and Europe.
Delta-Q is rolling out a series of webinars focusing on the XV3300 and how the company designed the solution to withstand harsh operating environments. The webinars will also cover how to identify the most critical design decisions and trade-offs required to build a durable, compact electric machine. The next webinar is scheduled for April 5, 2023, at 8 a.m. PT/11 a.m. ET/17 p.m. CET. Register here.