[Global Data] Electric vehicles discussions in APAC region up by 28% in 2022
Discussions around EVs in the Asia-Pacific (APAC) region grew 28% year-on-year in 2022, reveals GlobalData, a leading data and analytics company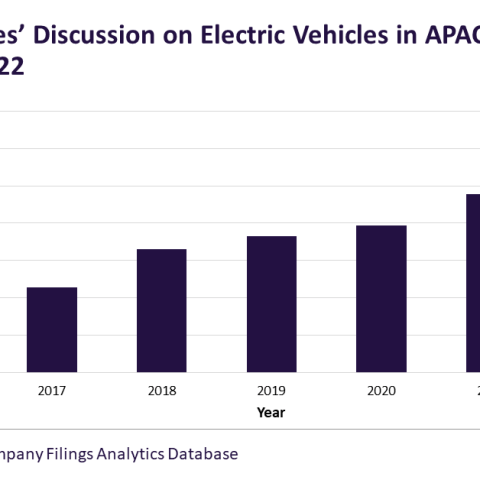 Amid the surging gas prices and energy shortages companies continue their efforts to enter the electric vehicles (EVs) market. EV is considered the next big environment, social, and governance (ESG) investment. These zero-emission vehicles are thought to be the transportation of the future and can aid in global decarbonization. Against the backdrop, discussions around EVs in the Asia-Pacific (APAC) region grew 28% year-on-year (YoY) in 2022, reveals GlobalData, a leading data and analytics company. 
An analysis of GlobalData's Company Filings Analytics Database shows that the top five APAC countries with electric vehicle discussions are India (320), China (154), followed by Australia (128), Hong Kong (124), Taiwan (99), and Japan (68).
Misa Singh, Analyst at GlobalData, comments: "Along with EVs, the discussion around EV-related infrastructure is also picking pace, as companies are concerned about the charging infrastructure. There is heavy investment in battery manufacturing as the demand for lithium-ion batteries is on the rise due to the growth in EVs. Furthermore, companies are looking forward to hydrogen fuel cell electric vehicles (HFCEV)."
India-based Mahindra and Mahindra is betting big on EVs. The company's ambitious R&D facility Mahindra Research Valley (MRV) in Chennai is hiring 900 engineers to develop new electric product capabilities and strengthen EV skills. The company plans to have a lineup of five electric SUVs by 2026-2027 – four ground-up EVs while the fifth one will be XUV4OO, the electrified and the larger version of the XUV3OO.
Zhongsheng Group Holdings, a Beijing-based automotive retail and services company, mentioned that the group's sales volume of EVs increased by 54% in the first half of 2022. XPeng Inc, a China-based smart EV company, discussed the delivery of 98,553 EVs during the first three quarters of 2022, a growth of 75% from the same period last year.
Viva Energy Australia Group believes that hydrogen fuel cell electric vehicles (HFCEV) are a growing market with strong long-term growth potential for heavy vehicles.
Hong Kong-based CLP Holdings discussed a joint venture with the manufacturer of smart equipment Qingdao TGOOD Electric Company for launching electric vehicle charging networks.
Gogoro, a Taiwan company says that the company and the company's vehicle partners' market shares increased, and in the first nine months of 2022, accounted for 92.4% of all sales of electric vehicles.
Japanese automobile giant Suzuki Motor Corp is investing $100 million in EVs and battery manufacturing. By 2025, the company also intends to launch EVs in India.
Singh concludes: "EVs are progressively taking the lead in driving the automobile industry's development in the current era of innovation. Companies are investing in this climate-friendly technology as they are cost-effective and reduce energy consumption and emission."