Bimotor Raywin and Genoa Boat Show
Bimotor and Raywin will attend Genoa Boat Show, what's going to start on Thursday October 1st. It is a premiere for Raywin at Genoa Boat Show. On show will be the 4-cylinder (3 is also available), 2.45 liters displacement, turbocharged, RCD II compliant. Bimotor and Raywin at the Genoa Boat Show's Power Village Bimotor and […]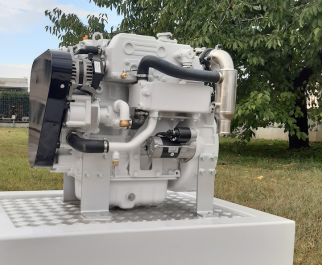 Bimotor and Raywin will attend Genoa Boat Show, what's going to start on Thursday October 1st. It is a premiere for Raywin at Genoa Boat Show. On show will be the 4-cylinder (3 is also available), 2.45 liters displacement, turbocharged, RCD II compliant.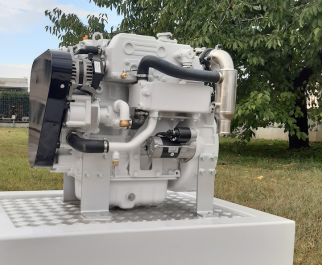 Bimotor and Raywin at the Genoa Boat Show's Power Village
Bimotor and Raywin at the Genoa Boat Show. Raywin marine engines for propulsion application as well as auxiliary power units (9 to 40kVA), is the most valuable solution, in the lower power range, from 65hp (48kW) down to 20 hp (15 kW), optimized by NVH, low noise, low vibration and small heat load, reaching the advanced level of similar premium brands models; the Raywin marine portfolio is compliant with RCD-II certification for pleasure applications.
On the Show, Bimotor exhibits the 2.45l, 4 cylinders, turbocharged, equipped with the heat exchanger, sea water pump, water cooled exhaust and the Stanadyne DB rotary injection pump. Equipped with SAE#4/7.5" flywheel, the engine has excellent propulsion characteristics and can be used as the main power of small ships and speedboats as well as for OBG.
Also pod at Bimotor booth. With Konrad Marine
Since 1991 combining state-of-the-art technology with decades of knowledge and experience, Konrad Marine produces the largest, strongest gears possible for marine applications. Konrad gears significantly reduce force on the bearings; optimally distribute the load and provide extraordinary shock absorption; thus increasing the life of internal components, and ultimately the entire drive system. Designed for heavy duty commercial applications, Konrad Stern Drive offer outstanding control, longevity and performance with torque and power of diesel engine up to 570hp (419kW). On the Show, Bimotor presents the 680B model: with twin counter rotating stainless steel propellers up to 18,5″, integrated hydraulic steering system this model operates with extreme efficiency up to 40knots.