Cox Marine will attend Cannes Yachting Festival
At the stand (QML 344) at Cannes Yachting Festival Cox Marine will show the CXO300 outboard engine with the new regional sales team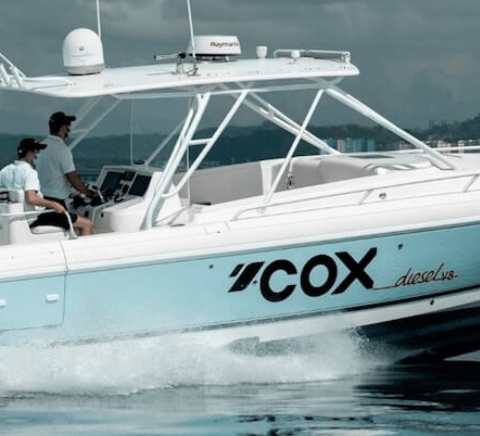 Because Cox Marine is determined to emphasize his presence in the recreational field, he will exhibit at Cannes. The British engine manufacturer is a strong alternative to inboard engines non just for some commercial marine applications.
Cox Marine goes to Cannes with new EMEA Team
The Cox Marine regional representatives will be led by recently appointed Sales Director Harry Heasman and Sales Manager Pedro Almeida, who will be on hand for scheduled meetings throughout the show from 6th to 11th September. Under the spotlights the CXO300 diesel outboard engine.
Harry Heasman, Sales Director for EMEA
"We are delighted to offer the chance to book appointments with our new sales team at this year's Cannes Yachting Festival. I am looking forward to talking to current and new customers, and industry partners about the many benefits of the CXO300. We want to highlight how we are working to improve the marine industry with convenient and responsible technology, offering reduced emissions, better fuel economy, increased safety and high performance" said Harry Heasman, Sales Director for EMEA.
CXO300 in a nutshell
According to the manufacturer, the engine produces 20-35% less CO2 emissions than comparable gasoline outboards, contributing to global efforts to protect natural environments. Delivering 650 Nm torque at 2250-3000 rpm, the high-powered CXO300 allows your vessel to move through the water in a much more controlled and smooth manner, while also meeting the demands for a high performing outboard engine and ensuring safety and convenience at the same time. With up to 30% better fuel efficiency compared to a 300hp gasoline outboard, and with a service life that is three times your average outboard, the CXO300 not only provides unique fuel savings, but it also provides exceptional total cost of ownership savings. To ensure the CXO300 is a clean burning engine, it has been put through a series of rigorous testing programmes and has successfully achieved EPA Tier 3, RCD II, IMO II and BSO II.