Saim Marine presents Dynamica Mini 150
Saim Marine presents Dynamica Mini 150V 15 kW, a new model in the innovative range of variable speed generators, which uses an inverter as the last stage to produce the output current. Kubota 3-cylinder engine, permanent magnet alternator, it is designed for medium-large size boats and ensures optimal performance with reduced consumption and noise emissions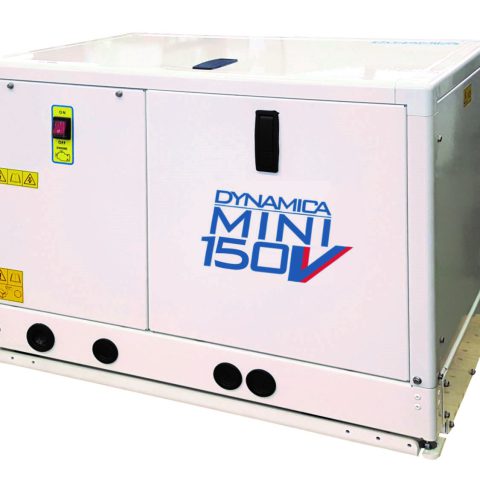 The V range of Dynamica generator sets, distributed by Saim Marine, adds a new model to the existing ones. The latest addition, the Dynamica Mini 150 V, with a maximum output power of 15 kW, thus becomes the largest in the range that includes the smaller Mini 60 V, 90 V, 100 V and 120 V.
Like the other models of the V line, Dynamica Mini 150V works by providing the coupling of an inverter for the creation of the final voltage to the traditional pair of internal combustion engine and alternator in order to obtain optimal performance associated with higher comfort.
Dynamica Mini 150V is equipped with Kubota diesel engines, of the D1105-E4 series, with 3 cylinders, with variable revolutions between 2100 and 3150 rpm depending on the loads on board. Depending on the electrical equipment connected, and the consequent lower or higher energy demand, the generator adjusts itself accordingly and calibrates the engine revolutions, to ensure the necessary frequency and voltage stability and at the same time favoring an optimal level of comfort.
Dynamica Mini 150V is equipped with an extremely compact permanent magnet alternator (PMG). The inverter represents the final stage for generating the output current. It also allows parallel connections with other Dynamica generators and use with hybrid/electric propulsion systems. The parallel connection with other Dynamica generators of equal power takes place via a simple cable, thus obtaining double the power, the immediate synchronization of the two generators or the master/slave configuration.
The variable speed guarantees lower fuel consumption, reduced atmospheric emissions, less frequent maintenance requirements, lower noise emissions.
The cooling system takes place through a water/glycol or air/water heat exchanger. Its installation is simple, does not require large volumes in the engine room and is independent from other boat systems.
Designed to function correctly up to a maximum inclination of 30°, the generator is equipped with a double anti-vibration system: the first to reduce the level of vibrations deriving from the engine and the alternator towards the frame and the second to absorb residual micro-vibrations between the frame and the structure of the boat.
The generator is equipped with an electronic control panel for complete monitoring of its parameters, including maintenance alerts. The soundproof cabin makes the Dynamica Mini 150V among the quietest on the market, with emissions of 56 dB (A) at 7m.