Baudouin and power generation in 2023
Fabrizio Mozzi, CEO of Baudouin Moteurs, tells us about the 2023 and the main topics of the French company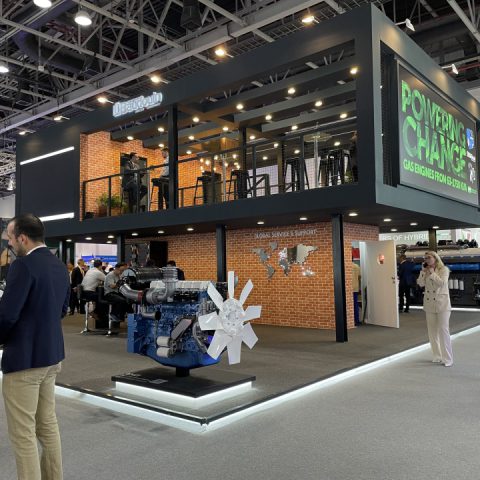 Four months have passed since Middle East Energy 2023, but the words of Baudouin CEO Francesco Mozzi are still relevant. We offer a vision that goes beyond mere product news, which we told you about in this POST.
Baudouin and 2023. A look into the future starting with the last three years
"As with most companies we have had to adapt to a partially remote working model, without altering our customer focussed approach. We have managed this through the utilisation of new tools and a continued focus on customer engagement and have established processes and working models that have improved efficiency within the business. We have also had to change our approach to our supply chain, with a focus on logistics and maintaining industry leading product lead times. We have not suffered too much from manufacturing issues and have been able to address any potential lead time impact through an increased focus on forecasting and stock control. These initiatives have enabled us to remain very competitive and service our customers continuously, even though we are aware of competitor issues in this area. We have also been focussed on the timely delivery of products to our customers who are addressing Power issues in Ukraine, and have made this an area for specific effort."
What are key themes/trends in the power sector in 2023?
"Critical power provision and energy security continue to be key trends in the power sector. We are also addressing an increased focus on decarbonisation and emissions reduction through the provision of regulated engines and alternative fuel options, such as biogas. We continue to monitor the emergence of alternative new energy technologies and through utilisation of the large Weichai New energy product portfolio, will enter relevant areas at the appropriate time."
What are R&D and technological focus areas for your business?
"Emissions reduction through in-cylinder and aftertreatment technologies continue to be a focus, along with the ability to operate on alternative fuels such as biogas. These developments apply to both our Diesel and Natural Gas products. We are also developing Hybrid, Pure Electric, and Hydrogen alternatives to allow our customers flexibility in their offering and to address the growing carbon reduction focus in the market."
What impact is the energy transition towards renewable energy/lower carbon emissions having on your business? What challenges/opportunities does it bring?
"We consider the energy transition to be significant opportunity for Baudouin. We have the benefit of a parent company which is highly involved in all areas of the transition, from Battery Packs to Hydrogen fuel cells. We are discussing potential opportunities with our customers for the provision of a number of solutions incorporating 'New Energy' products, focussing on reduced emissions and increased efficiency. We already have the ability to operate with low carbon fuels, such as biogas, and consider the integration of alternative generation and storage technologies into our product line to be the next steps."