Himoinsa: Rental Tour gets under way in Spain
Designed to promote its Mobile Power products in collaboration with Repsol, the Himoinsa's roadshow began this week in Valencia and Barcelona and will run until the end of May, visiting such cities as Oviedo, Bilbao, Madrid, Seville and Malaga.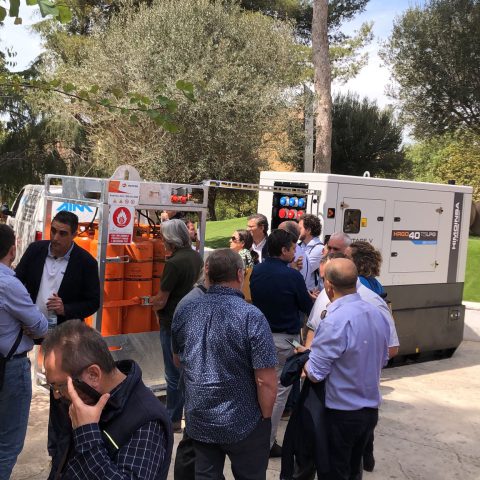 Himoinsa has this week embarked on its "Rental Tour" of Spain. Designed as a way to promote its Mobile Power products, this roadshow kicked off in Valencia and Barcelona and will tour the country between now and the end of May, taking in such cities as Oviedo, Bilbao, Madrid, Seville and Malaga.
The company normally hosts an annual event to which it invites rental companies from all over Spain and Europe, but this year it has decided to hit the road and to take its Mobile Power products to rental and construction companies, making stops in different autonomous communities. "We have a comprehensive portfolio of products for the rental and construction sectors, as well as new equipment that significantly reduces the carbon footprint and sound emissions. That's why we have decided to take this comprehensive power solution to our customers all over the country,"explains Juan Ignacio Perona, Sales Director of Himoinsa Spain, who also stresses the company's ongoing commitment to making sure such customers are well aware of the company's new technologies and after-treatment systems for Stage V generator sets, as well as the electrification strategy that the company has implemented in its roadmap to reduce emissions in this energy transition process.
"Rental Tour" attendees will be able to benefit from product demonstrations and discover all the advantages of Himoinsa's (Stage V Compliant) gas and diesel generator sets, lighting towers (HBOX+) and battery power storage systems (EHR | Battery Power Generator). 
This event also includes the participation of Repsol, the multi-energy company that is leading the energy transition and has set itself the goal of achieving zero net emissions by 2050. Himoinsa and Repsol have signed a collaboration agreement to offer turnkey solutions to customers interested in acquiring LPG generator sets, ensuring both the availability of equipment and the supply of propane gas to them.
During the roadshow, visitors will discover the entire solution which consists of a Himoinsa generator set – the available range runs from 30 to 110 kVA – and Repsol's officially approved metal structure which includes 9 canisters of 35kg propane gas, easily transportable and  expandable in case the customers need more supply capacity.