MEE: Volvo Penta strengthens genset range with new 200 kVA D8
Volvo Penta is introducing a new 200 kVA D8 Stage II engine to its industrial genset product portfolio. The 8-liter power generation engine offers exceptional power density and a compact size, combined with low fuel consumption and noise levels.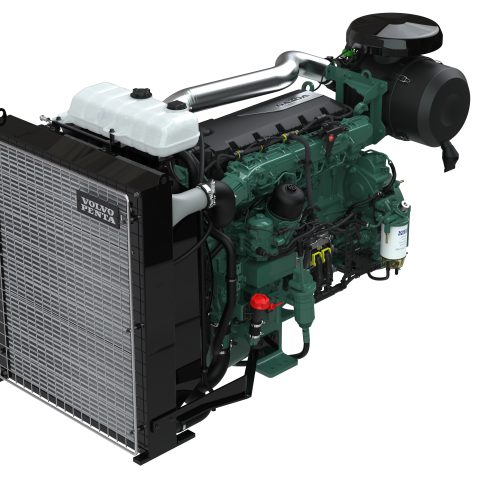 Volvo Penta 's new 200 kVA D8 Stage II engine further strengthens the company's robust range of industrial genset engines and boasts up to a 8% reduction in fuel consumption per kWh, compared to the D7 model it replaces. The D8 is now available in four power nodes: 200, 253, 303 and 326 kVA at 1,500 rpm (50 Hz) at prime power to meet different application configurations. 

"The D8 is based on mature technology concepts that have undergone significant testing and real-world use throughout the Volvo Group," says Kristian Vekas, Product Manager at Volvo Penta. "It has been built with a high power to weight ratio, giving it excellent power density and a compact design for its power class. It has been designed for quick, easy and economical installation as well as ease of operation and maintenance." 
Volvo Penta D8: exceptional fuel efficiency 
The D8 Stage II engine features state of the art, high-tech diesel fuel injection and charging systems with low internal losses, contributing to excellent combustion and low fuel consumption. It has been built on the dependable in-line six cylinder design and has been developed to produce smooth operation with low noise levels. 

Like all Volvo Penta genset engines, the new unit complies with the most-stringent ISO8528 G3 standard for load acceptance, a measure of how quickly it can meet power demand in response to a blackout. 

As is the case with the entire Volvo Penta power generation range, the D8 is backed by an aftermarket ecosystem that includes extended coverage alongside the company's extensive global network of dealers – to secure performance and uptime. 

The new D8 200 kVA engine will be on display at Volvo Penta's stand at the Middle East Energy (MEE) exhibition in Dubai, from March 7th-9th.