Perkins 4006-E23TRS4
Perkins 4006-E23TRS4 was unveiled at Key Energy in Rimini in a new calibration. The six cylinders version belongs to a power range between 300 an 400 electric kilowatt, the oil consumption is 0.1 g/kWh. Perkins updates the 4000 gas series introducing the 22.9 liters, 423 kW hexacylinder manufactured in Stafford (Uk). We met Paolo Pedrotti and […]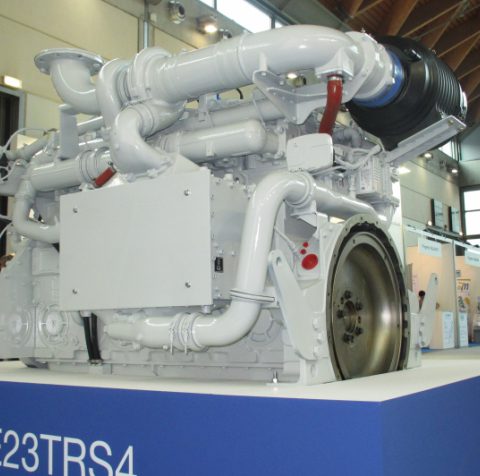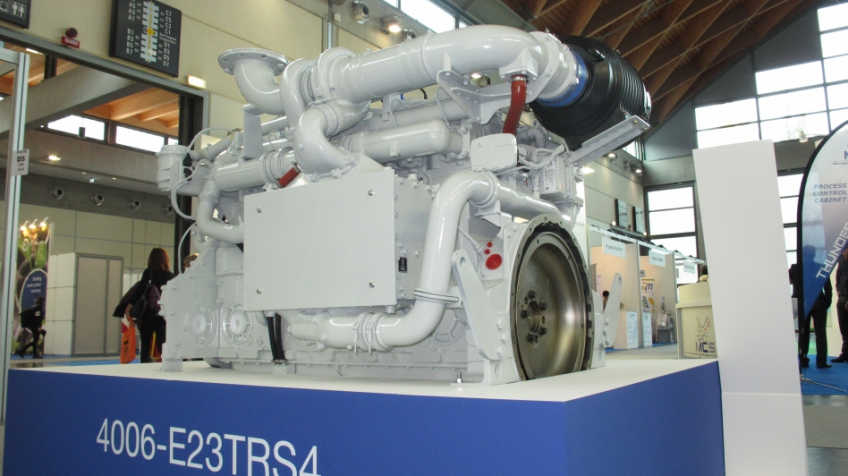 Perkins 4006-E23TRS4 was unveiled at Key Energy in Rimini in a new calibration. The six cylinders version belongs to a power range between 300 an 400 electric kilowatt, the oil consumption is 0.1 g/kWh. Perkins updates the 4000 gas series introducing the 22.9 liters, 423 kW hexacylinder manufactured in Stafford (Uk). We met Paolo Pedrotti and Thomas Stuber, Application engineer and Sales manager gas engines of Bu Power.
Perkins 4006 in few answers
How would you describe the 4006 in a nutshell?
Perkins 4000 Series gas engines cover the range from 322 to 1042 kWm or approx. 300 to 1000 kWe, depending on generator efficiency. The new 4006-E23TRS3 and TRS4 cover 300 and 400 kWe. Perkins 4006 have been designed specifically for cogeneration applications with a class leading mechanical efficiency of up to 42.5% and a 2-stage charge cooler. It is based on the very successful TESI and current TRS technology which has been around for more than 20 years now. Electronically controlled ignition system with single cylinder ignition coils. The cooling system requires 3-Way-Valve operation.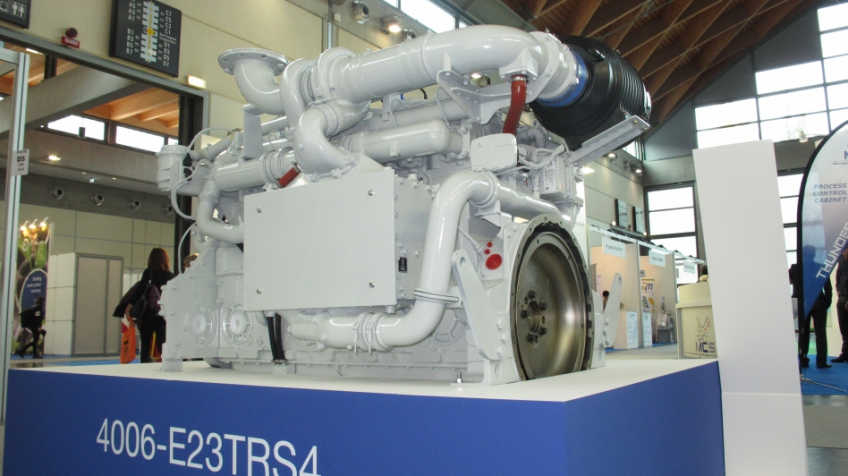 Other structural improvements?
The latest generation turbochargers bypass system, graphite piston jackets, improved flow geometry of the exhaust manifold to improve mechanical efficiency, two-stage cooling for maximum heat recovery and better design of spark plugs and wiring.
Engineering improvements
Are manifold and electronics the same as the other units of 4000 series?
The exhaust manifold features a 'splitted' design that improves gas flow. Electronics includes a Lecm Woodward full authority management system managing all engine related processes, e.g. speed and AFR control, ignition, misfire detection and knock protection.
Filtration and cooling solutions?
The updated Powercore filter and two-stage cooling for improved thermal efficiency.
Power density?
Engines still show a relatively moderate mep, up to 14.8 bar, while getting excellent results in terms of performance. Low mep guarantees great margins. We also expect excellent maintenance intervals.
And what about oil consumption?
This motor has shown during tests low oil consumption, at the top of its range, about 0.1 g/kWhr (27% improvement in oil consumption compared to current engine).
Possible applications in smart grids and data centers?
Regarding the first one, it depends on economic parameters such as fuel price, taxes and expected operating hours, but we are witnessing many projects based on gas, for example in the UK under the UK Capacity Mechanism. Speaking of data centers, however, they are generally not supported by gas engines, even if there are some trigeneration projects with absorption chillers in order to reduce environmental impact. These engines are often used also for back-up purposes.