Towards "green" construction sites with Liebherr energy storage systems
Construction sites often have limited access to the electricity grid, and sometimes have none at all. Liebherr's Liduro Power Port (LPO) is a mobile energy storage system for supplying construction sites.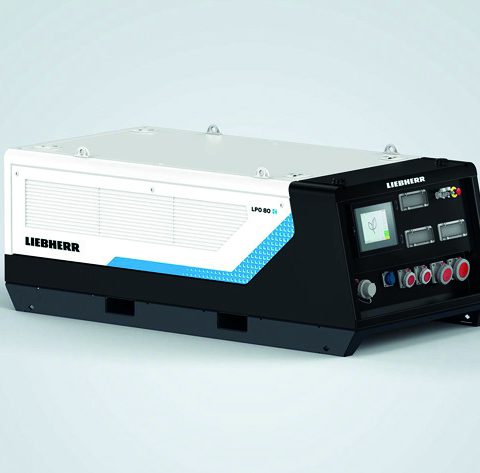 The Liebherr Liduro Power Port (LPO), which will be presented at the next bauma, is a mobile energy storage system for the supply of construction sites. Hybrid or fully electrically powered construction machinery and equipment can be operated or charged locally emission-free with the mobile energy storage system. The high power density and compact design of the LPO enable efficient and flexible supply to machines and construction sites with a wide range of power requirements. Its constant power output reaches up to 120 kW.
Construction sites will see an increasing need for further electrification in the coming years, as local and global climate targets for emission reduction are being imposed on the construction sector worldwide. The battery-based energy storage system Liduro Power Port enables locally emission-free operation and charging of electrified machines and, thus, supports the reduction of overall emissions in cities. Emissions, such as engine noise, particulate matter, CO2 and others are still primarily caused not only by mobile machinery, but also by diesel generators.
Liebherr: efficiency and market-leading power density
Construction sites often have limited access to grid supply, sometimes none at all. Therefore, the challenges on electrified construction sites are the operation of machines at maximum power, charging of numerous machines during break times, and smoothing of load peaks. With a current market-leading power and energy density, the LPO offers a highly efficient solution for the mobile supply of machines with a wide range of power and load peaks.
Starting from 2023, the series product will be available in various power ranges with up to 120 kW/kWh. It can be charged at up to 32A and deliver power to loads via multiple connections that can be used simultaneously: 16A / 32A / 63A / 125A. The LPO can also be charged and discharged at the same time. The energy and condition monitoring is handled via the local control and, additionally, via a remotely available app for smartphones and tablets.
Economy and mobility
The energy storage system can supplement an insufficient grid connection or be used as an isolated grid when there's no available grid connection. By using the LPO as a supplement to the grid connection, the dimensioning of the grid connection power can be significantly reduced, as the energy storage unit covers the load peaks of the machines.
On construction sites, high load peaks and, on the other hand, longer periods with very low power requirements are common – for example, for lighting or small appliances. The mobile energy storage system supplies power on demand and without surplus, offering an optimal price-performance ratio. Compared to a diesel generator, which has a consistently high consumption of fossil energy regardless of its consumers, the LPO delivers power with a significantly higher efficiency and without idle phases.