[GlobalData] Peru needs challenging targets for non-hydro renewables
According to GlobalData, the National Energy Plan of Peru set a target of 60% power generation from renewable sources by 2025 and it includes 55% generation from large hydro. The 2025 target has already been achieved, but the country needs challenging targets for non-hydro renewables to overcome dependency on conventional sources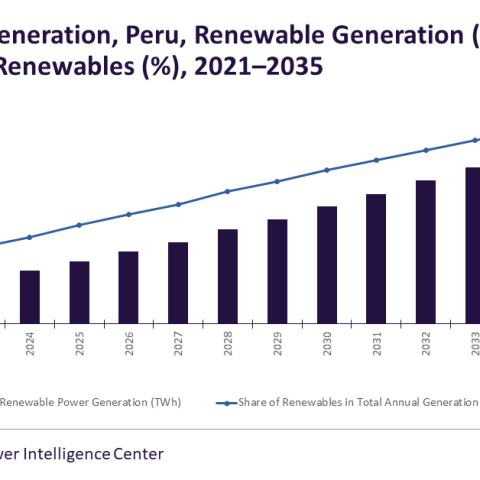 According to GlobalData, the National Energy Plan of Peru set a target of 60% power generation from renewable sources by 2025 and it includes 55% generation from large hydro. By 2030, the country expects that the non-hydro renewable energy contribution will increase from 5% to at least 20%. The 2025 target has already been achieved, and the 2030 goal is quite achievable. Against this backdrop, the country needs challenging targets for non-hydro renewables to overcome dependency on conventional sources (thermal and large hydro), which accounted for 90.8% of the annual generation in 2021. 
GlobalData's latest report, 'Peru Power Market Size, Trends, Regulations, Competitive Landscape and Forecast, 2022-2035', reveals that Peru has significant hydropower potential that has led the technology to become a primary source of power generation, accounting for 52.7% of the total annual generation in 2021. By 2035, hydropower and renewables are expected to account for 44.2% and 26.9%, respectively. However, hydropower is not a dependable source, and its generation fluctuates based on the availability of water. For instance, hydropower generation was adversely affected by drought conditions in 2012.  
Attaurrahman Ojindaram Saibasan, Power Analyst at GlobalData, comments: "Although the Peruvian government adopted competitive auctions for renewables as early as 2009, the growth of renewables was not prioritized due to the availability of easy options such as the development of hydropower and gas-based thermal power. Further, the discovery of natural gas in the Camisea Basin affected the growth and development of non-hydro renewable sources. Lack of a clear energy strategy or long-term plan restricted renewables from reaching its potential. Attractive incentives for gas-fired power plants further discouraged investors from investing in renewable technology. Another factor that hampered the development of renewable technology was the limited access to long-term financing to fund projects. Renewables accounted for 9.2% of the total annual generation in 2021."
The current geopolitical crisis that is leading to a rise in energy prices creates an urgency for Peru to hasten its renewable development, and it also presents an opportunity to reduce its natural gas consumption for power generation and make it available for exports. The government introduced net metering in 2018 to promote the adoption of renewables. There is immense potential for the development of renewable power, especially solar PV. In 2021, solar PV accounted for 24% of renewable capacity, which is expected to reach over 50% by 2035.
Saibasan concludes: "The Peruvian government should look to impose challenging renewable targets, create a healthy ecosystem that enables long-term finances for renewable projects, and encourage foreign and private investments by providing tax breaks and incentives for renewable power development. Apart from creating an end-to-end policy focusing on the development of renewables, the government should also ensure the renewable auctions are conducted on time without delays."