Tekne participated in the Dakar 2021. And the Kamaz trucks filled the podium
Tekne took part in the Dakar 2021, run for the second time in Saudi Arabia, with its new 7.5-tonne Graelion 4×4. The great classic of the beginning of the year ended on 15 January. In the category reserved for trucks and pick-ups, Tekne, a well-established Italian company, specializing in the design and manufacturing of special […]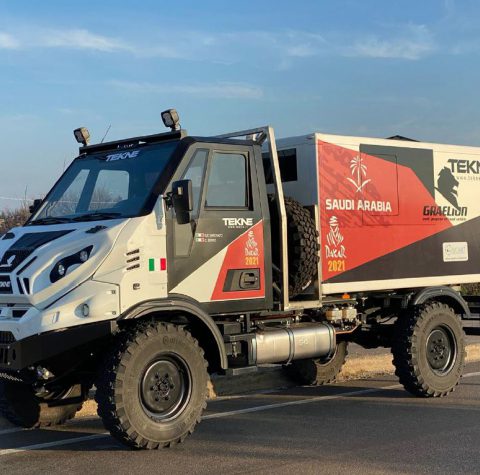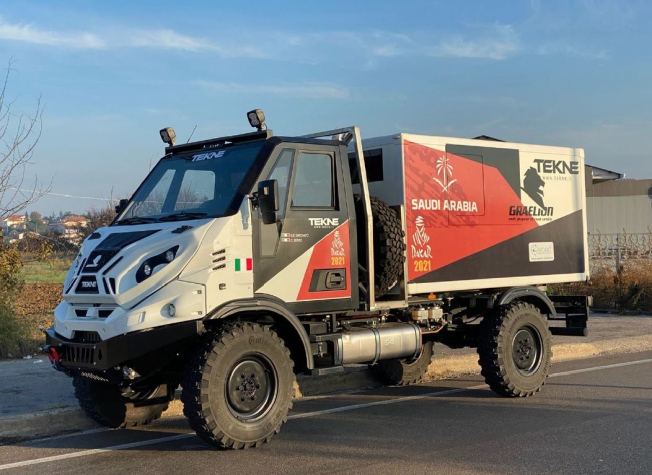 Tekne took part in the Dakar 2021, run for the second time in Saudi Arabia, with its new 7.5-tonne Graelion 4×4. The great classic of the beginning of the year ended on 15 January. In the category reserved for trucks and pick-ups, Tekne, a well-established Italian company, specializing in the design and manufacturing of special vehicles and electronic systems for civil and military use, took part as an explorer with one of its heavy vehicles, a heavy-duty Graelion 4×4, designed and manufactured in Italy.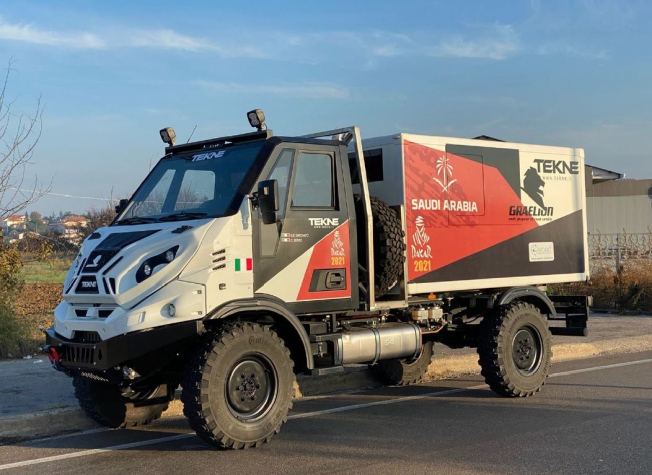 The Graelion that raced for Tekne at the Dakar 2021
The Graelion tackled the Dakar 2021 routes in an exploratory, non-competitive way, challenging the pitfalls hidden behind each dune. Power was generated by a 3-litre FPT Industrial engine, ZF manual or Allison automatic transmission, 2-speed gearbox/transfer and Tekne double reduction portal axles, high-strength steel chassis with side members, Wabco braking system and off-road tyres.
The vehicle used on the Arabian routes was presented in its standard configuration and fitted with a specific box to contain accessories and mechanical equipment, in order to remain autonomous during the 15 days of competition in the middle of the Saudi desert. The Tekne vehicle will probe the terrain, collecting valuable data, also in view of the new categories that may be included in the Dakar in the coming years.
The final results among the trucks: authentic Russian domination
Talking about the race, it was once again Kamaz vehicles that dominated, with the all-Russian crew (Sotnikov, Ahmadeev and Akhmetzianov) who won in the end. The Kamaz crew led the chart from start to finish, never giving the impression that they could be beaten. This was Dmitry Sotnikov's first victory in the Dakar.
At the end of the race, he held a 40-minute lead over another Russian crew aboard a Kamaz led by Anton Shibalov. Same colors and same language on the third step of the podium, with another Kamaz truck driven by the Russian Airat Mardeev.