Honda eGX: a vision for 2030
With the eGX, the new advanced electrified power unit, Honda is supporting OEMs in commercial markets in their efforts to meet increasingly stringent regulatory standards while expanding their portfolios with strategic developments such as developing more battery powered products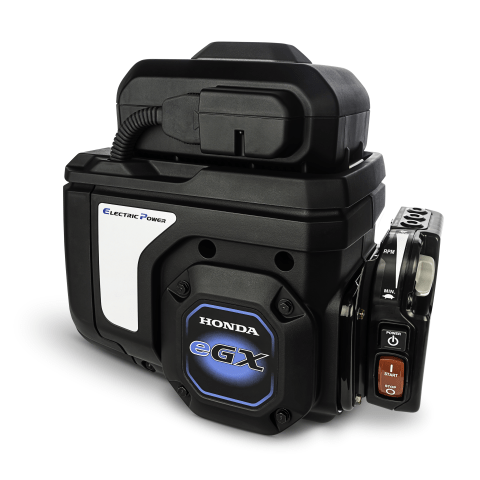 Almost a year has gone by since June 2021, when Honda put eGX on the Japanese market. From then on, the electric version of the GX platform reached the Western world, on both the European and the North American sides of the ocean. The eGX hit the stages of the World of Concrete Show in Las Vegas and EIMA in Bologna. Engines below 19 kW have now become a fixed target of electrification; petrol-fuelled single-cylinder engines can't escape the encirclement, either.
In the recent past, Honda has managed to repel the attack on the stagecoach by its low-cost competitors (basically those Made in China shelf products) counting on quality and reliability. The competition from small electric engines, instead, can only be handled through cooptation. The eGX boasts a three-phase brushless DC motor, an output of 1.8 kW, a high-rigidity sealed structure for vibration and dust resistance. It comes in an integrated and a separated version. Running at 3,000 to 3,600 rpm, the 2kW class motor features internal and external cooling fans to dissipate heat. The integrated motor, power drive unit (PDU) and battery pack incorporate rubber mounts that absorb vibration resulting in less operator fatigue and longer product life. In the separated type, the motor is compatible for use on rammer products. The motor's PDU incorporates a silicone seal and durable condenser that contribute to resistance to water, dust and vibration for reliability and high output.
The Honda eGX also meets IEC62841-1 compliance. To provide the Italian audience a better snapshot of this unit, we turned to Honda Motor Logistics. A first reassuring comment is about size. "The motor is interchangeable with conventional GX petrol engines with respect to engine flange mounting holes and dimensions in general. This applies to the 120cc as well as to the 160 and 200cc models. Designed with a lithium-ion battery pack that's detachable and compatible with high-speed chargers, this motor was born with building sector applications in mind, and it is available as a separated version – featuring the motor and a separate battery pack holder – and an integrated one. It finds its natural home in construction applications, but tests are also being carried out with gardening units such as walk-behind leaf blowers, bio-shredders and motorized wheelbarrows. Right now, the only limit is our customers' imagination."
So you kept the same footprint as other versions?
Indeed, we used the space that's left after removal of tank and air filter to place the battery in, thus creating an interchangeable product – despite the price tag still playing against the electric version. On the other hand, with standards imposing zero tailpipe emissions, the eGX becomes a mandatory solution.
About applications, you were saying?
The primary targets include vibrating plate compactors or vertical rammers, motorized wheelbarrows, walk-behind leaf blowers, scarifiers, bio-shredders.
What about power sources?
Honda tackles this crucial issue with a synergic, cross-cutting approach. The general idea is to develop portable powerpacks (see box). eGX motors are made in Japan, while the batteries and battery chargers are provided by a Chinese supplier based on Honda specifications. In Europe we offer a three-year warranty on motors and a two-year warranty on the battery and battery charger.
What follows herebelow is the very voice of the Honda headquarters.
"Today's environment is shifting supply and demand toward zero emission products. But reducing operational greenhouse gas emissions is only part of the picture: battery powered power products must meet rugged performance standards required by owners while making the equipment easier for operators to use. With this new, advanced electrified power unit, Honda is supporting OEMs in commercial markets in their efforts to meet increasingly stringent regulatory standards while expanding their portfolios with strategic developments such as developing more battery powered products, enhancing service offerings, and expansion, collaboration and partnerships with customers and suppliers," said William Walton, Vice President, Honda Power Equipment.