Jakob Antriebstechnik works in "confined spaces"
Jakob Antriebstechnik and the KG series Modern mechanical engineering typically aims at reducing outer masses while maintaining a constant, or even increasing, power density. With the bellows coupling KG series, Jakob Antriebstechnik is trying to achieve the goal of reducing the dimensions while keeping a high power density. The KG series, also optionally available in […]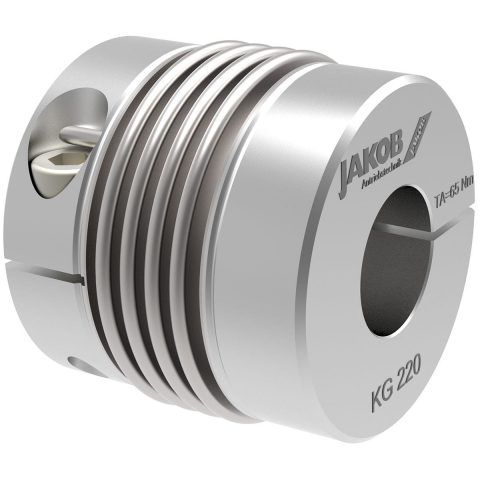 Jakob Antriebstechnik and the KG series
Modern mechanical engineering typically aims at reducing outer masses while maintaining a constant, or even increasing, power density. With the bellows coupling KG series, Jakob Antriebstechnik is trying to achieve the goal of reducing the dimensions while keeping a high power density.
The KG series, also optionally available in stainless steel as KG-VA series, has the objective to meet the high requirements of the market. The transmission is made via torsionally rigid, two- or four-shaft stainless steel bellows, the couplings are available for torque ranges from 5 to 1300 Nm as well as shaft diameters from 6 to 90 mm. It can be used at temperature ranges from -40°C to +350°C.
One side is designed as a customer-specific flange or hub for the machine-side connection, the radial clamping hub of the other side facilitates easy and fast assembly and guarantees a secure and force-transmitting transmission of the torques, even without a keyway.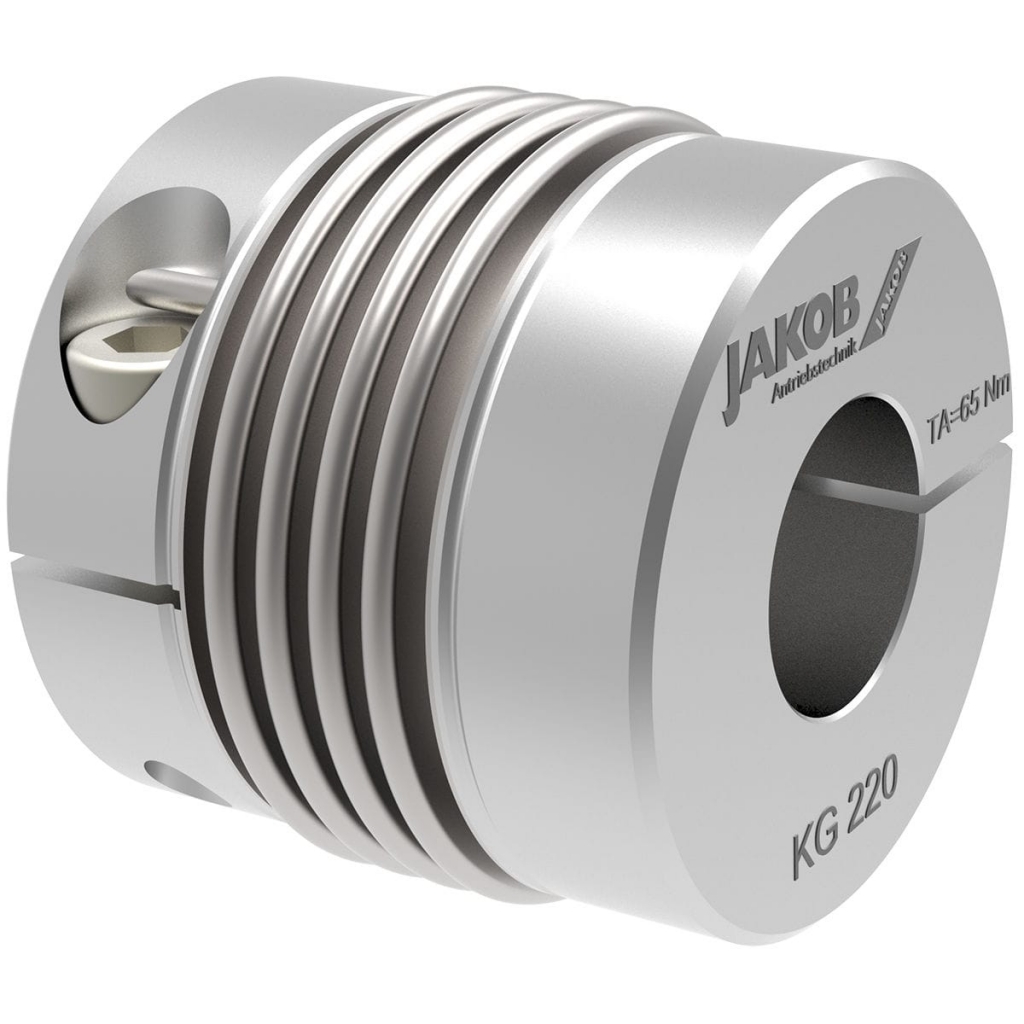 The connection between bellows and hub is made by a micro-plasma welding process. This offers constructive advantages, such as the reduced overall length. The coupling is absolutely backlash free, high concentric and has maximum torsional stiffness.
The couplings are particularly suitable for use on the input side of low-backlash worm or planetary gear units. In stainless steel, they are qualified for transport, packaging and filling plants in the food industry. But also in the metallurgical industry, the galvanic industry, the vacuum sector or the area of ​​satellite technology equipment, stainless steel bellows couplings are usually preferred.
About Jakob Antriebstechnik
Jakob Antriebstechnik has over 40 years of experience in the sector and today, they are able to offer a complete range of couplings available for drive technology. Jakob power clamping elements are used in heavy-duty cutting machines for positioning and clamping of work pieces up to 400 metric tons.
The group aims to develop robust and reliable components for work piece and tool clamping. The newly-developed motor-spindle safety system offers the optimal safety solution for collision protection. The sectional rail coupling Pkv (vertical) and Pkh (horizontal) is one of the newest products, typically used for the low-cost connection of sectional rail systems (e.g. in transfer presses).

MORE FROM THE WORLD OF COMPONENTS: DANA AND ELECTRIFIED SPICER