Petronas: between technology and sustainability
Petronas Lubricants International participated in Autopromotec (Bologna) with many new products and with a "green" footprint. We talked about it with Domenico Ciaglia, Managing Director EMEA.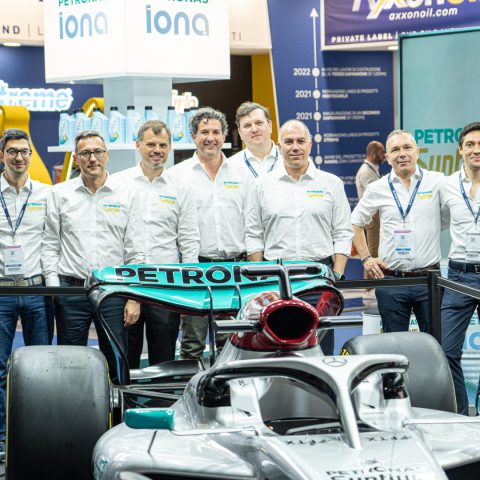 This year there have been many innovations proposed by Petronas at Autopromotec, on stage in Bologna, Italy, from 25 to 28 May. Dominating the stand is the beautiful single-seater Team Mercedes-AMG Petronas Formula One, winner of the Constructors' World Championship eight times in a row. A replica of this year's car is exhibited here.
"It seemed right to us – says Domenico Ciaglia, Managing Director EMEA at Petronas Lubricants International – to welcome visitors with a unique experience, out of respect for the event and for our customers who we had not seen in the event for some time. In short, a return in style."
But let's see immediately what are the Petronas news for this edition. First of all, the new range of Petronas Syntium lubricants with CoolTech+ technology, designed to keep heat under control and maximize efficiency.
This technology – comments Ciaglia – is the same that flows in the veins of the Mercedes-AMG Petronas Formula One Team's single-seaters. Syntium, our premium brand worldwide, is a very complete range for the automotive industry with excellent international specifications and we are particularly proud of it because it is cutting-edge technology, which allows us to reduce fuel consumption by up to 3% and consequently to reduce emissions. Great attention was also paid to packaging, with a new dedicated pack that allowed us to further reduce the amount of plastic, not only because the market wants it, but because we believe in it first."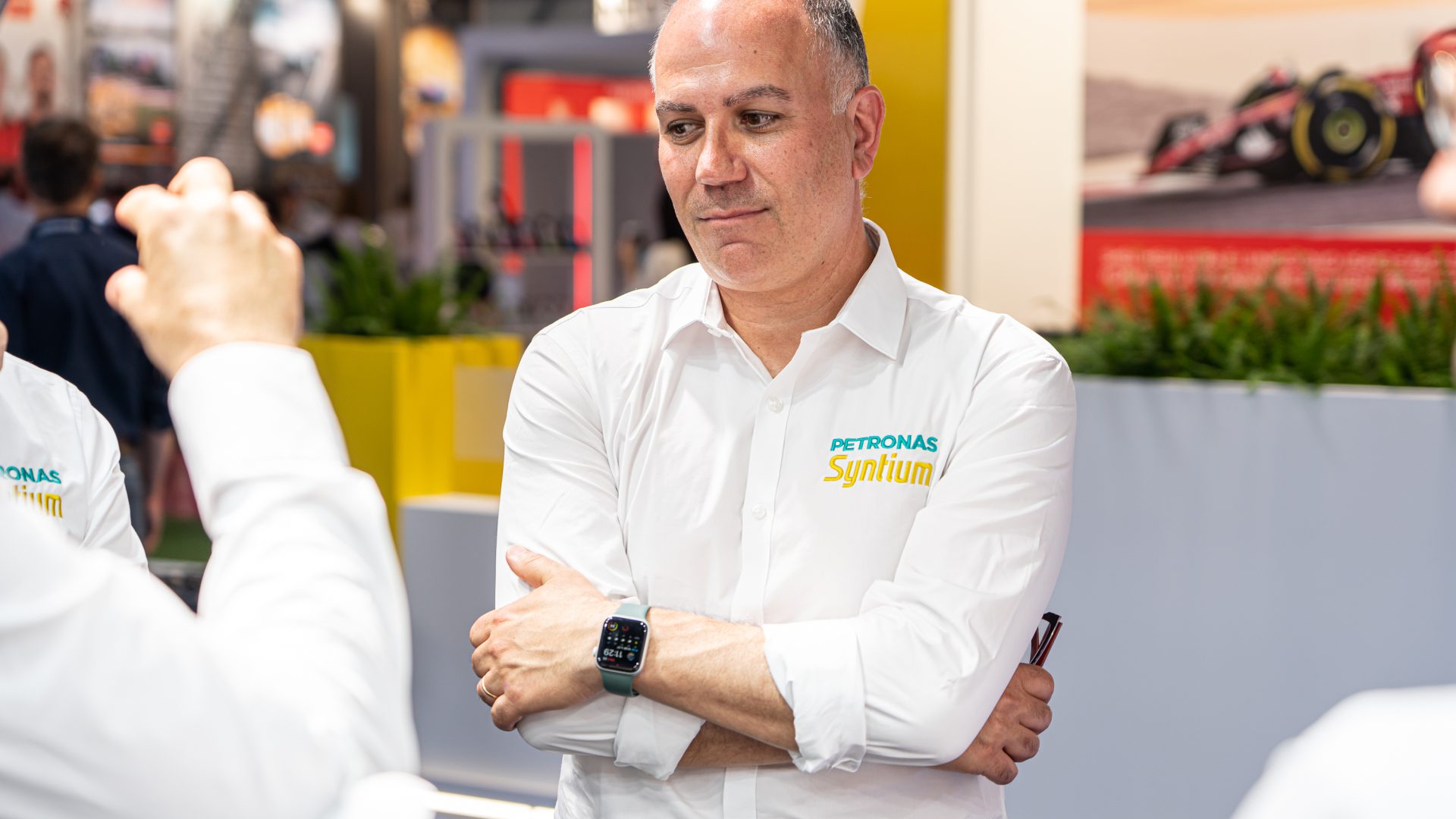 At the same time as the launch of Petronas Syntium, the "Bag in box" was presented, a new 20-liter format made with recyclable cardboard and plastic, which guarantees advantages for loading, safety, palletization and which includes an integrated tap. "This pack – adds Ciaglia – has made it possible to reduce the quantity of plastic by more than 92% compared to traditional 20-liter packs and also to reduce the amount of CO2 produced in transporting the packaging. Another advantage is the possibility for customers to have a much more complex offer of specialist products, dedicated to new generation cars, without having to stock large quantities of product."
The picture is completed by the Petronas Tutela range, which includes what Petronas calls "the Hidden Heroes", that is functional fluids, designed not only to meet the different needs of the most modern and increasingly complex vehicles, but to offer complete mechanical protection to every type of transmission but also to axles for electric vehicles.
Finally, Petronas introduces iona, now in its second generation, the range designed to meet the needs of electric motors and electric axles, reducing friction and wear and improving thermal management in order to maximize performance, energy efficiency and reliability of high performance electric vehicles.
"In the axle sector, in particular – announces Ciaglia – we are signing important collaborations with component manufacturers for supplies that will start from 2023-2024."Regarding the range for electric vehicles and iona, Fausto Lupone, Petronas Automotive Sector Expert Technical Service Emea, explains: "In the first generation of product for electric cars, the fluid lubricates only the gearbox, it is not in contact with the electric part of the car, therefore the characteristics are similar to those of a transmission product: it must have a very low viscosity and a high flash point because in case of breakage it must not ignite in contact with the hot parts of the electric car. The second generation of electric vehicles, which we are studying, sees the part of the reducer in contact, together with the fluid, with the electrical part, so the fluid must also have dielectric properties, as well as a much higher thermal stability to guarantee the efficiency of the electrical part. For this second generation we are studying lubricants for electric axles and those for electric automatic transmissions." Those currently being studied are products that will debut on the market no earlier than 2024-2025, but in Petronas they say they are ready.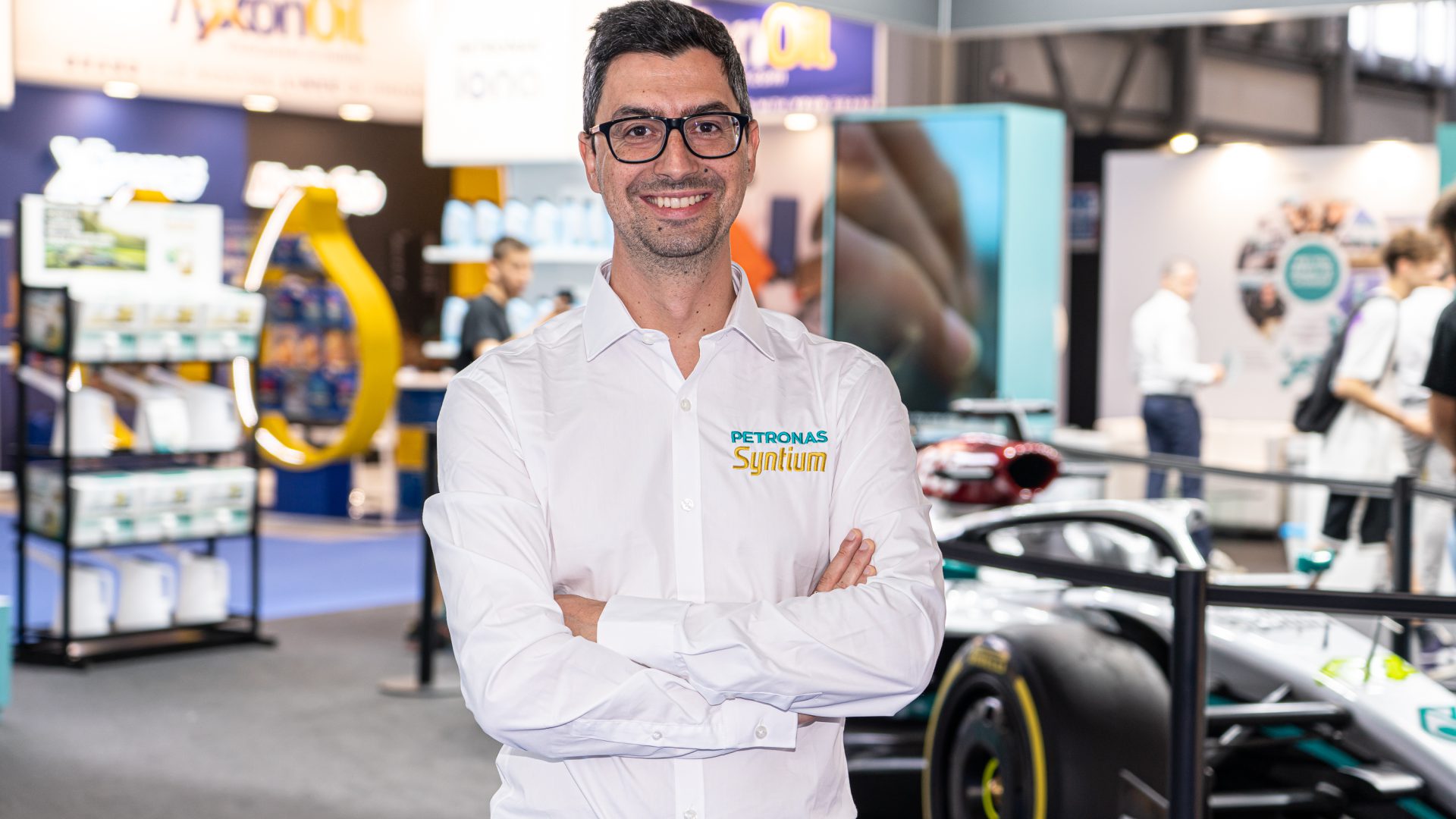 Ciaglia proudly adds that all these innovations have been developed here in Italy, in the Santena research center: from lubricating fluids for Formula 1 to those for cars, motorcycles, trucks, tractors, earth moving machines and electric vehicles.
Italian market: results and prospects for 2022
For Petronas, the Italian market is very important, as demonstrated by the significant participation in an event such as Autopromotec.
"For us this is the most important market in the EMEA region – says Ciaglia – and where we intend to grow also in the industrial sector. In 2021 we suffered a little, especially in the automotive sector, due to the drop in registrations due to the lack of components. Failure to renew the fleet, in which we would all have hoped for the well-known environmental aspects, has also had consequences for us, because our products are designed for new generation vehicles. But, despite the slowdown in the market (including the industrial one), we have achieved good results and I believe that the market recognizes us the fact that we have continued to invest in products and technology, offering quality and support to customers. Two years ago we launched the Petronas Arbor range for the agricultural sector and for earthmoving machinery, last year Petronas Urania for heavy road vehicles with a virtual event, followed by an 'on the road' campaign, in contact with customers from different European countries. Finally, this year we presented the new Petronas Syntium range, as well as investing heavily in the training of our mechanics. I believe that these have all been key elements of success, which the market has recognized us despite the period of uncertainty."