Rally truck equipped with Allison Transmission wins 2023 Dakar Rally
All Top 10 Dakar trucks were equipped with Allison fully automatic transmissions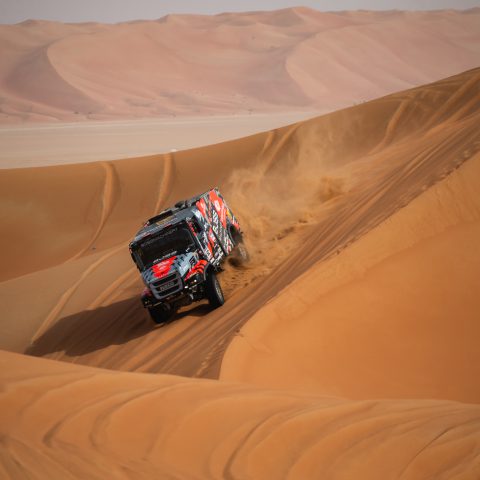 Team De Rooy wins truck division of 2023 Dakar Rally with Allison-equipped truck. The 45th running of the world's toughest annual motorsport competition featured daily extreme temperatures and terrain. The rally raid began December 31 on the shores of the Red Sea, crossed Saudi Arabia and concluded on the sands of the Arabian Gulf in Dammam on January 15. The 2023 Dakar Rally covers a total distance of 8,549 kilometers, of which 4,706 km is timed in the form of special stages. 
"Our goal was to win this Dakar and we succeeded. Super well done by Janus, Marcel and Darek winning the rally, and Martin van den Brink and his son Mitchel, who did a fantastic job ranking third and fourth, respectively," said Gerard De Rooy, Team Captain and Owner, Team De Rooy. "This Dakar was one of the toughest ones I remember and one with many surprises. With the Allison fully automatic transmission the teams were able to drive full speed and with full power to the wheels through the toughest terrains."
Nearly 25 trucks that competed in the 2023 Dakar Rally and all Top 10 trucks were equipped with Allison Automatics, the majority of which were Allison 4000 Series transmissions (the same record was achieved in 2022). The 4000 Series is designed for medium- and heavy-duty commercial vehicles and is widely used around the world by heavy-duty construction, refuse, fire and rescue trucks as well as defense vehicles.
"Allison is proud to provide Dakar competitors with robust fully automatic transmissions that deliver superior reliability, maneuverability, acceleration and industry-leading performance. Additionally, Allison Authorized Distributors, including Drive Line Systems (DLS) in the Netherlands and NIMDA in the Czech Republic, play a key part in the success, having collaborated closely with the Dakar Rally teams throughout the years," said Sjoerd Vos, Director of Marketing, Europe, the Middle East and Africa, Allison Transmission. "There's no motorsport rally more demanding than Dakar, and Allison automatic transmissions once again demonstrated their proven ability to perform in a variety of demanding conditions, including steep hills, sand dunes and soft ground."
Allison fully automatic transmissions include several features that make them the ideal propulsion solution to meet the unique demands of motorsport competitions. The company's patented torque converter smoothly multiplies engine torque, delivering more power to the wheels for faster acceleration and greater maneuverability, specifically on sandy and muddy terrain. In addition, Allison's Continuous Power Technology eliminates the power interruptions that occur when gearshifts are made by manual or automated manual transmissions (AMTs). The transmissions automatically shift at the right time, taking into account payload, surface grip and grade, allowing for smooth, full power shifts. This technology protects the components of the vehicle and reduces driver fatigue. Being able to focus without having to shift is critical in rally racing where drivers need to keep both hands on the steering wheel and both eyes on the track every second.
Allison's integral retarder provides additional advantages to drivers including helping vehicles slow down with less wear on the braking system. It also reduces heat build-up in the wheels and tires, which is a key benefit during Dakar when vehicles are driving on deep sand and in high temperatures. This helps to extend the life of the tires, reducing time consuming maintenance during the rally. All of these benefits are realized by drivers as they navigate the 15-day cross-country race and find that Allison fully automatic transmissions can withstand the extreme conditions.