Scania wins Diesel of the Year 2023: the official press release
The new Scania 13-litre inline engine has been awarded "Diesel of The Year" by Powertrain, an European specialist magazine focused on engines in industrial and automotive applications. Scania's new engine platform offers unparalleled efficiency to save fuel and reduce CO2 emissions, delivering an outstanding operating economy and reliability.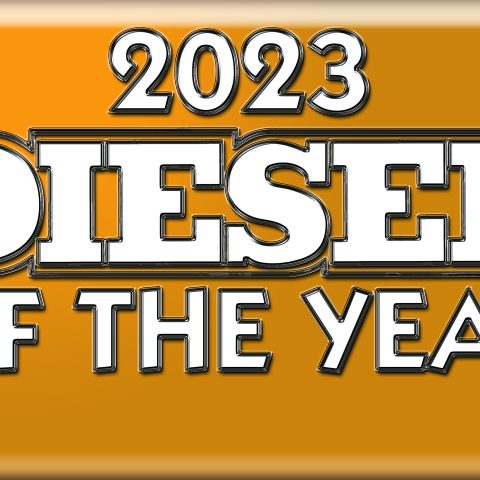 For the first time Scania won the prize Diesel of the Year awarded by Powertrain, a European specialist magazine focused on engines in industrial and automotive applications. Scania's next generation DC13 has overcome opponents due to its ability to add customer value in several dimensions.
First of all, the 13-litre engine is Scania's most powerful platform ever. Gaining benefits from decades ofSwedish in-house engineering experience, Scania has obtained unparalleled engine performance: increased power up to 450kW power output that corresponds to 11% more than the current DC13 (405kW); best in class power density with 35,4 kW/L; 21% more torque (3001 Nm) than the current DC13; and high torque at low revs (2660Nm at 900rpm) are some of the main technical specifications of this new generation.
With the introduction of a new inline engine platform, Scania is taking a big step forward towards fulfilling its Science Based Targets, especially in regards with the 20% CO2 reduction from products by 2025 (base line 2015). In fact, the new DC13 will help the OEMs with up to 7% reduction of CO2 emissions, lowering their carbon footprint. Moreover, if the engine is powered by HVO, it will save up to 90% CO2 emissions compared to standard diesel.
There is a further feature of this new platform that contributes to its added value. The base engine is designed for up to 50% longer lifetime compared to current inline engine platform which already provides market leading durability. The durability combined with the extended Be10/MTBO to 25.000 hours in operation (on ICFN rating) ensures uninterrupted performance in the most demanding operations.
"The Scania Next Generation DC13 is designed to significantly raise the efficiency bar. A heavy-duty truck-sized engine, transferred to the busy arena of industrial applications. The engine configuration, features and specific performance are fit to face a triple challenge, for the survival of ICE in a holistic perspective: to be 'TCO friendly' and accomplish the future Stage VI rules (if there will be any, of course); to 'digest' HVO and biogenic and paraffinic fuels; to embrace electrification", said Fabio Butturi, Editor in Chief of Powertrain at Vado e Torno Edizioni.
"It's an honour for Scania to receive the Diesel of the Year award for our next generation 13-litre engine, a product designed both for today and tomorrow. Fuel efficiency and product performance have been top of mind throughout the development, and as you can see, it resulted in a truly great engine among industrial applications, and a step towards sustainability in the non-road mobile machinery industry. This victory reinforces the trust our customers have in us, and on behalf of my colleagues and friends at Scania, I sincerely thank you for this award", said Johan Thell, Area Manager at Scania Power Solutions.
"This new platform will bring concrete, tangible value to our current customers and help us enter new applications, both in Italy and globally", said Paolo Carri, Scania Power Solutions Director at Italscania.