Power to the biofuel: MAN ES to reach 85 percent CO2 reduction at sea
MAN engines has achieved quite an important result in terms of emissions reduction. Thanks to the use of biofuel, a Jan De Nul vessel obtained remarkable 85 percent CO2 reduction. In particular, its trailing suction hopper dredger, 'Alexander von Humboldt', has completed 2,000 hours operation on 100 percent renewable, second-generation biofuel oil (BFO). The Alexander […]
MAN engines has achieved quite an important result in terms of emissions reduction. Thanks to the use of biofuel, a Jan De Nul vessel obtained remarkable 85 percent CO2 reduction. In particular, its trailing suction hopper dredger, 'Alexander von Humboldt', has completed 2,000 hours operation on 100 percent renewable, second-generation biofuel oil (BFO).
The Alexander von Humboldt has two propellers, with one driven by a single MAN 12V32/40 engine (MCR 5,250 kW at 750 rpm, standard rating). The second propeller is driven by one MAN 12V32/40 type (MCR 4,750 kW at 750 rpm) and one MAN 7L32/40 type (MCR 2,775 kW at 750 rpm) engine via a twin-in, single-out gearbox. Both engine ratings are reduced as these engines also drive dredge pumps via power take-offs (PTOs) at the engine free end.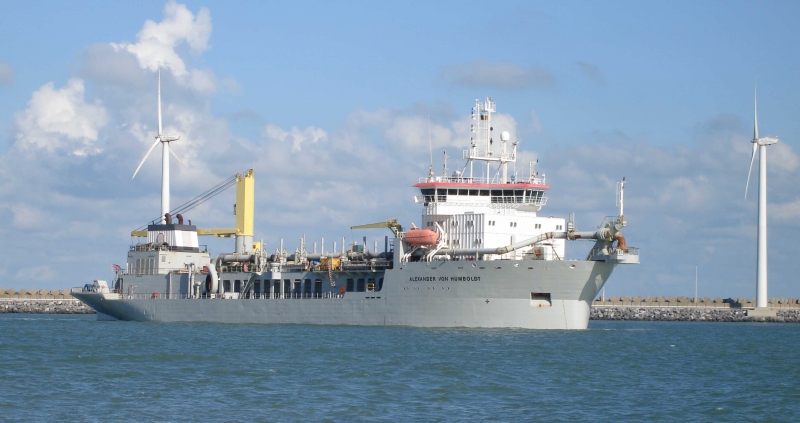 MAN engines refueled at various stages with biofuel
Leading up to the 2,000-hour milestone, the Alexander von Humboldt was refueled at various stages with BFO. The vessel consumed the biofuel while conducting maintenance dredging works in Flemish seaports and the United Kingdom. As a frontrunner, Jan De Nul Group has shown that the maritime construction industry can be part of a game-changing global movement that will help to achieve climate goals by using low- carbon solutions.
MoU signed with Wasco for South-East Asia
There's something else to say about MAN Energy Solutions and the company's commitment in South-East Asia. In fact, MAN Energy Solutions and Wasco have signed a Memorandum of Understanding to promote and commercialize Power-to-X (PtX) projects in South-East Asia. The technology in question converts electricity into carbon-neutral synthetic fuels, gas or liquid, for use as a clean, carbon-neutral energy source.
«We see a huge potential for synthetic fuels. To advance decarbonisation, climate-neutral fuels are needed in all sectors where direct electrification via batteries is not an option – as is the case with international shipping. Without a doubt, Power-to-X is one of the key technologies needed to generate such synthetic fuels. We are very happy to work in South-East Asia together with Wasco and build on their vast network, tremendous experience, and substantial capabilities in the region», said Uwe Lauber, CEO of MAN Energy Solutions.