FPT Industrial @ METSTRADE 2023
FPT Industrial is attending METSTRADE 2023. On display N67, C90, also hybrid, C16, Frydenbø ATS and Red Horizon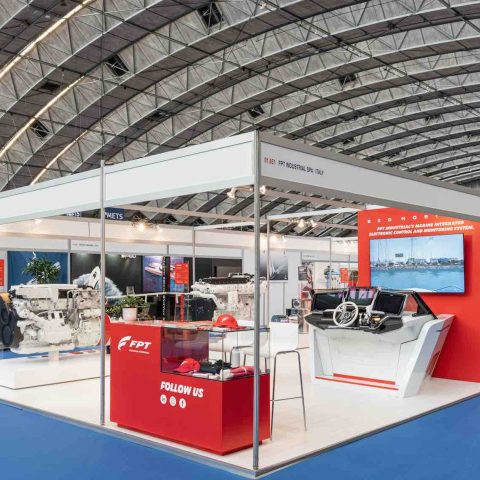 At the 35th METStrade in Amsterdam, FPT Industrial brought its aces. Not only diesel engines, but also hybrids and control systems (here the FPT participation at Pacific Marine Expo).
The N67 on the FPT booth at METSTRADE
Available for both pleasure boating and light to medium professional marine duties, the N67 450 N engine offers high power output and maximum torque at low engine speed. It is offered in both heat-exchanged and keel-cooled configurations, all customizable on request, while options include electronic remote control, monitoring systems, and compliance with international emissions standards. Advanced diagnostic equipment allows easier engine servicing, while oil and filter change intervals of up to 600 hours minimize downtime. At METSTRADE 2023, the N67 450 N is also exhibited as an auxiliary power unit with layout and specific settings focused on marine duties, available for fixed-speed auxiliary g-drive thanks to the new 129 kW model at 1500 and 1800 rpm, that is IMO exempted. Available in 50 and 60 Hz versions, FPT Industrial's marine fixed-speed G-Drive engines have been developed to act in synergy with the FPT marine propulsion line-up, with prime power ratings capable of a 10% power overload, according to ISO 8528 prime power. The extensive list of available options allows the most varied needs to be met, including electronic speed controllers for both mechanical and electronic engines.
C90 650 E Light Duty and C16
Based on the C90 650 E architecture, the new C90 605 HP light duty debuting in Amsterdam was designed to increase the available power in the B1 light duty curve, up to 1,000 h/y usage, from 580HP to 605HP @ 2,530 rpm. In doing so, FPT Industrial engineers achieved a number of customer-related benefits and competitive advantages. According to the Italian company he 6-cylinder Diesel engine has 20% more than the main competitor, lower rated speed allowing the coupling to gearboxes with lower reduction ratio, and very steep torque rise to facilitate maneuvering on various light commercial applications. Also available in the optional keel cooling configurations, the new C90 605 HP light duty is certified EPA Tier III Commercial / IMO Marpol Tier II for applications in USA, Canada, Europe and rest of the world. This engine was also exhibited in the hybrid architecture, made with Vulkan Hybrid Architect. The ICE is part of the architecture together with a hybrid clutch to engage and disengage the ICE, an e-machine in the form of a synchronous permanent magnet and axial flux motor, a frequency converter, a marine gearbox, elastic joints and a vibro-acoustic isolation system.
The C16 600 completes the ICE portfolio. It fits on push and tugboats, ferries, dredgers and commercial fishing vessels; it's available with heat exchanger cooling and keel cooled system. As with all FPT Industrial's common rail marine engines, the C16 can also be fueled by HVOs and all EN 15940 compatible fuels with no compromise on performance.
ATS by Frydenbø Industri AS Marine
Aimed at reducing the environmental impact of the maritime industry, the Frydenbø ATS for FPT Industrial engines is a simple and flexible system that meets the IMO III emission requirements in emission controlled areas as Baltic Sea, the English Channel and the North Sea south of 62 degrees latitude and is available for the brand's marine engines from 6 to 16 l. Developed in collaboration with Frydenbø Industri AS Marine, the authorized Distributor of FPT Industrial's products and services in Norway and Sweden, this practical ATS system is designed and supplied by Frydenbø Industri AS.
The additional benefits customers in Scandinavia, the east and south-coasts of the UK, Northern France, Belgium, The Netherlands, Northern Germany, Denmark, Poland, Lithuania, Latvia, Estonia and Canada's seaboard can enjoy include noise reduction – with an average transmission loss of 35dB (A) – and light weight, with just 300 kg per engine, urea tank included.
Red Horizon
FPT Industrial's integration of the most advanced marine technologies in engine, monitoring and control systems, Red Horizon guarantees full navigation control and safety, optimal driving comfort, and easy handling and mooring. Developed in collaboration with two leading global companies – ZF and Navico (Simrad) – and available in combination with any top engine from FPT Industrial's Cursor and NEF electronic families, Red Horizon is presented inside a unique environment, inspired by the automotive sector. The result is a clean, stylish and comfortable bridge with a touch of minimalism, where customers can feel at home. This unique concept received two of the world top design awards – Gold Winner of the 2021 edition of the New York Product Design Awards in the Watercraft Category, and the 2021 Good Design Award.