MAN Engines V12X: 2200hp recreational power
MAN Engines will launch at Cannes Yachting Festival the V12X diesel engine, 30-litre displacement and 2200 HP (1618 kW) at 2300 rpm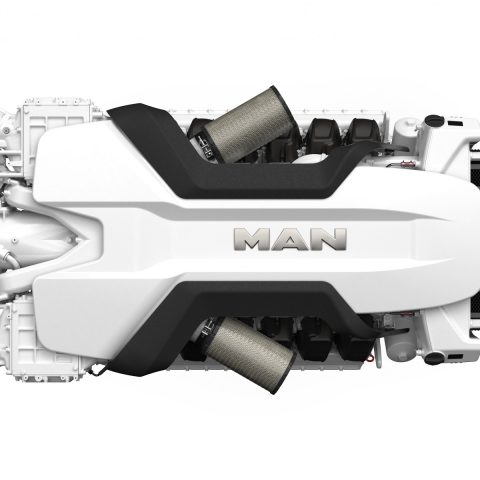 With the V12X MAN Engines raises the bar to 2,200 HP. What will Caterpillar and mtu do? It is in fact a three-way challenge, with 100 horsepower at a time, as if the milieu were not the Vieux Port of Cannes but a few kilometres further on, at the Casino of Monte Carlo.
With 2200 hp the V12X pushes MAN on the top
According to MAN Engines, the German company, member of Traton Group, is going one better at the Cannes Yachting Festival 2022: Following on from its most powerful twelve-cylinder engine yet, with 2000 HP, the MAN V12X boasts 30-litre displacement and 2200 HP (1618 kW) at 2300 rpm.
read the COMPARISON @2000HP. January 2021
As you can read in the 2000 hp marine engine comparison, Caterpillar had accelerated, catching up with mtu (Rolls-Royce Power Systems) and MAN Engines itself. The ring is always that of Cannes, and now it's time again for the Lion's roar.
Werner Kübler, Head of Engineering MAN Engines
"The MAN V12X marks the start of the neXt generation of yacht engines. We are acknowledging this milestone in engine technology with the new name V12X and giving the distinctive engine cover an X design. The redesign of the MAN V12X is accompanied by extra displacement for shipyards. As always, we have retained the excellent power-to-weight ratio that MAN engines are known for," explains Werner Kübler, Head of Engineering MAN Engines.
MAN leads the marine sector between recreational and commercial upgrades
As we have highlighted on the Powertrain – Diesel International platform, MAN Engines emphasised its commitment to marine applications also in the commercial sector. In cooperation with Windcat Workboat it showed the first dual fuel hydrogen engines in use on a work boat, namely the 'Hydrocat 48', a crew transfer vessel (CTV).