Mercury at Genoa Boat Show. She feels like home
Mercury is a certainty at Genoa Boat Show. At the Tech Trade, starting from the entrance corner, Mercury and Brunswick's inboard and outboard engines set is always ready to show itself. Anything could happen, Italy, and with it Genoa Boat Show represent the place to be for the commercial and communication strategies of the US […]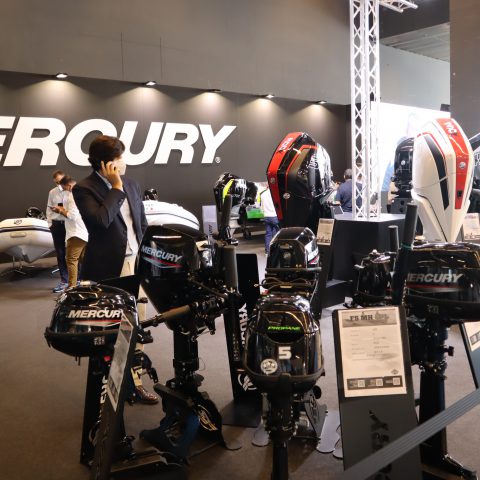 Mercury is a certainty at Genoa Boat Show. At the Tech Trade, starting from the entrance corner, Mercury and Brunswick's inboard and outboard engines set is always ready to show itself. Anything could happen, Italy, and with it Genoa Boat Show represent the place to be for the commercial and communication strategies of the US marine solutions provider (let's not forget pod drives, as well as engines).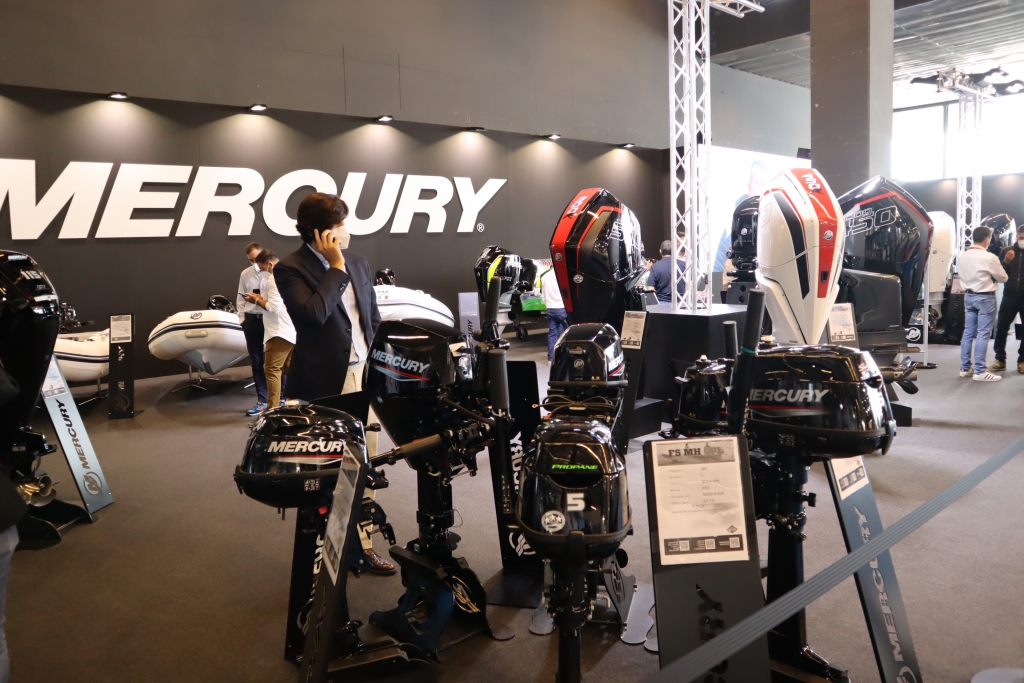 Mercury at Genoa Boat Show with Bravo FourS
After getting used to waiting for diesel revelations in this very booth, pitted by the dissolution of the joint venture with Cummins (see the Volkswagen-based TDI and the 6.7 litre by N67), the time has come to refuse. At least for the thrusters.
At the end of August Mercury said: "Mercury Marine® today unveiled its Bravo Four S™ forward-facing drive with Smart Tow® controls, a new drive system for MerCruiser® engines that elevates the art of crafting perfect wakes for wakesurfing, wakeboarding and other tow sports. Digital controls that coordinate ballast, surf tabs and propulsion settings under a single and intuitive user interface make it easier than ever before. Water tow sports like wakesurfing and wakeboarding — has gained global popularity. Mercury engineers carefully studied all the refinements that go into optimizing a boat's wake for each of the various tow sports and devised a system to make those settings easy for the boater. «Whether boaters are veteran wakesurfers or new to tow sports, the Bravo Four S forward-facing drive delivers the power to do it safely and reliably in combination with proven MerCruiser 4.5-liter V6, 6.2-liter V8 and 8.2-liter V8 sterndrive engines ranging from 250hp to 430hp.» Mercury SmartCraft® digital technologies, including an upgraded Smart Tow system, come standard with the Bravo Four S drive. These controls allow customization of the tow sports experience with just a few taps on a Mercury VesselView® touchscreen display. The driver can simply select the desired tow sports activity, and the Smart Tow system will display the appropriate controls to dial in the perfect launch acceleration, towing speed and wake characteristics."
And, at the beginning of September, Flo-Torq SSR Hub Kit
"Brunswick Marine in EMEA is excited to announce that the Mercury Propellers' all-new Flo-Torq SSR Hub Kit product is officially available for sale into the Mercury dealer network. The SSR hub kit is a world class hub kit solution that is created to specifically reduce and virtually eliminate prop-rattle and shifting noise while providing maximum durability for smaller and mid-range horsepower outboards. The Flo-Torq SSR utilizes Mercury's proven Soft-Shift Rubber technology in a quiet hub kit that provides an NVH upgrade for Flo-Torq II hub applications where the maximum reduction of noise, vibration, and harshness is desired. It also Replaces Flo-Torq III and IV to simplify Mercury's hub kit offering while providing an increase in performance at a reduced cost without sacrificing durability. The SSR technology provides 22-23% peak noise improvement at shifting events, both neutral-forward and neutral-reverse, virtually eliminating shift clunk."
Breacking news: Beneteau
«The relationship between Mercury and Beneteau has continued to grow over the past few years and we are excited to offer boaters on a larger scale the opportunity to experience what has already been successful in the United States – two of the most well-known brands in the marine industry working together on a superior boat and engine package,» said Marty Bass, Mercury Marine EMEA president.
«We are extremely happy to be able to extend our cooperation with Mercury Marine, offering our customers selected premium products to enhance our package performances," said Luca Brancaleon, Groupe Beneteau Deputy General Manager – Brand and Product Strategy. "Demand for large outboards continues to grow and Mercury has proven to be a good partner to Beneteau in North America and we are confident that this success will be replicated in other regions.»