QS Seamaster: world premiere in Australia
QS Seamaster will introduce a brand-new thruster model at the forthcoming Sanctuary Cove International Boat Show, in Australia. The QS 30-110 for the first time on show integrates the current range of QS thrusters and meet the requirements of boats ranging from 5 to 8 m.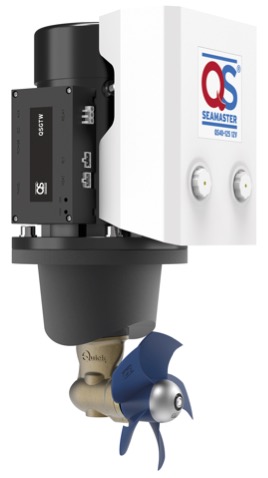 QS Seamaster will introduce its latest model of thrusters at the upcoming Sanctuary Cove International Boat Show, in Australia. With a range of cutting-edge marine tech and equipment, power and sail vessels on display the most important boating exhibition in the Southern hemisphere will take place on May 25-28. QS Seamaster thrusters will be on show at the Stella Marine booth.
The QS 30-110 which makes its debuts in Australia is currently the smallest thruster of the electric QS DC thrusters which includes several models up to the biggest QS 300-300. Powered by advanced high-efficiency DC motors, the QS 30-110 features 30 Kgf thrust, an internal diameter of 110 mm,1,3 kW power, 12 V, a single propeller and is suitable for boats from 5 to 8 m.
Like all the models of the QS range – except QS 300-300 – can be proportional or On/Off. The On/Off model can be transformed into proportional in both analogic/digital version with Can BUS protocol.
The QS-Seamaster range is 100% made in Italy and includes by now a complete range of thrusters: DC electric thrusters, AC 3PH, DC-AC brushless, hydraulic, tunnel or retractable thrusters, On/Off and proportional (only proportional for the DC-AC brushless). QS Seamaster combine advanced technology with the best ever tested materials.
All models are manufactured with high-resistant components which ensure the highest performance and efficiency from each motor. The hydrodynamic profile of the gear leg is designed to reduce turbulence, to enhance efficiency and reduce the noise level. The 4 or 5 blade propellers are designed to ensure the highest performance and efficiency from each motor.
A system control, equipped with a microprocessor, is activated in advance in case of motor overheating without suddenly interrupting the thruster use while ensuring its operation. The aluminium anodic protection can be easily replaced while the unique-design flexible coupling protects the thruster structure from mechanical shocks.
QS Seamaster provides an exclusive range of control systems: On/Off analogic and pushbutton, single or double joystick, analogic and digital proportional. They have been designed and tested to withstand different climatic and environmental conditions.