Volvo Penta, Groupe Beneteau and the future of leisure boating
The collaboration between Volvo Penta and Groupe Beneteau is a step forward in defining tomorrow's sustainable, intuitive, near-silent, leisure boating experiences that will enable boaters to explore and experience life on the water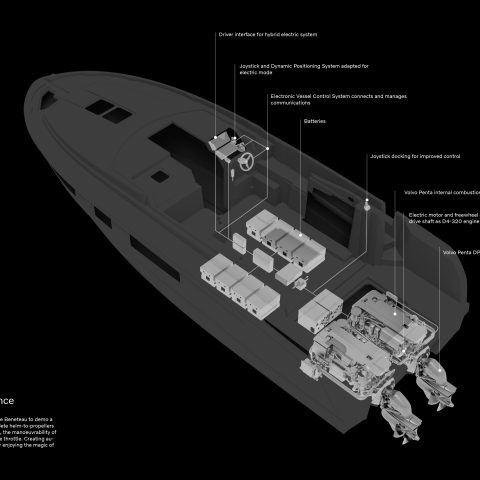 With its hybrid electric pilot project currently proving a success in commercial marine applications, Volvo Penta is expanding its scope and has announced its first trial in the leisure segment. This exciting development will see a fully-integrated Volvo Penta hybrid electric system feature on a Groupe Beneteau concept boat. Volvo Penta is calling on end users, media, enthusiasts and industry stakeholders to actively collaborate in the concept development by providing feedback around the desired experience, boat and system design, and innovative features – all with sustainability as a key driver. 

The helm to prop technology of the concept boat is based on the successful pilot project of a hybrid electric vessel for Hurtigruten Svalbard, which took to the waters in 2022 and has been running near-silent tour experiences ever since. The new demo vessel will be stationed at Volvo Penta's state-of-the-art Krossholmen test facility in Sweden and over the coming months media, customers, and dealers will be invited to get hands-on experience and look behind the scenes at the Gothenburg facility. This is the first time Volvo Penta has invited end users to its test facility at this concept stage, to experience the solutions of tomorrow. 

The hybrid electric demo is not available for sale but will instead serve as a platform for testing and learning together with early adopters. Silence is a key benefit to hybrid electric boating that holds major appeal, and the sustainable experience is set to change the nature of boating. But this initiative will also look beyond that to discover what else customers would like to see: how they expect to spend their time on the water and what performance needs they have around automation, connectivity, and more. Ahead of a much broader launch of sustainable vessels, Volvo Penta and Groupe Beneteau will use the input from this process to support its product development, running as an additional workstream in the process. 

"One of our core philosophies at Volvo Penta is 'learning by doing' and presenting this concept to customers at this early stage will help us in our efforts to transform Boating for Everyone," says Johan Inden, President of the Marine Business at Volvo Penta. "Feedback we get during this process will be incorporated into our ongoing development process. By running customer trials alongside product development, we will accelerate transformation in boating and ensure our finished products are market-ready. Groupe Beneteau is a great partner for this project, because the company's vision is so forward-looking and it's a globally recognized brand." 

Erik Stromberg, Vice President of Power and Motor Yacht Products, Groupe Beneteau, said his company was excited about the potential new experiences this new vessel can enable. 

"Our focus is always on enhancing the user experience, and this demo gives us a chance to shape a new customer experience directly with customers and dealers. We see hybrid propulsion as one of the keys to unlocking new ways of enjoying being on the water. This will be a much quieter experience that is more respectful of the marine world, with the potential to change the way we live and enjoy boating. Our roadmap includes the rapid introduction and commercialization of hybrid models across several of our market segments. We will then leverage our advantages in terms of industrial scale, commitment to quality and customer-focused approach to bring it to the global market." 

A Jeanneau NC 37 model will be used for the purpose of the demo, equipped with a Volvo Penta twin D4-320 DPI Aquamatic hybrid-electric concept and updated technology including Volvo Penta's full joystick docking system and the Dynamic Positioning System, which have been adapted to work in electric mode. This demo boat will also feature added maneuverability, a hydraulic clutch for silent shifting at low engine speeds, and greater control thanks to the precise joystick functionality. 

This demo between Volvo Penta and Groupe Beneteau will be available for dealers and end customers to test during Spring 2023.