BKT at Tire Cologne in two words? Plexiglass giants
BKT at Tire Cologne. The Indian offhighway tyres giant showed itself up at the German event in a theatrical setting. Speaking of giants, BKT at Tire Cologne filled the stand of 500 square meters with two 'entities' that have not gone unnoticed: a dumper of about 65 quintals, for the first time at a trade fair, and […]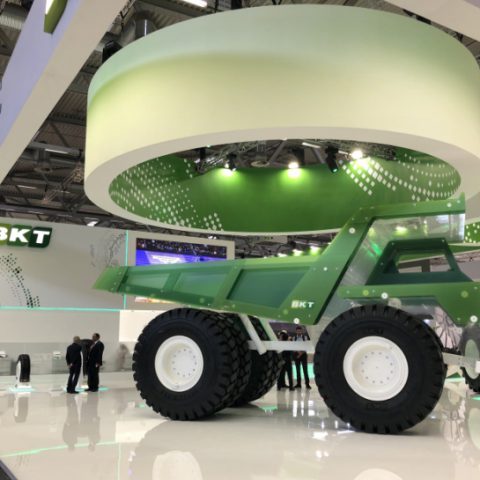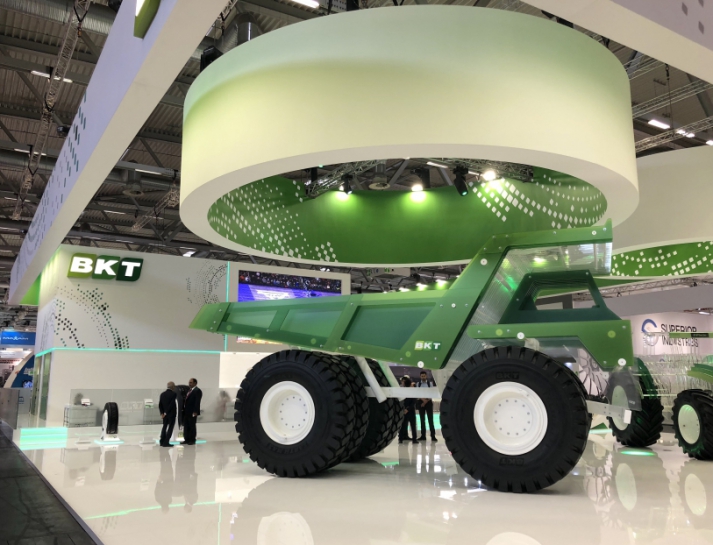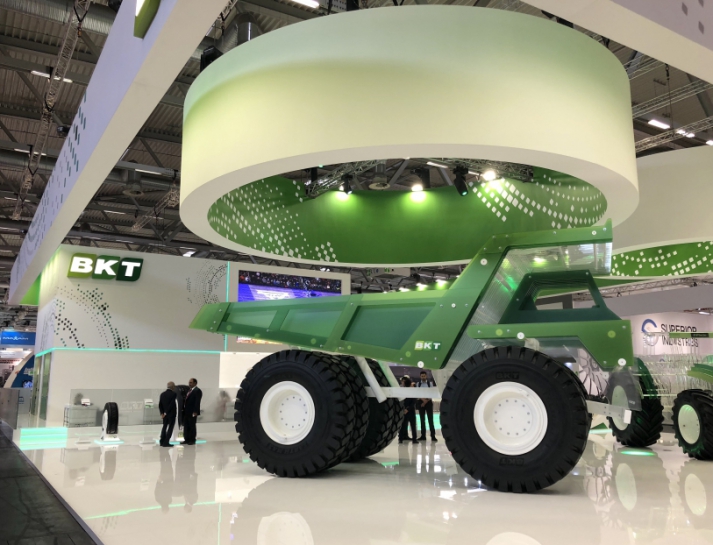 BKT at Tire Cologne. The Indian offhighway tyres giant showed itself up at the German event in a theatrical setting. Speaking of giants, BKT at Tire Cologne filled the stand of 500 square meters with two 'entities' that have not gone unnoticed: a dumper of about 65 quintals, for the first time at a trade fair, and a tractor weighing 1,500 kilos, both in transparent plexiglass.
BKT and maquettes
BKT is not alone in the choice of exhibiting on its stand shaped and 'metaphorical' reproductions of  industrial applications. Bondioli Pavesi, Hydac and Mahle applied the same recipe to highlight their respective components on the application framework (usually a tractor).
About dumpers
No one has ever used a dumper before. DIESEL has often talked about dumpers. The latests were the Bell B40D and the Liebherr T282C.
The Bell B40D is powered by the OM 501LA, 12 litres, 320 kW and 2,100 Nm. The Blu@dvantage is the Scr system designed by Mercedes for earthmoving. The planetary transmission is the 4500R ORS with automatic load distribution. The B40D is equipped with high strength steel tapered roller bearings. The machine uses oil/nitrogen suspension on the front axle, mounted on a semi-independent A-frame.
Let us move on to the Liebherr T282C. You're less than a year away from Bauma, where you'll have the chance to enjoy the Liebherr dump truck. Still German language under the hood. The engine is the Mtu 20V4000C223, 20 cylinders, 95.28 litres, 2,800 kW and 17,000 Nm. The ICE works in a hybrid powertrain. Injection, electronic management system and much more are done in-house. What if the engine were to be from Bulle as well? Liebherr D98XX was Diesel of the year 2017. Why not?
BKT at Tire Cologne
A total of 533 companies from 40 countries took part in the Tire Cologne, 169 exhibitors from Germany and 364 exhibitors from abroad. More than 16,000 trade visitors from 113 countries.
A brand-new giant Dumper on a 1:1 scale in Plexiglas built on an iron bearing structure with 68  connection elements and 530 Nylon turned spacers linking the 127 laser-cut sheets in plexiglass (4 tons) with a total weight of 6.5 tons. This awesome giant has been fitted with six Earthmax SR 45 M tires, specially designed for rigid dumpers, featuring an All Steel casing, an extra-deep E-4 tread and a special cut resistant compound.
What did BKT exhibit at Colonge, except the dumper? Agrimax Force and Agrimax Teris for the agricultural sector. Alongside Con Star for machinery employed in the agro-industrial handling applications.  Portmax PT 93 for the industrial sector. And last but not least, there is  Airomax AM 27, tire for cranes in the construction sector.