CDK Group, another milestone
CDK Group is taking its organisation to the next level: Stéphane Digard has been appointed General Manager of CDK Group and Romain Cachia is the new Technical Director of the yard.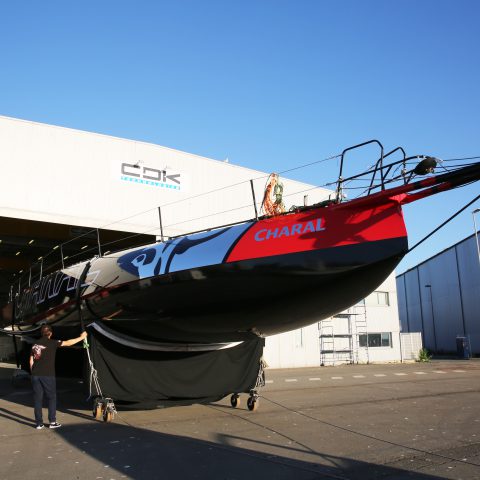 2022 proved to be an intense year for CDK Group. The yard created 5 leading IMOCA monohulls and helped build the TGMC consortium's first mast for the Chantiers de l'Atlantique Solid Sail project. 2022 also saw several strategic developments, including the purchase of the C3 Technologies yard in La Rochelle and the launch of the project to expand CDK Technologies' workshops on the Lorient site. 2023 is shaping up be just as intense, with renewed prospects spanning racing and the marine industry.
2023 marks a new chapter for CDK Group
Within this very solid commercial context, CDK Group is taking its organisation to the next level: Stéphane Digard, previously Assistant General Manager for CDK Technologies, has been appointed General Manager of CDK Group. He will be supported by Yann Dollo, Assistant General Manager. Romain Cachia, previously heading up the design office, has been appointed Technical Director of the yard.
This experienced Management team will now be able to count on the support of a Strategic Council presided over by Loïck Peyron. Fittingly, the sailor of international renown is joining the yard, which has built a number of his very successful race boats, notably including Banque Populaire V (today's Spindrift2-Sails of Change) that prompted CDK to set up its Lorient site in 2007 and with which Loïck broke the crewed Round the World record, the Jules Verne Trophy, in 2012 in a time of 45 days…
Creation of a Strategic Council
Within the context of CDK Group's diversification both across France and internationally by 2024, which are driving its plans to further extend its manufacturing sites, the Strategic Council responsible for providing advice and strategic direction, as well as support with its accomplishment, will gather around Loïck Peyron: Cyril Abiteboul, who is keen for his commitment to CDK Group to evolve in order to pursue other personal projects; Jean-Marie Buignet, Managing Director of C3Technologies; Bruno Cercley, ex CEO of Rossignol (until 2021) and member of the Board of Directors, CEO of Aqualung and a shareholder of CDK Group, who will bring to the group his international experience at the head of some of the greatest sporting brands.