Danfoss wheel loader solutions are improving productivity and efficiency
Innovation in wheel loader solutions and subsystems Danfoss wheel loader innovations are coming. «Driven to be the best possible partner to wheel loader manufacturers, Danfoss offers products and complete solutions designed to address the needs of the wheel loader application and duty cycles,» said Philipp Hermann, Market Development Manager, Construction Segment. «Our customers work in […]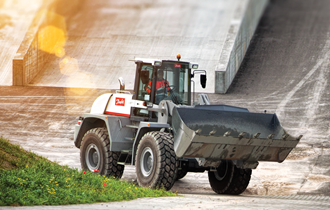 Innovation in wheel loader solutions and subsystems
Danfoss wheel loader innovations are coming.
«Driven to be the best possible partner to wheel loader manufacturers, Danfoss offers products and complete solutions designed to address the needs of the wheel loader application and duty cycles,» said Philipp Hermann, Market Development Manager, Construction Segment. «Our customers work in close cooperation with our wheel loader system experts and utilize the Danfoss Application Development Centers to arrive at the ideal solution for their application».
Danfoss Power Solutions has to be proud to offer differentiating wheel loader solutions. This new system is developed and tested under real-world conditions at their Application Development Centers (ADCs) and is proven to increase productivity and uptime while lowering total cost of ownership by improving efficiency.
Wheel loader OEMs are looking for ways to increase market share through differentiation. They aim to optimize engineering efforts with high rating safety standards.
Performance. Uplifted.
Danfoss and its team of experts ensure high-quality standards and their portfolio of subsystems and products cover all aspects of machine performance — such as steering systems, telematics, working systems, transmissions and thermal management.
As a leader in the mobile electrification trend, Danfoss also assists integration of electric or hybrid drivelines in wheel loaders. This allows better power distribution management to the transmission and thermal management system, while also saving fuel and reducing emissions.
«We're constantly exploring and integrating emerging wheel loader technologies, such as machine autonomy and electric driveline options, to ensure our customers can benefit from the most advanced solutions in the industry,» said Hermann. «Danfoss is proud to partner with OEMs to provide performance-based wheel loader solutions to differentiate them in the marketplace».