Liebherr Colmar. The Diesel of the Year 2017 home: Liebherr D9812
Liebherr Colmar, the place where D9812 mine engine is manufactured. We had the chance to speak with Diethard Plohberger, Ingo Wintruff and Jens Krug, plant managers, about the mission of the D98. Being it an engine for mining, its design is shaped for challenging environments, which is also a great prerequisite for other applications. BORN […]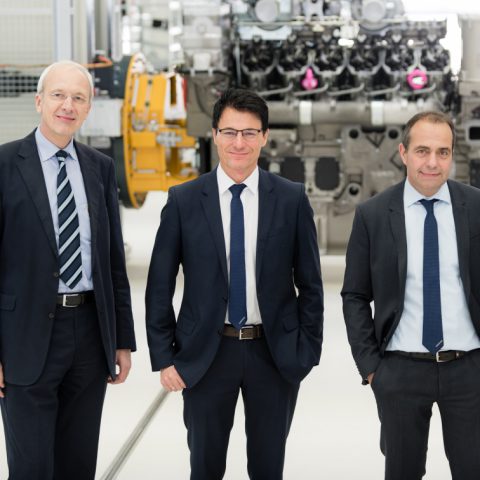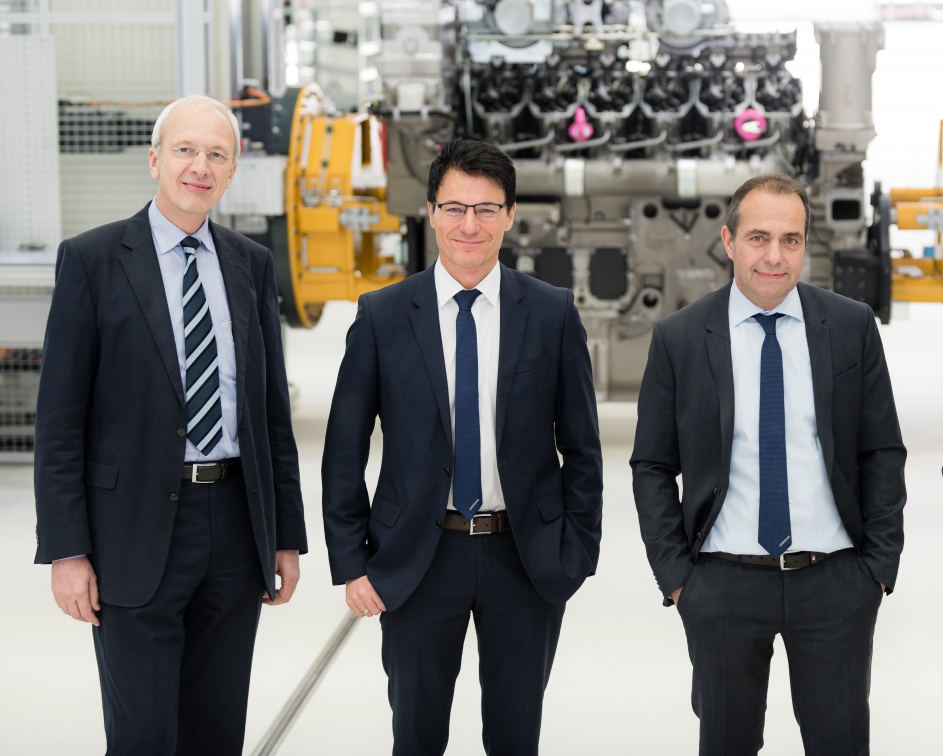 Liebherr Colmar, the place where D9812 mine engine is manufactured. We had the chance to speak with Diethard Plohberger, Ingo Wintruff and Jens Krug, plant managers, about the mission of the D98. Being it an engine for mining, its design is shaped for challenging environments, which is also a great prerequisite for other applications.
BORN IN A MINE, BORN FOR DIGGING…
Plohberger explains that to "achieve low production cost, low parts stock requirement and ease of maintenance, the engine has been strictly designed according to the tool box principle. The core engine and the auxiliary components are standardized and built in modules". D98 won 2017 Diesel of the Year prize, and Plohberger told us about the innovative features of the engine, such as "20% more power density than benchmark engines in the market". Moreover, "the high peak firing pressure capability of 250 bars makes it perfectly suitable to fulfill the new exhaust emission limits". But innovation also means efficiency, in terms of fuel consumption, so for example "the excavator engines have been reduced in rated speed by 20%" says Plohberger, but also from an economical perspective because customers can opt for different engines sizes, without any difference in installation design.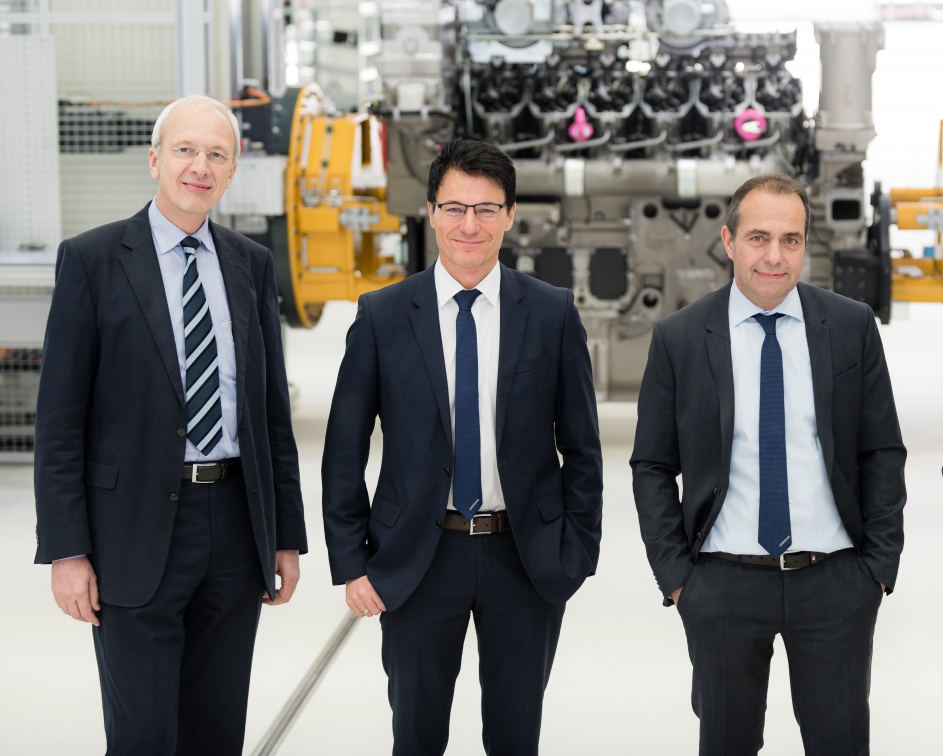 Liebherr and Colmar. TCO says thanks…
Also talking about special mining requirements, Wintruff reaffirms that the costs of ownership are the main issue to be faced, but without renouncing to high power density and reliability. Due to the width of operational conditions of industrial engines, compared to the relatively low numbers of market production, Plohberger states that, to reduce the production of NOx, Liebherr decided to use Scr technology instead of an Egr system. «The particulates and soot will be reduced inside the engine cylinder and combustion, using only a quite simple catalyst and AdBlue/Def […]. This enables the mentioned kind-of-a-tool-box design». But this technology, that is shared with the smaller D96, has been improved by the engineers that could focus on one solution instead of two or more. Harsh environmental conditions also imply tailored solutions to guarantee long life cycles. Plohberger points on sealing and filtration as the most critical aspects. Liebherr relies on quality sealings (double in some case), special materials and on high-level air and oil filtration. Moreover, He says that «high quality electrical harness and connectors are used to ensure engine reliability».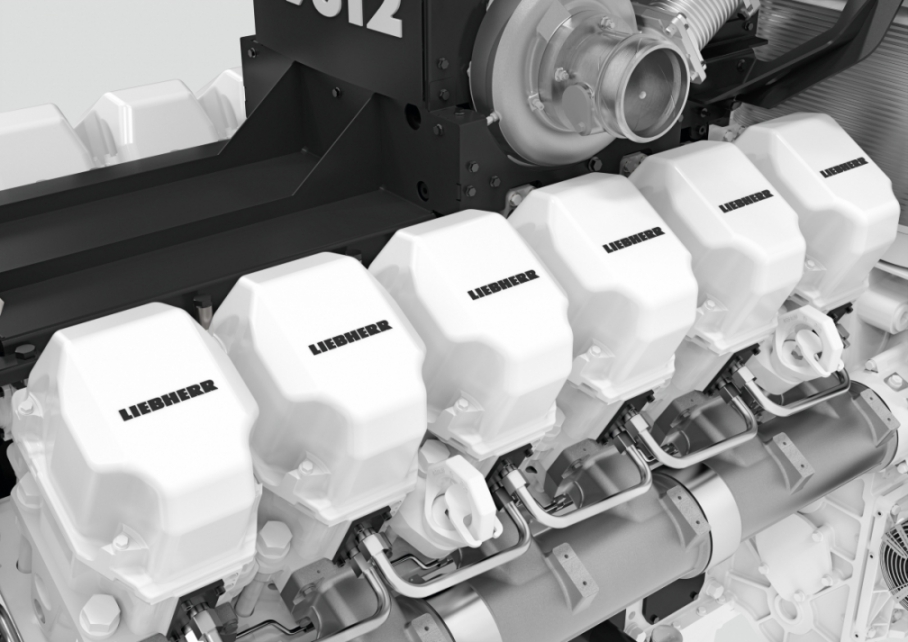 The competitors have been developing same range/similar engines for 20-30 years. Liebherr strategy is to invest in modern common rail high pressure injection and in advanced turbocharging technologies, that, together with high peak firing pression, downspeeding and downsizing options should «set the benchmark in the market in terms of efficiency and power density", Wintruff explains.
LIEBHERR? AN 'HOMEMADE' COMPANY. COMMON RAIL
Besides, Plohberger pinpoints that to achieve competitiveness «Liebherr uses their own Ecu and common rail systems. The larger and the smaller engines are using very similar or equal hardware, the same software and common parts in high pressure fuel pumps and fuel injectors». Sharing some components is a more general habit in Liebherr engine production philosophy. «This builds up a stable and well backed-up set of know-how to be used in terms of designing new engines or in trouble shooting» Plohberger says.
Liebherr and Colmar. For every climate conditions
This philosophy lets Liebherr and Colmar target all mining regions around the world, meeting local requirements even with extreme conditions, like in the arctic areas. «The D98 engine – concludes Wintruff – is already in serial production for genset applications.
GENSETS? YOU SAY LIEBHERR, YOU MEAN KPS-SDMO
With the built-in features for harsh and demanding operations, its high efficiency and capability of high load profiles in continuous applications, the engine fits perfectly for oil & gas operations, e.g. as drilling gensets or high horsepower fracking». But, as Witruff states,«the D98 Series fits well to the locomotive application, both mainline or shunting locomotives». Talking about partnerships, Krug explained us that with Kohler they've been collaborating on the development of these engines for five years. «The G-Drive Application have been a co-development between Kohler and Liebherr and have been tested under rigorous operating conditions. These features were exclusively developed for power generation to ensure optimal voltage and frequency performance as required in this application».