FPT F28. Agritechnica was the craddle of the diesel and gas 2.8 liter
FPT Industrial F28: diesel and… FPT Industrial booth at Agritechnica 2019, the time has come for F28, the brand new 2.8 liters engine for industrial applications. Some features? External EGR, after-treatment system with DOC and DPF (only DOC for North America TIER 4 Final applications), Waste Gate turbocharger, common rail 1,600 bar, uniflow architecture, integrated […]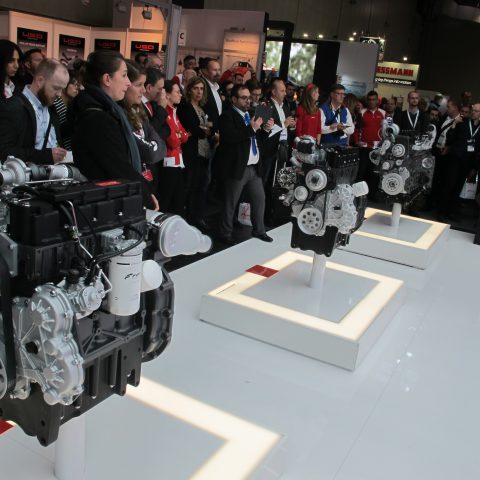 FPT Industrial F28: diesel and…
FPT Industrial booth at Agritechnica 2019, the time has come for F28, the brand new 2.8 liters engine for industrial applications. Some features? External EGR, after-treatment system with DOC and DPF (only DOC for North America TIER 4 Final applications), Waste Gate turbocharger, common rail 1,600 bar, uniflow architecture, integrated EGR channels and reduced block's bridge solution, same technical approach as F5 engine, intake and exhaust on the same side. It delivers maximum power of 55 kW at 2,300 rpm and maximum torque of 375 Nm at 1,400 rpm. The most interesting aspect of the F28 is, however, another, namely the fact of splitting into a second gas version, facing the diesel version in terms of interfaces and overall dimensions.
FPT INDUSTRIAL AT WORLD BIOGAS EXPO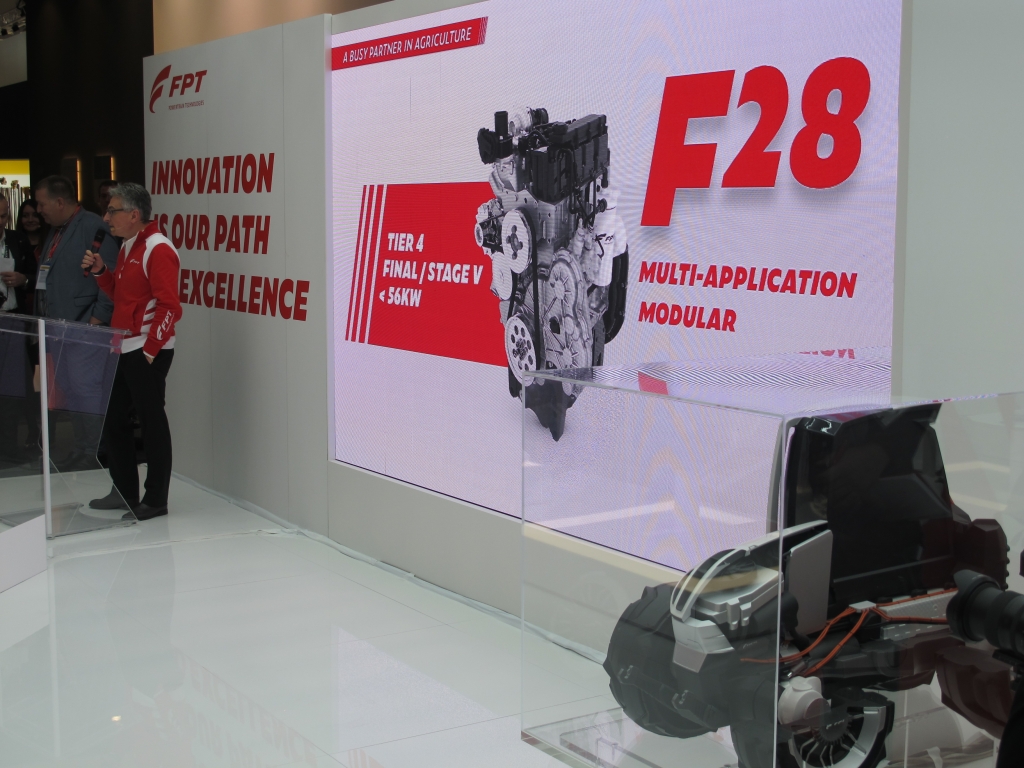 «We believe that the small and powerful F28 can further drive agricultural development in the years to come», said Fabio Rigon, Vice President FPT Industrial Europe. «We will also have a Natural Gas version of the engine to meet the demand for alternative fuels in the farming field.»
…The 2.8 liter engine running by gas
FPT Industrial will offer a 100 percent Natural Gas version of F28, with the same displacement and interface as the diesel version, with common base components, and a 3-way catalyst as the after-treatment system. After the Cursor 13 gas engine, FPT continues its search for ICE compatibility with biomethane to reduce significantly the CO2 emissions and stimulate the circular economy.
FPT INDUSTRIAL AT THE BIOGAS SUMMIT
During Agritechnica also the N67 was exhibited in the gas fueled version, delivering power of 180 kW at 1,800 rpm and torque of 1,035 Nm at 1,500 rpm. Natural Gas also results in up to 98% less Particulate Matter (PM) and 48% less NOx when compared to Diesel. All these environmentally friendly benefits have been proven by the over 50,000 FPT Industrial Natural Gas units sold to date worldwide, and are the outcome of its more than 20 years' experience in this technology. The CNG full-line is now very close.