Perkins talks about its "hybrid surprise" at Bauma Munich 2019
Perkins presented itself at last Bauma Munich 2019 showcasing the horizon that it is embracing in terms of hybrid solutions. Diesel International went directly to Perkins' stand at Bauma to find out more about these raising stars. What do we have to discover here at Bauma 2019? Here at bauma we have 3 things that […]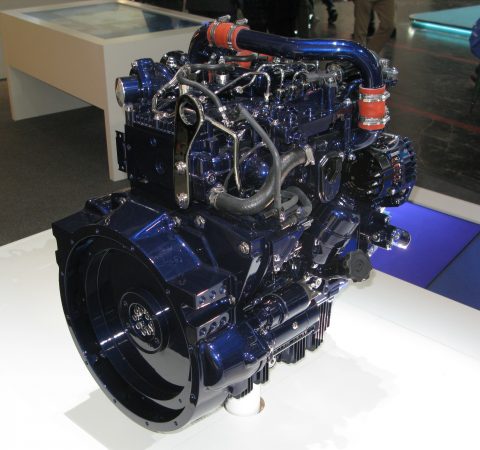 Perkins presented itself at last Bauma Munich 2019 showcasing the horizon that it is embracing in terms of hybrid solutions. Diesel International went directly to Perkins' stand at Bauma to find out more about these raising stars.
What do we have to discover here at Bauma 2019?
Here at bauma we have 3 things that we are talking about: the first one it's hybrid, and then of course we continue to roll out new models in the Stage V range and the third thing is aftermarket.
About hybrids: at this show we are talking about hybrids for the first time, but this is not a new thing for us, we have been doing research and development in secret for a number of years and especially in the last 2 years we have done an increasing amount of research. Some research has been into systems, like for example whole drivetrain systems and some research has been into just one component, like batteries and battery management. For some years we have been doing more integration projects with our customers and what we are doing now is bringing our research on hybrid and electric solutions along with the integration experience to create a better offering for our customers.
We are trying to look at the perfect solution for construction and off-highway machines and if you look at the solutions that have been used on highway for trucks and for cars we don't think that they are the right ones for our industry, those were designed for urban driving where there are traffic lights, a lot of time idle, very low duty cycle and very smooth clean conditions, none of that is construction machines. We are looking at "dirty", high shock, high vibrations, heat/cold and very different driving cycles. Also driving cycles change form machine to machine in construction, with many different kinds of requirement. There are also a lot of different sizes of the machines. So, when we think about hybrid, we can't think only to one solution, we need to think about a lot of different solutions.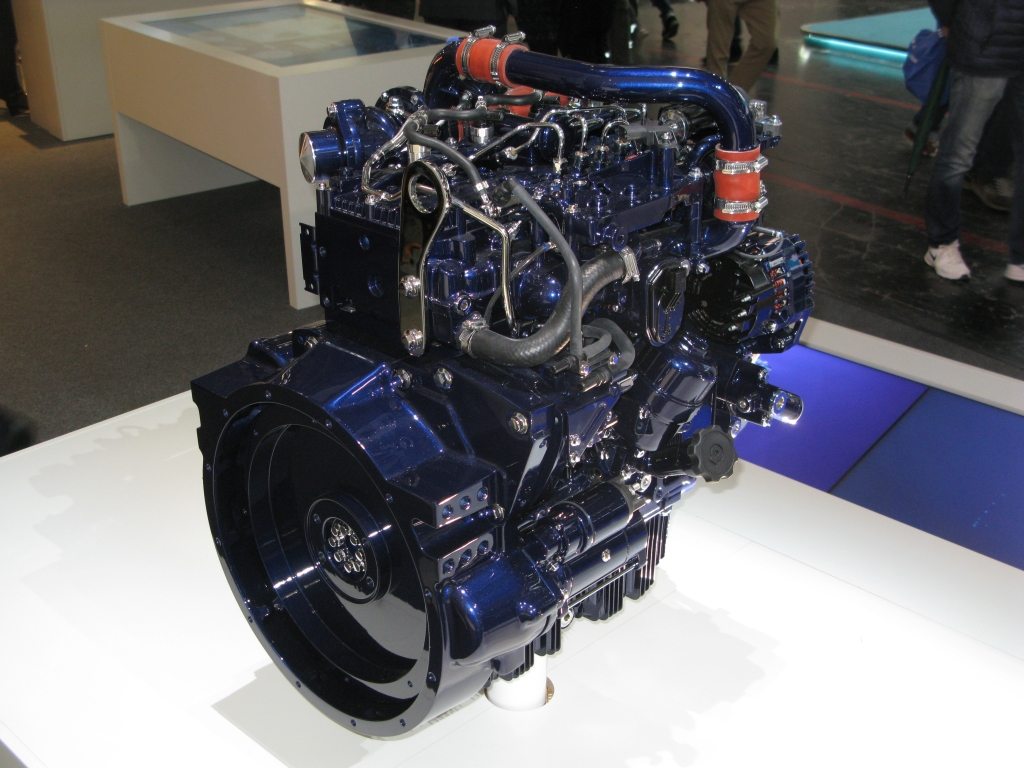 There are about 8 different types of hybrid and here at this show we are demonstrating 3 of those kinds. We are developing our hybrid projects across the whole range, from 8 kw to 600 kw but the ones that we are showing here, all three engines, are 55 kw they are all based on the Syncro 2.8 and each one of them has 20 kw of boost. The first one is an electric hybrid and that uses a motor generator and the energy is stored in lithium-ion battery and that has some advantage: the energy in the battery doesn't degrade over one hour or two hours and it is very good when the duty cycle is not predictable. But there are some disadvantages as well: lithium-ion does not release energy very quickly, so you need a big battery and the size can be quite the issue. Lithium-ion is also expensive, and our customers usually don't like "expensive and big".
The second kind we are showing is mechanical-hybrid and that is where the energy is stored in a flywheel, a high speed flywheel, so it is a completely different technology and this has the advantage in terms of very small space occupation, it is also very simple and very easy to install, it also releases its energy very suddenly but you can only store a small amount of energy and over some minutes the energy will start to decline. So, this solution can be very good for machines that are very cyclical.
The third kind of hybrid is a hydraulic one. In many machines you already have hydraulic pumps, implements, motors, valves, electronics and so doing a hydraulic hybrid is not very difficult because the technicians can easily understand the technology behind it and there is also no high voltage involved. But again, you can't store very much energy and it is, therefore, good for machines that have a cyclical operation.
MORE ABOUT PERKINS AT BAUMA MUNICH 2019
When do you think to release the other 5 kinds of hybrid solutions?
The market for hybrids at the moment is still quite small, much less than 1%. And electrics as well. Outside forklift trucks there is hardly anything electric today. We will observe the growth of the market and we will deliver more solutions accordingly. For the moment, we know that our OEMs are very pressurized in their research and development department, they have all the emissions and safety regulations to deal with.
They also have to add customer features in their custom machines like the different improvements to the cab or the seat or the hydraulics and at the same time, the owners of the OEMs ask them what is their best hybrid solution and we are there to help the research departments of the OEMs to save time and money by cooperating with them to develop better solutions than the ones they could get by working by themselves, because we are looking at a wide range of technologies because we focus on developing the best between the 8 hybrid technologies available that suits the needs of the customer.
From the point of view of the OEM, what changes are needed in order to adopt each of the three solutions presented here at Bauma?
It depends. With an excavator with lots of hydraulics already equipped than the hybrid-hydraulic solution would be quite easy to adopt, you just need some accumulators and some software. It depends on how much fuel saving the OEM wants. If you want 25% saving you need to change a lot, if you want 15% saving you instead don't need to change much. This is why we will work with the OEMs and ask them what their requirements are.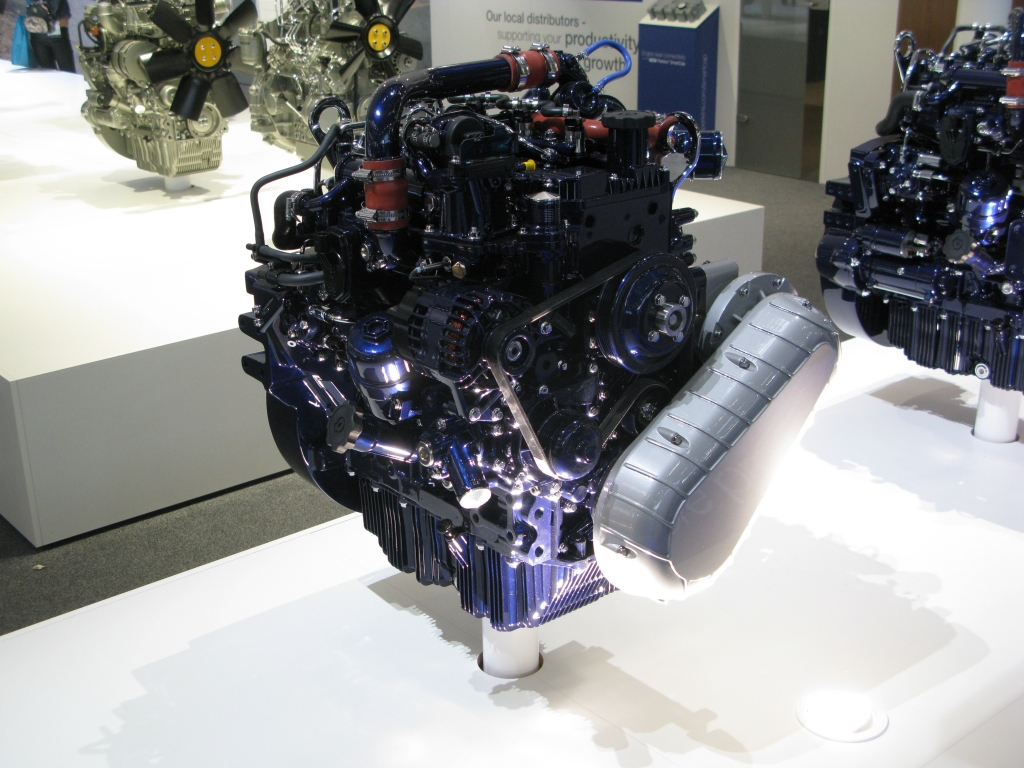 But are OEMs ready to change in terms of the overall system of the machine?
Again, it depends. For electric-hybrid, for example, this is a limitation. Some have suggested to simply replace the diesel engine with electric batteries and keep all the hydraulics; in reality the electric actuators do not exist, so you still need to have the right hydraulics.
When do you plan to unveil the first prototypes?
We don't know yet. All the solutions that we are showing today are under constant testing at the moment, so we are building experience with all of those, but we still don't know when we are going to show one publicly. Also, because we are planning on working with OEMs we will probably follow them to get to the final release, because they might want to share publicly the development or not.
If we have to make a hypothesis on the right location for the release, will it be the next Bauma, the next Samoter, the next Intermat or maybe an agriculture exhibition aswell?
If we are doing a demonstration, we might do it directly "at home", potentially starting from material handling. We have not yet decided about how we are going to go public with our solutions. Our first focus is on being the right partner for the OEMs.
So, Perkins is focusing more on hybrids than on fully electric systems in the short/medium term?
We are also looking at full electrics, but there are a lot of issues right now. For things like micro excavators or small wheel loaders used for farming, that could be ok, because these machines usually don't work very hard and they work indoors, so that's a good solution. But for 15-ton excavators, at the moment, it's a problem because you have no way to provide the right charge for those kinds of machines and the cost of the batteries are very high. The problem is that the technology is not yet commercially viable for all applications.
Is construction the best application of hybrid solutions? Carraro showed a specialized tractor during Eima, but probably construction is the best field of application…
It depends on what people want to do. If you are about burning less fuel as a society, than there are things to use that are better than electric. Hybrid can provide increased efficiency right now and it is already available. Electric will probably come, but the world is not ready yet. Only in some niches for the moment.