Rolls-Royce Power Systems & first half 2023
Rolls-Royce Power Systems revenue up 24% in the first half of 2023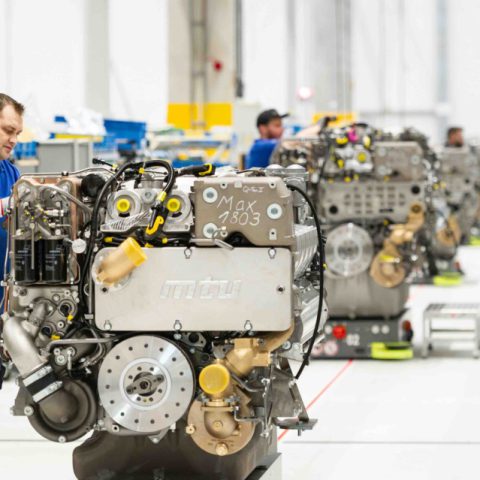 Rolls-Royce's Power Systems business unit increased 24% to £1.8 billion (around €2 billion) in the first half of 2023. This is the news confirming the good shape of Power Systems BU. The good state of health of industrial engines therefore continues, as confirmed by the second quarter of Cummins.
The performance of Power Systems in the first half of 2023
Order intake in Power Systems business was £1.9bn (€2,2bn), 14% lower than the prior period. Key awards in the period included delivery of further marine engines for yacht builder Ferretti, follow-up orders for rail power packs from Hitachi and a second contract to supply mtu generator packs for the US Navy frigate program. Demand remained strong despite increased pricing. Underlying revenue was £1.8bn (€2bn), up 24%. Services revenues were up 10% reflecting increased end market activity. OE revenue grew by 33%, driven by strong order execution for stationary powergen equipment and continued strong sales of mobile power solutions in the marine and mining segments. Operating profit was £125m (€143m) with a 7.0% margin. For the remainder of the year as a whole, the Power Systems business anticipates a positive development with an improvement in the operating margin due to the impact of pricing actions, cost efficiencies and seasonally higher volumes.
Some comments
"This significant sales growth in the often not so strong first half of the year is a success of our efforts to leverage existing potential and improve the performance of our business," says Jörg Stratmann, CEO of Rolls-Royce Power Systems. 
"We are pursuing our chosen path of profitable growth – with initial successes already. We have successfully initiated and implemented numerous measures. We reliably support our customers worldwide in their goals with our products and solutions – for example, with our mtu engines, which have been approved for operation with alternative fuels such as HVO. In this way, we are making an important contribution to the energy transition in various industries," emphasises Jörg Stratmann.