FPT C16 TNT for Case IH
FPT Industrial C16 two stage turbo engine for the new Case IH Steiger 715 makes its debut at Farm Progress Show 2023, in Illinois (USA)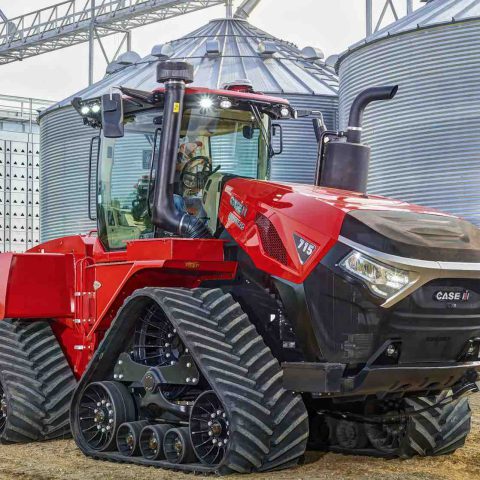 FPT Industrial's C16 TNT (aka, Cursor 16) is experiencing a second youth thanks to Case IH. When we awarded the 15.9-litre with Diesel of the year 2014, we exhibited the waste gate version on our stand at Samoter in Verona, Italy. FPT Industrial was however working on the two-stage turbocharger unit.
C16 and Case IH at Farm Progress
The Farm Progress Show 2023 is event where FPT and Case IH are presented the C16 TST, the two-stage-turbo engine powering the new Case IH Steiger 715 flagship tractor. Celebrating its 70th anniversary, and one of the largest outdoor Farm Shows in the USA, Farm Progress Show is being held in Decatur (Illinois, USA) from 29 to 31 August 2023. This upgrade of the DOTY 2014 provides to the new Steiger 715 performance increases of more than 10% in terms of power and over 6% in terms of torque compared to the previous C13 TST-powered Steiger 645. The reason of this significant power and torque increase lies in the facts that Case IH Steiger customers are pulling wider and wider implements faster to increase productivity.
Steiger 715 Quadtrac
The most powerful Steiger ever, available in Quadtrac configurations, the new Steiger 715 is designed to make the largest fields smaller by covering more acres per hour per day, pulling larger implements faster, delivering more power and increasing both productivity and efficiency.
SPEED RECORD IN THE WATER FOR THE C16

This new top-of-the-range engine, with market leading compactness and power to weight ratio, features proven Cursor engine EGR-free combustion, and has been extensively tested for more than 20,000 hours both on the bench and in the field. The EGR-free combustion chamber was improved to allow for an increased maximum pressure up to 220 bar; intermediate cooling together with high torque availability ensures fast load response; while the 2nd generation Common Rail injection system, operating at up to 2,500 bar ensures high engine efficiency and low fluid consumption.
Last but not least, a maintenance-free aftertreatment system without DPF, as well as 600 h oil service intervals, help keep the machine's operating costs down.
CURSOR 16 BECAME AMPHIBIOUS, TOGETHER WITH ALLISON

The new C16 TST's tour across the USA continues at another Farm Progress event, the 2023 Husker Harvest Days, from 12 to 14 September, in Grand Island, Nebraska, where the new engine will again be on show at the Case IH stand.