JCB by Kohler: Stage V for the TH
The JCB 525-60 is equipped with the Stage V JCB by Kohler that delivers a power output of 55 kilowatts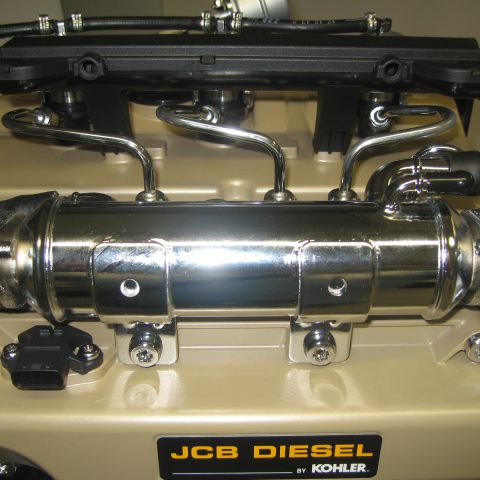 JCB and Kohler have a long partnership, stretching back well before Stage V. The roots go back to the collaboration with Lombardini. JCB by Kohler, on the other hand, appeared in 2014, at the time Stage IIIB/Tier 4 Final approved (like the one pictured). Now the family has expanded to the telescopic 525-60 Agri.
Stage V JCB by Kohler for 525-60 Agri
The latest in JCB's long tradition of telescopic handlers, the 525-60, provides a maximum lifting height of 6 metres and a maximum load capacity of 2.5 tonnes; it is extremely compact as it is only 1.1840mm wide and 1970mm high, dimensions that allow it to be accessed and used even in the smallest operating environments. The latest two agricultural versions of the British telehandler are powered by the compact 55kW Diesel engine.
2 speed hydrostatic transmission
The two-speed hydrostatic transmission allows operators to easily perform precise movements even in tight spaces. The transmission works in parallel with the brakes: transmission disconnection on the brake pedal provides excellent versatility and more power during loading or removal operations. Transmission performance is crucial: the 525-60 Agri version is equipped with the standard JCB transmission and reaches a top speed of 25 km/h, while the Agri Plus version offers a larger transmission with greater pulling and pushing power, while reaching a top speed of 30 km/h, offering excellent performance on the road, in the field and on the farm. JCB's automatic bucket control technology, featured on the Agri Plus model, provides rapid bucket or fertiliser fork vibration with a minimum joystick movement to quickly eject material and increase productivity. For optimum load retention and operator comfort (as well as faster cycles and shorter transfer times), JCB telehandlers are equipped with the optional innovative Smoothride system (SRS), which isolates the boom and load from chassis movement.