Kubota Micro Hybrids at Plantworx
Kubota will exhibit micro hybrids and part of its portfolio at Plantworx trade show, in Peterborough, from June 13 to 15 2023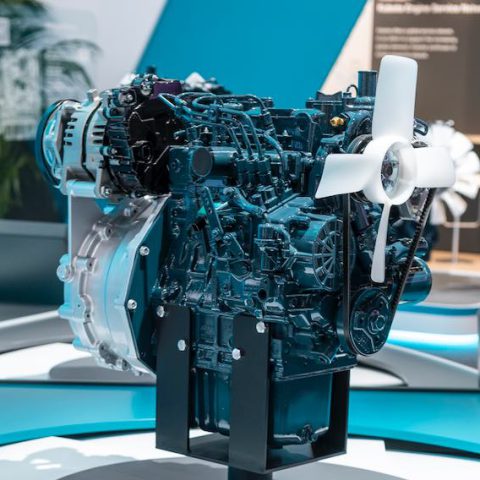 Kubota 's micro-hybrids step into the spotlight at the Plantworx trade show. Agritechnica, Bauma, Conexpo: these are some of the steps of the micro hybrids, which is finding more and more room in Kubota's plans.
From June 13 to 15 2023 Kubota will exhibit at Plantworx
Plantworx is a biennial showcase focused on construction equipment, innovation, technology products and services. It takes place in Peterborough, then at the home of a prominent competitor, Perkins. Kubota micro hybrid technology is a system installed with a 48-volt motor generator using electric power only when intermittent overloads need to be handled. A motor-assist function is used to deliver an extra 10 kW of electrical boost power when needed for occasional sudden loads enabling operators to select an engine with output to match the load range, together with electric power to compensate for infrequent intermittent overloads. Kubota micro hybrid technology is particularly suitable for applications with occasional overloads such as non-highway machines used on work sites, forklifts, sweepers, road rollers, excavators, telehandlers, wheel loaders, generators and aerial lifts. It is also fit for purpose for use in indoor applications. "Our Micro Hybrids offer machine operators outstanding benefits including reduced maintenance demands, ease of installation, enhanced fuel consumption and machine design flexibility," said Daniel Grant, Manager, Marketing Intelligence for Kubota Business Unit Engines Europe.
D1105 P2 and V3307-CR-T micro hybrid
The three-cylinder, naturally aspirated, water cooled D1105 P2 Hybrid is rated at 18.5 kW (24.8 HP) at 3000 rpm and has a clutch positioned between the engine and the motor drive. It can be switched between engine drive, motor drive and engine + motor drive while in operation depending on the application. For example, in noise or emission-sensitive environments the engine can be stopped and switched to the electric motor.
The 3.331 L displacement, four-cylinder, vertical, water-cooled, four cycle Kubota V3307-CR-T micro hybrid has a rated power of 55.4 kW at 2600 rpm. Bore and stroke is 94 x 120 mm and as the hybrid is the same size as common rail engines it is easy to install and customers do not need to change the design of their products.