Volvo Penta at ConExpo
Volvo Penta at ConExpo presented with Gradall the concept of an excavator equipped with a pair of batteries. We spoke to Volvo Penta's Vice President product management.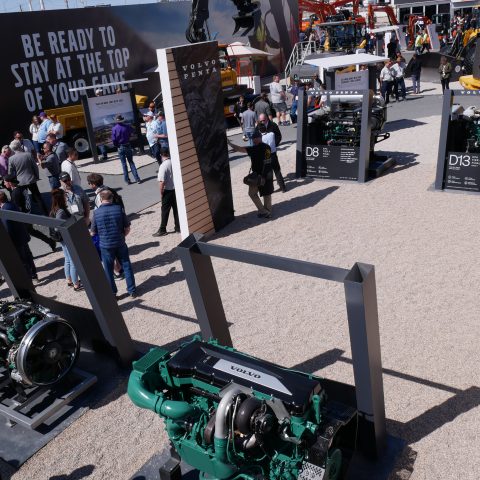 As a corollary of Volvo CE construction equipment, set on pedestals, Volvo Penta exhibited at ConExpo the D16, DC13, DC8 and D5, representing the thermal firepower, and the electric driveline. Waiting for us,Prabhakaran Sundaramurthi, Vice President Product Management Industrial BU.
Where do we start?
"From the beginning, I would say. This location represents the connection with the North American market. It is the great opportunity for the Volvo group to present at ConExpo the solutions we have today and those to come."
What are the demands of the North American market and what are Volvo Penta's expectations?
"Nothing different, if we compare it with the other large developed markets. We see a great opportunity here, both in our current and future offerings. There are government incentives for new technologies, especially regarding electrification, strengthening the grid and charging infrastructure."
A premise to introduce the next question. Gradall Industries, a manufacturer of telescopic boom excavators from Ohio, has introduced the EL41H4. The concept shown at ConExpo is powered entirely by two Volvo Penta batteries, which fit into the existing engine bay. Volvo's electric drive system also includes the high voltage system: electric motors, gearboxes, inverters, junction boxes and wiring. With a hydraulic system powered by an electric PTO, also from Volvo Penta, this concept can use battery energy for travel. The system will provide 94 kWh of energy; it takes less than 45 minutes to fully recharge with a 150 kilowatt charger.
What can you tell us about the Gradall concept?
"With Gradall we began our journey towards electrification. We have developed a scalable solution, based on the needs of the end customer. When looking at electrified solutions we need to understand the use of the machines, according to which the machine can be configured and provide the appropriate power output. It also depends on the geographical location and the type of application, as well as the specific needs, the energy infrastructures available and the type of autonomy desired."
Configuring a balanced solution in terms of electrical power is a crucial issue for engineering. Do you think electrification can catch on quickly, and what is your opinion on hydrogen in the medium term?
"We believe that there is no single solution that can meet all application needs. The determining variable is the energy infrastructure, as well as government initiatives, in the form of regulations and incentives. One solution is certainly the dual fuel one, in which hydrogen can be used to replace most diesel-powered vehicles, in addition to gas, biomethane and fuel cell engines. There are these three technology streams that we will apply according to customers' needs. We know that today, to move towards the future, we need a bridging solution; we therefore believe that dual fuel supply will be a good solution, in order to guarantee continuity in operational management. When you have an alternative fuel in the form of hydrogen, for example, you are able to replace up to 80% of diesel and thus meet the CO2 reduction in your existing fleet. As we proceed in this direction, if the availability of green hydrogen becomes predominant, then we will also have the solutions to use 100% hydrogen. At present, the technology and the total ecosystem are quite new, so we need to do training and understand the security aspects and so on, making use of the necessary collaborative approaches. It cannot be producers alone who take care of all this, there must be a push from customers, a motivation from producers and from the government, in terms of regulations and incentives to achieve climate goals."
Obligatory reflection on diesel engines.
"It is true that the internal combustion engine will survive, in one form or another, subject to constant evolution to improve its efficiency, reduce emissions and so on. The same platform will also be used with sustainable fuels such as hydrogen or HVO; therefore, these engines will be modified to match the fuels. So we believe in it, also with reference to the North American market to which we are offering the complete range."