Himoinsa European Rental Workshop
Himoinsa has bolstered its position in the rental sector with a comprehensive "Mobile Power" product solution and a clear commitment to electrification and the use of alternative fuels that will mark out its roadmap towards sustainability and zero emissions.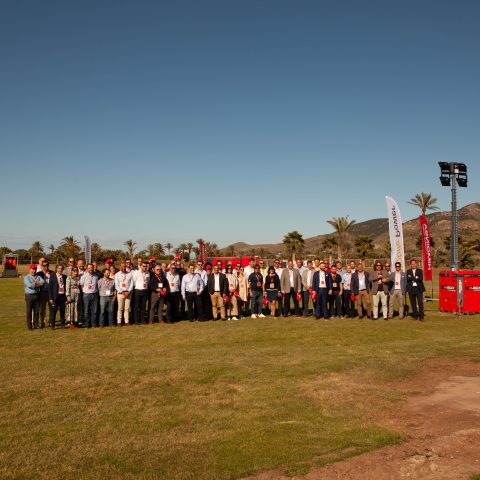 Himoinsa has held a new edition of its "European Rental Workshop" which brought together leading European rental companies as well as the sector's specialised press. The event took place from the 24th to the 26th of May in Murcia (Spain), which is where the company has its headquarters.
One of Himoinsa's primary objectives in holding the workshop was to provide a meeting point at which to present the latest trends in what is a constantly evolving market in which the electrification of equipment, the use of alternative fuels, digitalisation and energy efficiency have become driving forces on the road to sustainability and zero emissions. In this regard, the company is positioning itself in the market as a comprehensive manufacturer of "Power Technology Solutions" and is busily incorporating new technologies at the cutting edge of market trends into its traditional product portfolio.  
"We are committed to the constant development of new products, hence the year-on-year increase in our investment in R&D – in 2021, we invested 20.5% of our EBITDA in R&D", Francisco Gracia, President and Executive Director, tells us. Gracia is insisting on a combination of various technologies (generation, storage, distribution and lighting) to offer the market a comprehensive product portfolio that also includes gas, diesel and HVO generator sets, battery-driven storage systems, lighting towers…
Himoinsa, which has been part of the Yanmar group since 2015, is constantly reinforcing its industrial capacity and is working closely with Yanmar's R&D departments on new equipment. "Our integration into Yanmar Energy System (YES) clearly signals our determination to continue to make progress in the power generation sector. Himoinsa is celebrating its 40th anniversary this year and we are ready to further strengthen our presence in the international market thanks to an ambitious industrial project and the commissioning of a new factory that will enhance the production of higher power generator sets, from 1MW upwards", adds Francisco Gracia.
Himoinsa and the rental market
One of the participants in the "European Rental Workshop" was Murray Pollok, Managing Editor of International Rental News magazine, who gave an overview of the European rental market, which achieved a turnover of €56.9 billion in 2021, with significant growth in Europe of 15.5%, North America 13.3% and Japan 5%. "The pandemic has led to a serious reduction in rental activity of up to 9.1% in America and an 8% decline in Europe", said Pollok, who added that this decline varied by country: Spain (-13.5%), the UK (-16%), France (-14%) and Italy (-12%). The forecast for recovery is however looking good for 2022, which is expected to reach the levels of 2019, not to mention growth of 5.7% in Europe in 2023.
In this regard, the rental sector is an important market for Himoinsa, a market in which it has grown significantly in recent years, thanks to the fact that it has successfully balanced its global vision with local actions designed to meet the needs of each region, through its interconnected Engineering Centres around the world, which closely monitor local regulations and analyse trends on a glocal basis. Guillermo Elum, EMEA Region Head, says that 32% of the turnover in Europe in the last four years has come from the sale of equipment to rental companies and he expects this figure to increase in the coming years due to the incorporation of new "Mobile Power" equipment such as the EHR | Battery Power Generator, new lighting towers…
It goes without saying that, in addition to developing new products, the company is focused on guaranteeing a fast and quality after-sales service, which is why it has developed its "Self-Service Partner Programme", aimed at its dealers and rental companies and designed to guarantee autonomy in the management of both technical support and spare parts by making a series of digital platforms available to the customer for self-management.