Isotta Fraschini follows the IFuture schedule
Isotta Fraschini, a Fincantieri company, launched the 12 cylinder for power generation. It is the new step of the IFuture roadmap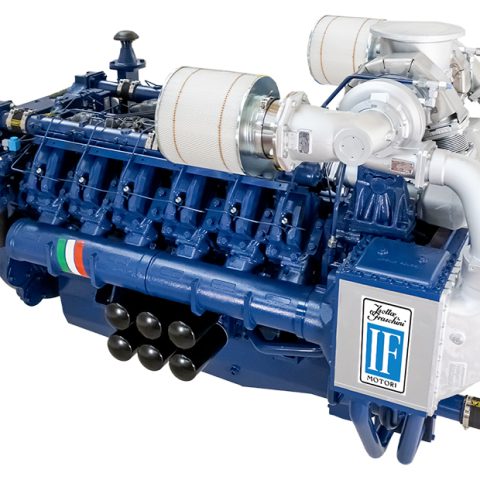 Do you remember, at the end of July we talked about Isotta Fraschini Motori, the IFuture program and 12V170 G. Find HERE the post.
Isotta Fraschini Motori and the IFuture roadmap: the 12V170 G
We can now go into more detail. As we just said, at Isotta Fraschini Motori, the IFuture project goes on. The CIS, the innovation and development centre, is fully operational and the 16-cylinder has a 'little brother', the 12-V diesel engine. We sit down with Giovanni Bruni, the COO of the Fincantieri Group company, Maurizio Bianco, Sales manager, and Piero Violante, CIS Program manager.
Maurizio Bianco: "The 12V170 G confirms the program that we started in October 2021 in the industrial scenario. The available power settings have been extended, including for the 16-cylinder, with some more specific configurations, suitably engineered for the 16 and replicated on the 12-cylinder, which will be available from the end of this year. Prompt delivery is something we are scrupulously taking care of for the 16-cylinder. We are able to deliver the engines within two months at the latest, with the possibility of ready stock as well. The 12-cylinder is aimed at the same applications as the 16, with modularity of the large majority of the components, since it is the removals of four cylinders, therefore maintaining the power line, front and rear end, replicating the same interfaces, both for continuous and emergency use."
Smart grids are very much 'cuddled' by engine manufacturers
Giovanni Bruni: "The need for energy is growing much faster than the 'grid' was 'smart'. To make any business grow you need investment. The old grid concept cannot withstand the speed imposed by the current model of investment and technological development."
Let us recap the stages of IFuture
Bruni: "In the first instance we put the 16 industrial cylinders on the market, then the 12. We completed the 32 recruitments of engineers within the first months of the year, and we are at an advanced stage of training and resource allocation. The CIS, the training and development centre, the container for this work group, is also now operational."
And watt about CIS, the R&D center?
No, sorry, you need to wait… After the Bauma Munich we will publish another post with a link to the POWERTRAIN November issue. Keep in touch.