Perkins turn electric. With its own batteries
Perkins chose the illustrious set of Bauma Munich to celebrate the breakthrough in electrification, with batteries designed together with Cat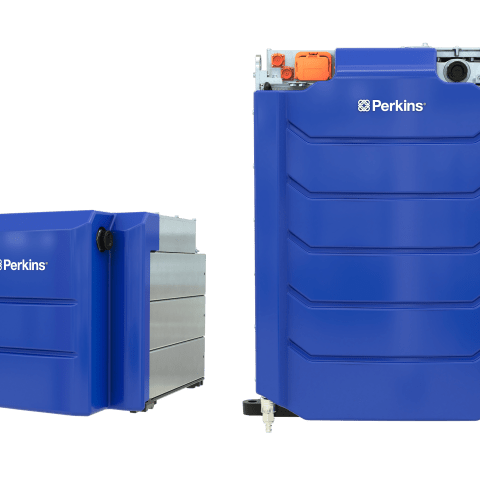 The news of the imminent 'unveiling' of the batteries had been circulating for some time, after all, Perkins had been waiting for electrification, following the Bauma 2019 example (remember the display of the hybrid-electric, hybrid-mechanical and hybrid-hydraulic modules?). The synergy with Caterpillar will be unveiled once again in Munich, three years later: Perkins' battery pack has reversed and forms the infrastructure of electrification and hybridisation, together with the ICE (from 0.5 to 18 litres and 8.2 to 597 kW).
For Perkins the batteries' time is at Bauma
And so, in the 2022 edition that promises to be under the banner of electrics (see, in fact, Cat and even Yanmar), Perkins is moving its queen to checkmate the competition and send a loud and clear message to OEMs. In fact, the Peterborough-based company is engaging in this programme as part of its ongoing initiative to support over 800 OEMs in tackling the energy transition. We are also thinking of finding new ones, among the more advanced ranks looking for solutions for the long term.
Jaz Gill says
 "As the industry enters the energy transition away from carbon, our range of innovations shows how we're helping customers improve jobsite performance, provide reliable electric power, and achieve business outcomes—all while improving efficiency and powering human progress," said Jaz Gill, Perkins Vice President of global sales, marketing, service and parts. "From biodiesel and lower-carbon intensity fuels to battery power and hydrogen blends and beyond, our decade-long exploration into alternative fuels and highly collaborative approach have kept us moving steadily to more sustainable outcomes for our customers." 
48 volt, 300 volt and 600-volt
Perkins engineers support the launch of next-generation off-highway powertrains by leveraging millions of hours of enterprise machine operating expertise combined with leading-edge integration, mechanical, electrical, software and controls engineering capabilities. Engineering is currently developing and field testing 48-volt, 300-volt, and 600-volt battery configurations that can be leveraged by OEMs in the construction, industrial, materials handling and agricultural industries.  The lithium-ion batteries are a robust, modular design and feature factory-installed telematics to optimise performance and packaging in off-highway applications. They are also being designed for recycling and reuse at the end of life to incorporate sustainability across their entire life cycle.