Iveco: 100 Nikola Tre fuel cell electric vehicles for GP Joule
Nikola Corporation and Iveco today announced a MoU for an order for 100 hydrogen fuel cell electric Nikola Tre heavy-duty vehicles from GP Joule, a systems supplier for integrated energy solutions based in Reussenkoege, Germany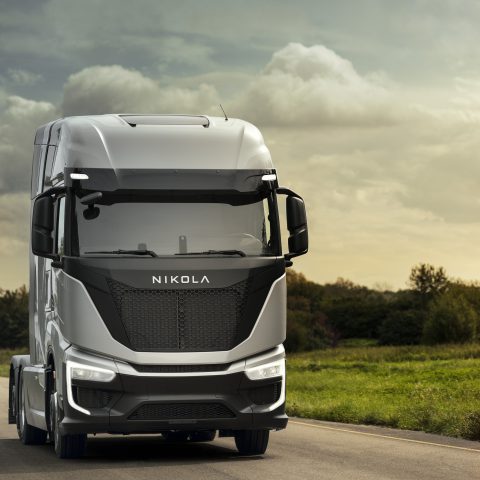 Nikola Corporation and Iveco today announced a MoU for an order for 100 heavy-duty ("Class 8" according to the American classification) Nikola Tre with hydrogen fuel cell electric propulsion (FCEV – Fuel Cells Electric Vehicles ) by GP Joule, a system provider for integrated energy solutions based in Reussenkoege, Germany. The Nikola Tre FCVs in the European 6×2 variant will be produced by the joint venture between Nikola and the Iveco Group at the site created in Ulm, Germany.
The delivery of the first 30 Nikola Tre FCEVs to GP Joule is expected by 2024. This will be followed by the delivery of the remaining 70 vehicles in 2025, with the possibility for GP Joule to acquire them through GATE (Green & Advanced Transport Ecosystem), the rental of all-inclusive electric vehicles from the Iveco Group. Iveco will supply the essential maintenance and assistance functions and GP Joule will make the 100 Nikola vehicles available to its customers in the transport and logistics sectors. The order is subject to GP Joule's successful application for funding from KsNI, the German program to support the procurement of vehicles with alternative and environmentally friendly engines.
In addition, the two companies have agreed to market additional FCEVs to customers in Europe starting in 2026. GP Joule will supply them with 100% green hydrogen in its network of hydrogen filling stations.
Michael Lohscheller, President and CEO of Nikola Corporation, said: "The GP Joule order will be an example of how the Nikola Tre FCEV can further support commercial customers in Germany in their transition to zero emissions several years ahead of schedule. to other manufacturers, thus favoring the achievement of the objective of decarbonising the transport sector".
Andre Steinau, Managing Director of GP Joule Hydrogen, said: "100% renewable energy for all, that is what drives us. Together with Nikola and Iveco, we offer our customers all components for climate-neutral heavy-duty transport from a single source: from the production and procurement of green hydrogen and hydrogen filling stations to fuel cell trucks and assistance to meet their needs. This is easy access to zero-emission freight transport."