New Hyundai fuel cell electric truck
Hyundai Fuel Cell Electric Truck  Hyundai fuel cell electric truck. Hyundai is ready to expand its global leadership in the field of fuel cell technology with plans to commercialize fuel cell electric trucks for the first time in the world. Hyundai Motor, in cooperation with H2 Energy, is going to provide 1,000 heavy-duty fuel cell electric […]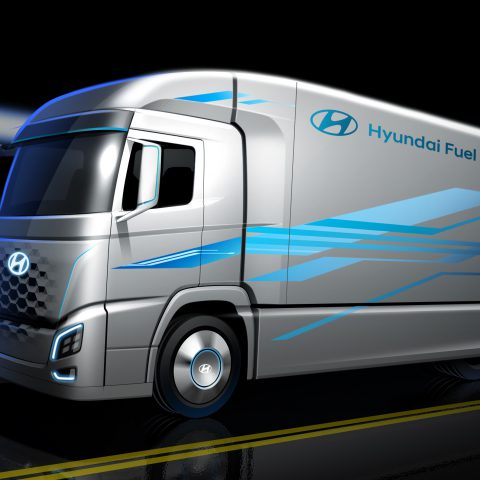 Hyundai Fuel Cell Electric Truck 
Hyundai fuel cell electric truck. Hyundai is ready to expand its global leadership in the field of fuel cell technology with plans to commercialize fuel cell electric trucks for the first time in the world. Hyundai Motor, in cooperation with H2 Energy, is going to provide 1,000 heavy-duty fuel cell electric trucks and an adequate supply chain for renewable hydrogen, beginning 2019 through to 2023.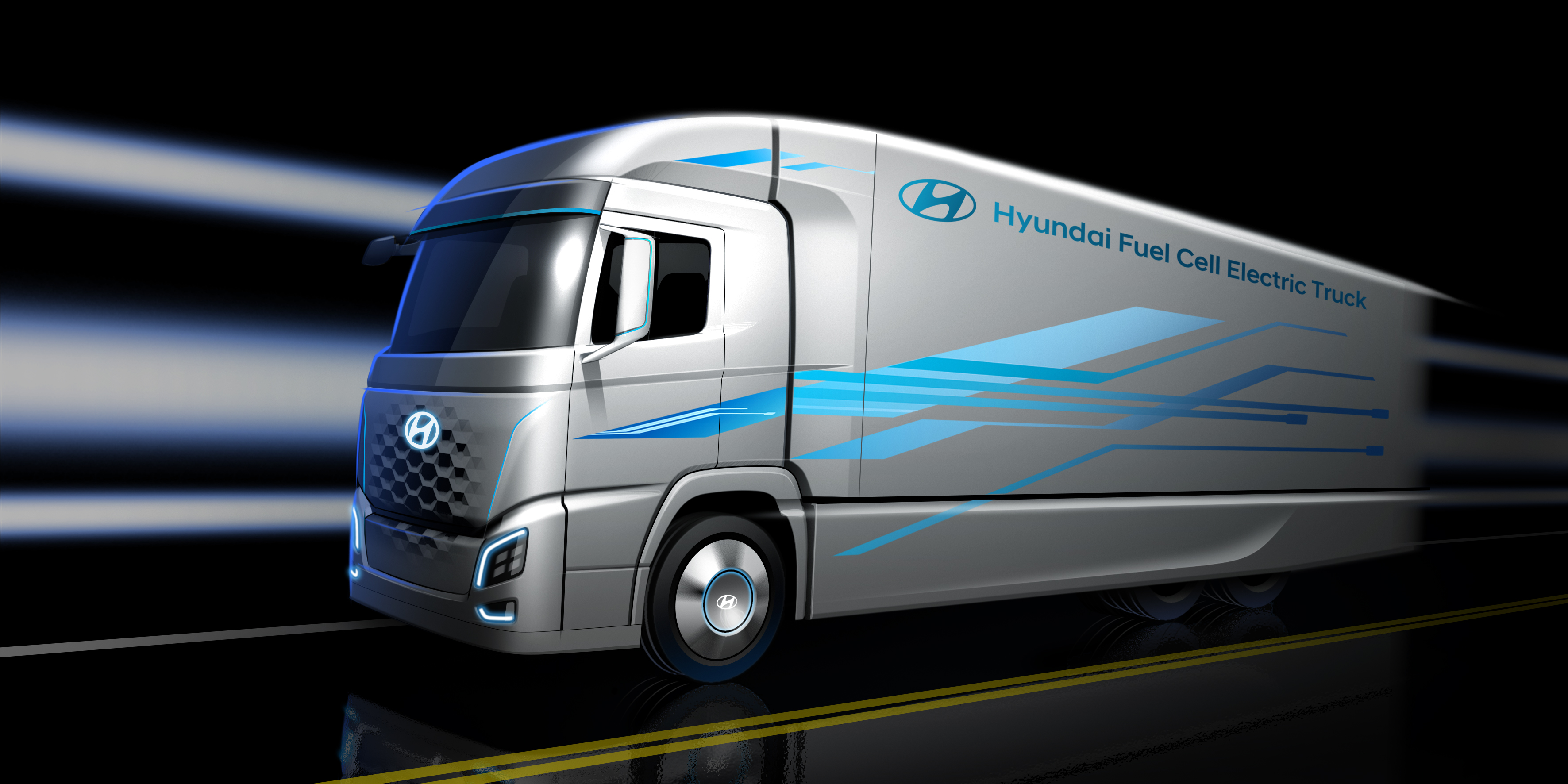 HYUNDAI MOTOR GROUP AND WARTSILA TOGETHER 
The new fuel cell electric truck is expected to travel a range of approximately 400km in real-life driving conditions. The truck also boasts a distinctive, simple and clean design which is aerodynamically efficient.
Cheol Lee,Hyundai Motor's Executive Vice President and Head of Commercial Vehicle Division, and Rolf Huber, Chairman of H2E, commented at MOU signing ceremony in the IAA Commercial Vehicles 2018 exhibition's convention:
«We are yet again advancing the field of fuel cell technology in the automotive industry with today's announcement of our ambition to commercialize the fuel cell electric truck for the first time in the world and we will continue to seek opportunities for expanding into other markets by carefully monitoring multiple factors such as fueling infrastructure and governmental policies».
The Fuel Cell Electric Truck and european regulations
The fuel cell electric truck fits european regulations. It features a new 190kW hydrogen fuel cell system with two fuel cell systems connected in parallel, also a feature of NEXO. It is expected to deliver a single-fueling travel range of approximately 400km, and in order to secure sufficient range, eight large hydrogen tanks are being compactly installed, utilizing areas such as between the cabin and the rigid body.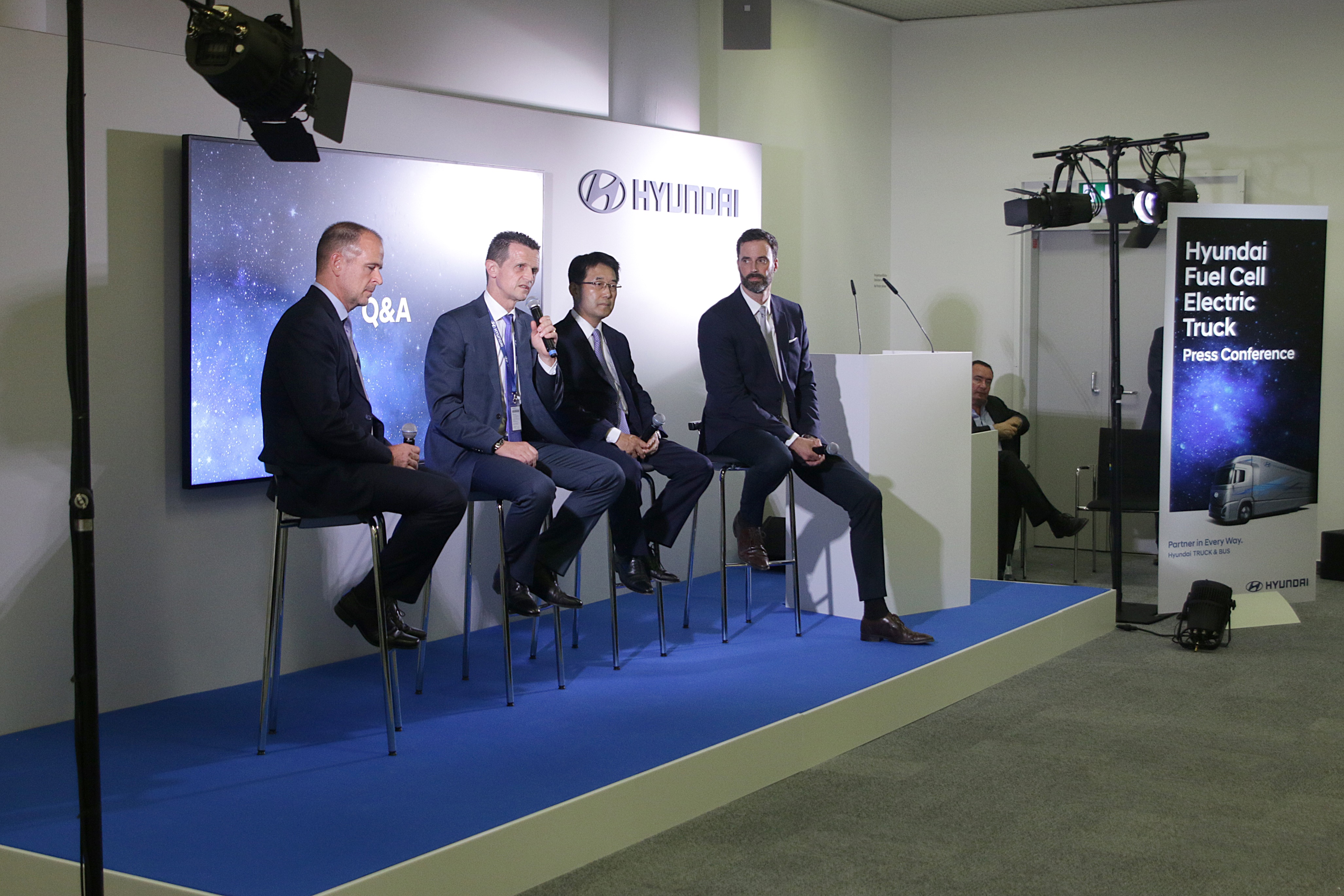 Hyundai plans to diversify its fuel cell electric commercial vehicle line-up to cater to growing opportunities in the sector. Currently under development is the medium sized fuel cell electric truck (Payload: 4~5ton) which can be used in the public services domain such as vehicles used for cleaning.
A cooperation with H2 Energy
Hyundai  Motor has chosen H2 Energy to collaborate with.  H2 Energy is a company specialized in the production and supply of renewable hydrogen in Switzerland, with business subsidiaries in Germany, Norway and Austria. The company is experienced in the roll out of an optimized hydrogen ecosystem, which focuses on commercial viability for all stakeholders.