We tell you the FPT Industrial at Conexpo
FPT Industrial at the Conexpo in Las Vegas wanted to emphasize the depth of the range, able to satisfy the needs of North American OEMs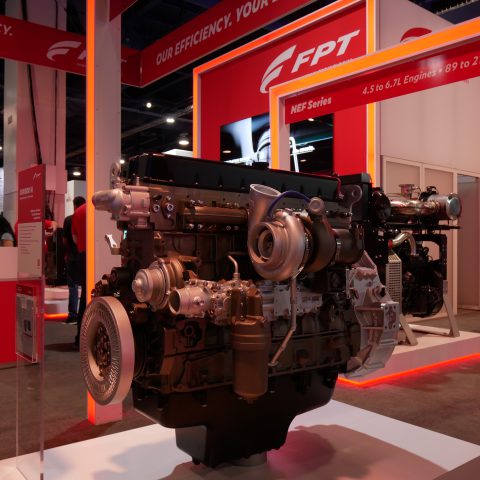 FPT Industrial has landed in Conexpo Las Vegas, to support distributor network, after the unfortunate 2020 edition, scourged by the explosion of the pandemic (remember that the trespassing dates back to those days in March).
At Conexpo Fpt Industrial showed off the ICE range
With Diego Rotti, Product Portfolio and Marketing manager off road Fpt Industrial we went straight to the point, the presence of the brand in North America. Then we digressed. "At Conexpo we set the focus on the North American network, to emphasize the depth of our range," specifies Diego Rotti. "We have brought the compacts (F28 and F36), Nef and Cursor, the engines are available in a fully equipped powerpack version, which facilitates the installation work, at least for machines that do not require complex vehicular integration. A solution that is suitable, for example, for pumps, screeners, chippers. There is the hybrid F28, produced to support the transition towards new technologies."
Is there an 'electric' atmosphere here too?
"As you know, we produce batteries for road applications (buses and light commercial vehicles) and electrified axles and transmissions, and we are also working on a solution for the off-road sector. There is interest in all solutions, on small cars there is growing interest in pure electric, a strong trend in construction. On the hybrid, the interest is in the 75-100 hp range (55.1 to 73.5 kW, ed.), then on the medium sizes."
What about widening your gaze?
We asked Diego Rotti for a reflection on the relationship with the 'internal consumers' of FPT engines, focusing on the scenario of star and strip manufacturers. "With Case there is a long-lasting relationship of integration. FPT's goal is to package customized solutions for their machines'. One ends, inevitably, on hydrogen. "The 460 horsepower (338.2 kW, ed.) hydrogen engine equips the Prinoth machine, which was on display at Interalpin, Innsbruck, Austria, a snow equipment trade fair. Hydrogen is gaining acceptance in the US, the idea is to find scalable sizes from 13 litres down. We started with direct injection on hydrogen to have a higher specific power."