Benetti Crystal 140′ ready to sail again
Benetti Crystal 140′ on top from 2011 The first Benetti Crystal 140′, a 42 x 9 meters of the super-yacht Class line, firstly sailed in 2011. On the 23 of june the ninth admiral vassel model of the Classic category was finally launch (BY009). Plenty of spaces both on board and below deck. The vessel, […]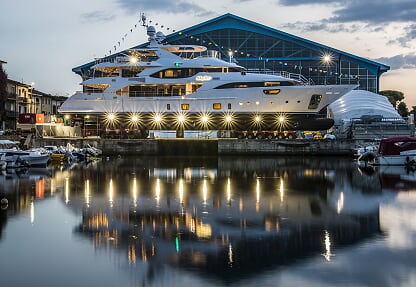 Benetti Crystal 140′ on top from 2011
The first Benetti Crystal 140′, a 42 x 9 meters of the super-yacht Class line, firstly sailed in 2011. On the 23 of june the ninth admiral vassel model of the Classic category was finally launch (BY009). Plenty of spaces both on board and below deck. The vessel, that has four decks, five cabins and a handsome full-beam master suite, could accomodate till 12 guests (in addition to the crew).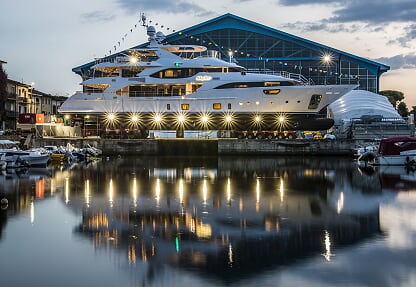 AZIMUT BENETTI @ MILAN DESIGN WEEK
Benetti Crystal 140′, Caterpillar spirit
Two CAT C32 Acert, 1.193 kilowatt and 2.300 rpm, move the BY009 up to a 11 knots cruise speed and four thousand nautical miles autonomy. Electricity supplying is given by two CAT C7.1 (118kw) generators.
The ship-owner cannot hide his satisfaction: »The success of this project is a perfect example of everything Benetti represents as a brand worldwide, and it bears witness to the extraordinary quality of the products built by the shipyard. It will be a pleasure for me to navigate this yacht the world over, showing it off with pride».
Spaces rationalization
The design line follow the spaces rational managing to achieve the best user utilization. Hull and superstructure were realized in FRP (Fiberglass Reinforced Plastic). The Main Deck, with a wide living area, is the heart of the boat and it is link both to internal and external areas by a sliding glass door. The Master cabin, that is delighted by an amazing 180° view through bright and big windows, is placed on the main desk bow and has a private bathroom.
On the poop is located the garage with tender, water-crafts and toys. Its position is close to the bow and can be entered by an opening on a side of the boat. The remaining poop space is designing like a large beach area.
Engine room position ensure comfort also in lower deck. On the right there is a double room with an extra bed and in the left there are two sliding beds. Crew has also accomodation in lower deck, while captain cabin is in the upper deck, next to the command bridge.
BENETTI SPECTRE, THE 007 SUPER-YACHT