Electric Boat Show Milan 2023
The Electric Boat Show in Milan showcased the skills of system integrators, who are increasingly focused on setting up the complete e-powertrain. Sealence, AS Labruna, E4Boat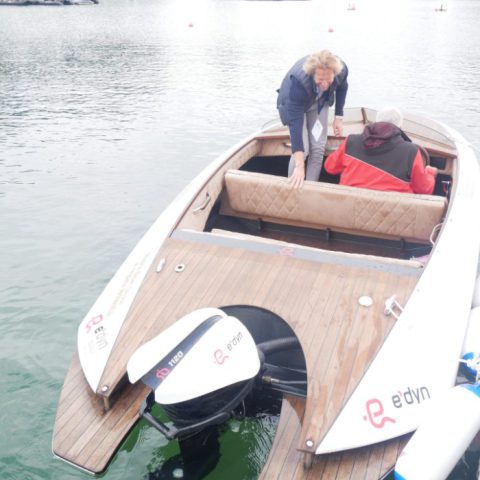 The second edition of Electric Boat Show Milan was held from 12th to 14th May at the Idroscalo. The Idroscalo is a 1.6 km² artificial lake, a few km from the centre of Milan and very close to Linate airport.
A show for electric boats in Milan, where there is no sea but…
The 'waterborne' electric mobility industry is set in a place where there is no sea, or even a lake (do you remember Boot Show in Düsseldorf?). There is, however, a lively market, that of Lombardy, with 10 million citizens, more than a fifth of the Italian national GDP and a multitude of inland waters. EBS is a B2B event, but one that leaves room for a raid by small boats owners, often outboard petrol-powered, or diesel inboard, to be converted to electric propulsion. Let us briefly tell you about three approaches to electrification. You will find more details in the next issues of POWERTRAIN magazine International.
Sealence, please…
e-DriveLab is a start-up company taken over by Sealence. Reduced conceived from a blank sheet of paper and developed, batteries, power and control electronics, management software, possibly 'range extenders' (ICE as generators). DeepSpeed is a modular outboard jet propulsion, both full-electric or hybrid (up to 22 kW in AC and up to 25 kW in DC). SafeLi is a 83 kWh battery pack, 400 VDC, DNV-GL compliant, with three big pluses: energy density, charging and discharging power, heavy-duty certification.
AS Labruna
At Electric Boat Show Milan AS Labruna brought three boats for in-water testing. Futura, already seen in Venice and Monte Carlo, here with some upgrades. Two 11.5 kW E-Vision X-20 motors, with a 48V submerged motor, equipped with 5 kWh lithium batteries (expandable to 14 kWh), with two hydrogen cells of 1 kW each. There are also two fibreglass open boats, equipped with an 11.5 kW electric outboard, from two shipyards in Puglia, Idea Marine and Mingolla.
E4Boat
Docked at the quay is the Corvetta 24 from the Mussini shipyard, in full electric mode (length overall 8 m, 2.6 m max beam, 1.9 tonn displacement). The components are entrusted to Zapi Group, with two 20 kW electric motors, inverters, and battery chargers compatible with recharging from the Zivan recharging station, with waterproof certification (the 'case' is IP65 -Ingres protection-, the external fan is IP55). To put it bluntly, it is sealed and can even be washed with a pressurised jet. Up to three modules can be set up in parallel, which can be supplied in three-phase mode.