Volvo Penta and Groupe Beneteau join forces for hybrid-electric system
Volvo Penta and Groupe Beneteau joined forces to host a collaborative, hands-on testing event for an innovative hybrid-electric experience in June.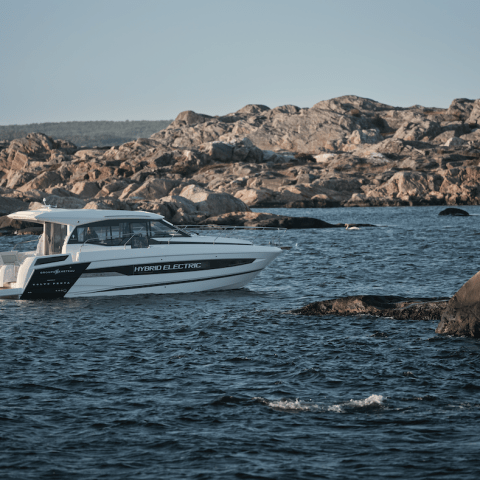 Volvo Penta and Groupe Beneteau joined forces to host a collaborative, hands-on testing event for an innovative hybrid-electric experience in June. Developed with a third-party market research analyst, a formal questionnaire was used to capture actionable data the two companies will use as guidance towards the future boating experience. The goal was to seek feedback and input from a variety of consumer boating industry experts on how the hybrid-electric experience could shape the future of boating.
The event took place at the Volvo Penta Krossholmen Test Facility in Gothenburg, Sweden, and included boating media, dealers and customers. Guests were invited to participate in a conceptual boating experience that featured the strengths of both Volvo Penta and Groupe Beneteau – Volvo Penta's hybrid-electric system integrated into a leisure boat that showcases the latest advances in sustainability, intuitive operation and near-silent cruising.

"This was an unprecedented event for Volvo Penta and Groupe Beneteau. Never have we been able to gather so much valuable insight on the future of boating from such a well-rounded group of industry experts during hands-on testing," said Johan Inden, president of Volvo Penta's marine business. "Our collaboration with Groupe Beneteau has allowed us to tap into a wealth of knowledge across their broad network of dealers and customers. Collectively, we have gained invaluable insight into the market's perception of this type of solution. These essential findings, which are overwhelmingly positive, will help us shape the next generation boating experience." 
Along with the opportunity to engage with expert demos and hands-on test driving, guests were also interviewed exclusively one-on-one to capture for their reflections on the value of the hybrid-electric experience and how it could transform boating behavior. 

A stunning 72% of attendees indicated a high likelihood of choosing a hybrid-electric system for their next boat purchase after testing the vessel. This remarkable insight helps prove the trend toward market readiness for hybrid-electric boating solutions and may well forecast them as the next evolutionary step in sustainable boating. 

"Collaborating with media, dealers, and customers has always been of paramount importance to us, and inviting the full value chain to test this hybrid-electric experience has provided us with new insight, backed by data," said Erik Stromberg, vice president of power and motor yacht products. "This new hybrid-electric vessel allows boaters to interact with nature in a way that is much more silent and intuitive. As we look 10 to 15 years into the future, we are looking at a significant shift in terms of propulsion systems and we will use the data and insight collected through this collaboration as inspiration towards our path ahead." 
Volvo Penta and Beneteau: a groundbreaking concept
The hybrid-electric boat featured by Volvo Penta and Groupe Beneteau presents no compromise, embodying the best of both worlds – the range and top speed of a conventional combustion engine vessel and the minimized carbon emissions of an electric driveline. It has a top speed of 35 knots and the ability to cruise up to 10 knots on electric power alone. The plug-in parallel hybrid features two Volvo Penta D4-320 engines alongside two 60 kW electric motors. The electric motors and combustion engines work together to deliver responsiveness and smooth acceleration boost.  

Headline features include onboard battery banks that can store 67 kWh and a unique Human Machine Interface (HMI) that seamlessly switches among Electric, Hybrid and Power modes. This robust battery storage can expand the horizons of exploration, offering the opportunity to live off-grid, without running a generator or combustion engine, and explore otherwise-restricted areas, such as protected waters or near wildlife habitats. A fully integrated experience includes Volvo Penta Joystick Docking and Dynamic Positioning System in electric mode, for a fine-tuned level of precision and control.