Allison Transmission to display e-axle for refuse vehicles at IFAT 2022
Allison Transmission will present a broad range of technologies from traditional propulsion solutions to the new Allison eGen Power electric axles for municipal and refuse vehicles at IFAT 2022, in Munich.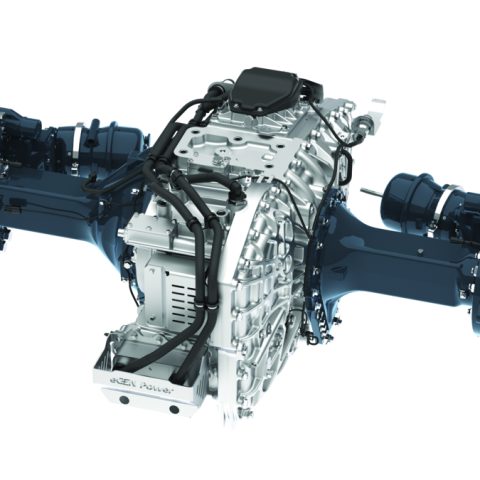 Allison Transmission is showcasing its new electric axles, Allison eGen Power, for refuse and municipal vehicles at IFAT 2022 (May 30 to June 3, Munich). The new technology will be presented alongside a broad range of fully automatic transmissions for traditional and alternative fuel powertrains.
eGen Power is designed to fit between the wheels of heavy-duty trucks, replacing the vehicle's traditional powertrain system. It is a bolt-in solution compatible with the current vehicle frame, suspension and wheel ends, and well suited to most OEM vehicle assembly processes. eGen Power features fully integrated electric motors, a multi-speed gearbox, oil cooler and pump and is compatible with full battery electric vehicles (BEV) and fuel cell electric vehicles (FCEV) as well as hybrid applications. The technology is designed for 100% of motor torque in regenerative braking.
Allison at IFAT: other fuel efficient solutions
Allison Transmission will also present its optimized fuel efficient solutions for traditional and alternative fuel powertrains at IFAT. Allison recently introduced two new versions of its xFE technology, the 3000 xFM and 3200 xFE fully automatic transmissions. The xFE technology has been shown to reduce CO2 emissions and fuel consumption by up to 3.7% compared to the standard 3000 Series™ transmissions based on VECTO duty cycle calculations. This can vary by application or truck. The greatest gains are made at speeds below 20 mph (32 kph), depending on axle ratio, and above 45 mph (72 kph).
Allison's products will be exhibited not only at the company's booth. In addition, leading European vehicle manufacturers and bodybuilders will be showcasing refuse and municipal vehicles with Allison fully automatic transmissions in their stands. Scania will be presenting a L 280 Low Entry CNG refuse vehicle with Allison 3000 Series that is part of the AWM (Munich waste management company) fleet and is on loan for the IFAT.
An Allison fully automatic 3000 Series transmission coupled with a 250 kW Hyzon electric motor was delivered to the new hydrogen-powered refuse collection truck in the city of Aberdeen.