AS-PL. Alternators, starters and parts from Poland
Efficiency is too tricky to achieve to be handled just by engine manufacturers alone. The whole system is the real driver of efficiency and at AS-PL they know it. Especially now, in times of progressive electrification of the powertrain. And so it is that alternators and starters from Poland, where domestic demand stimulates the effervescence […]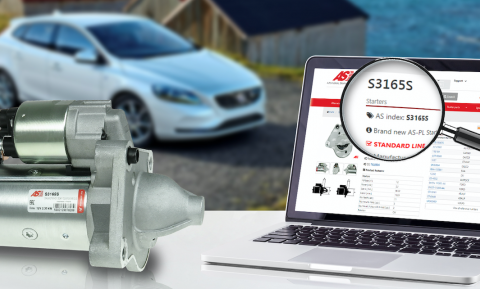 Efficiency is too tricky to achieve to be handled just by engine manufacturers alone. The whole system is the real driver of efficiency and at AS-PL they know it. Especially now, in times of progressive electrification of the powertrain. And so it is that alternators and starters from Poland, where domestic demand stimulates the effervescence of the supply chain, are looking for outlets abroad.
We talked about it with Robert Snider, Chief marketing officer in AS-PL.
What is changing in the alternator market with the Stage V emissions rules?
The Stage V emissions rules can increase the production of hybrid and electric vehicles. Together with this alternator must adapt to a changing technological world, taking into consideration that electric cars don't use the 'traditional' alternators at all.
Which applications do you focus on?
Our company was established in 1992 in Gdańsk (Poland). AS-PL cooperates with aftermarket distributors and wholesalers of spare parts and accessories for vehicles all over the world. The company is a leader in the field of supplying parts and electrical components for vehicles. We didn't focus on any type of vehicles and we deliver a wide range of products, more than 17 000 different products (including 2,100 types of starters, 2,900 types of alternators and 12,000 components) with a total of almost 250,000 reference numbers dedicated for passenger cars, lorries, agricultural machines, boats, motorcycles, and for the industrial market.
Our products are an alternative to the most popular brands, such as: Bosch, Valeo, Denso, Magneti Marelli etc. As products are divided into three product lines (Premium, Standard and Economy) and undergo strict testing procedures and meet the highest requirements in relation to their assembly and technical parameters. As part of a drive towards producing top-quality products, a quality management system compliant with Iso 9001:2015 was implemented. The certificate guarantees that AS-PL company operates in accordance with quality standards and controls its influence on the environment. The test results are included in the product packaging.
What about starters (some details about technical items)?
An electric starter is a direct current motor used to rotate the engine crankshaft and provide a proper rotational speed so as to initiate the engine's operation under its own power.
Starter consist of the elements like, i.e.: starter head, bendix, starter transmission, rotor, stator, brush holder and starter back cover.
The most common symptoms and damages of the starters together with their causes:
1: The starter does not rotate the crankshaft
– the battery is nearly discharged
– damaged, burnt fuse
– electromagnetic contact switch malfunction
– mechanical problem of the engine
2. The starter rotates the crankshaft too slowly
– the battery is nearly discharged
– the cables may be loose and/or corroded
– poor connection in electromagnetic contact switch
3. The starter rotates but it doesn't turn the crankshaft
– damaged starter Bendix
4. The starter does not stop rotating
– damaged/worn out starter pinion or flywheel ring
5. Excessive noise coming from the starter
– worn out sleeve
– pinion ends wear/wheel gear flange wear.
Can you describe a new product? Technical features, applications, elements of innovation?
Each month the AS-PL product offer increases by approximately 80 to 100 new products and parts. One of such examples is the Starter no. S3165S. The starter with index number S3165S is a product of the AS brand. It belongs to 'Standard line', the leading product line of the AS brand. Our product can be used in selected models of Ford (C-Max, Focus or Grand C-Max) and Volvo (C30, S40, S80, V40, V50, V60, V70 or XC40) vehicles and is replacement for Valeo products. It has 12 V, 2.3 kW power and CW rotation.
Goods offered by our company undergo strict testing procedures. Supplying reliable products tailored to current market expectations while using state-of-the-art technologies is the company's most important goal and mission. All alternators and starters offered by AS-PL are tested using specialist machinery and have a 2-year warranty. The test results are included in the product packaging.
Which exhibitions of the industrial field (off road and stationary) will you be attending?
For many years we have been present at the most important automotive and aftermarket exhibitions in Europe and worldwide, such as: Automechanika Frankfurt, Equip Auto Paris, Autopromotec Bologna, Rematec Amsterdam, Automec Sao Paulo and every year AS-PL increasing the range of exhibitions.
Our company offers more than 17,000 different products with a total of almost 250,000 reference numbers in order to provide our customers with a wide selection of original products and their replacements at favourable prices. The offered products include parts and components for passenger cars, lorries, agricultural machines, boats, motorcycles, and for the industrial market. However, our widest range of product applies to passenger cars.