Baudouin: a deeper look at MEE Dubai news
Baudouin, at last MEE Dubai 2019, was present with some interesting surprises. We wanted to discover more so we went straight to the source, during the event, with some clear questions in mind. This is what Baudouin shared with us. What about the smaller engine you unveiled today? It is part of the eight variable […]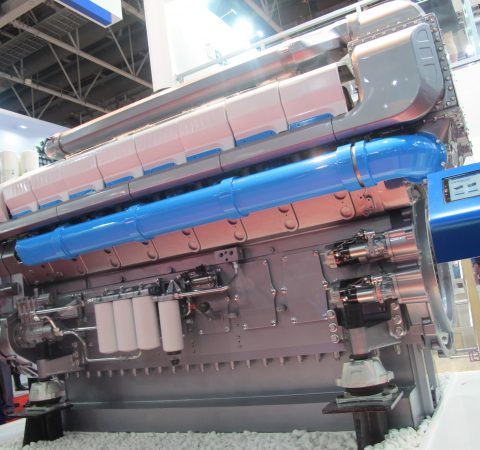 Baudouin, at last MEE Dubai 2019, was present with some interesting surprises. We wanted to discover more so we went straight to the source, during the event, with some clear questions in mind. This is what Baudouin shared with us.
What about the smaller engine you unveiled today?
It is part of the eight variable speed engine platforms that Baudouin will release for industrial application in 2019. The product unveiled is a 4.5-liter engine, 4 cylinders, coupled with a water pump, specifically for agricultural applications. The same engine is available in 6-cylinder version, 6.7 liters, all the way up to 12 cylinder, 39 liters and fulfilling a range of power from 30 to 1110 kWm.
Why did you choose variable speed strategy, which is usually connected to permanent magnet engines?
These variable speed engines have been perfected for a variety of industrial applications among which agriculture, motor pump sets, firefighting, dredging pumps and other applications. All engines are fully mechanical with inline injection pump, durable, easy to maintain and with high tolerance to fuel quality, making these products ideal for use in a variety of remote areas around the world.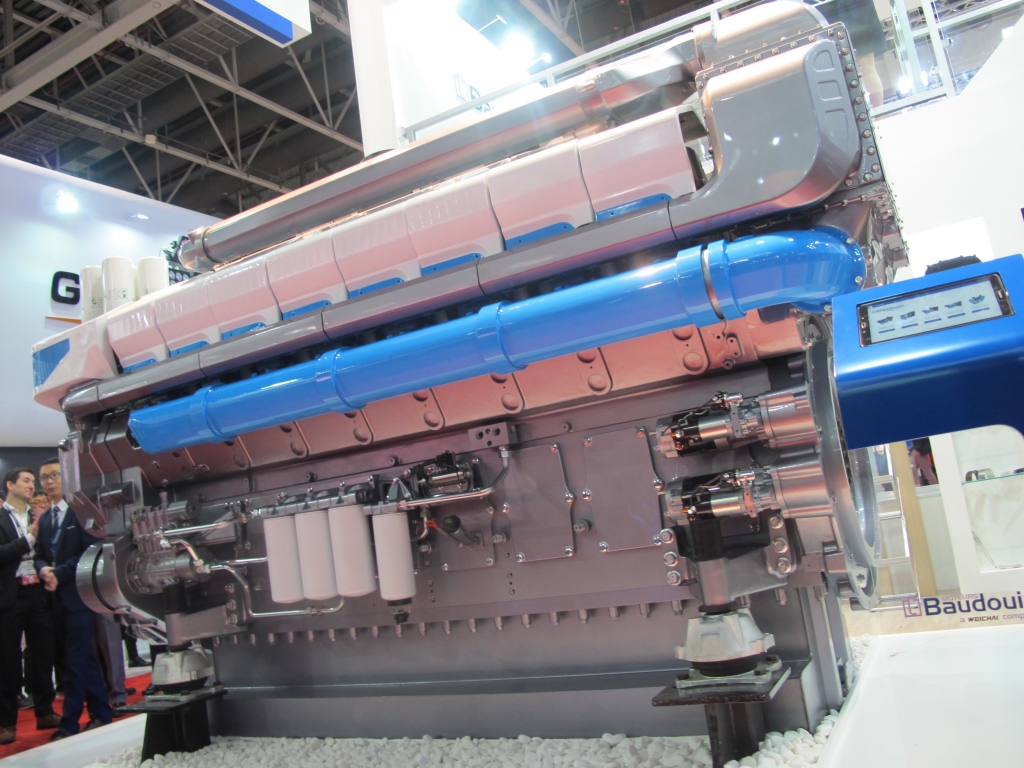 What about the other big surprise, the 16M55? Is it basically a Weichai engine block or is it a completely new project?
The 16M55 is a brand-new engine, born from joint design and engineering efforts involving our R&D teams across the globe. In 2016, we displayed the 12M55 at Middle East Electricity exhibition. That was a 5.5 liters per cylinder engine, 12 cylinders in V configuration and capable of up to 2750 kVA. It was the starting point for the development of this new 16-cylinder engine that we are presenting today.
Obviously, the M55 product development project was not launched only for Power Generation, but for a variety of applications, including, but not limited to Mining trucks and Marine propulsion. Most of our engines share a similar design for a variety of segments. The larger engines design is strongly influenced by our marine heritage, while the smaller engines are strongly influenced by our experience in the truck business, so it's always a combination of different sectors, needs and designs.
What's your horizon in terms of KVA?
Currently, our product range covers 15 to 3125 kVA. We have just presented the 16M55 today, which will extend the power range around 3500 kVA; the plan is to keep investing in development and exceed the 4500 kVA very soon.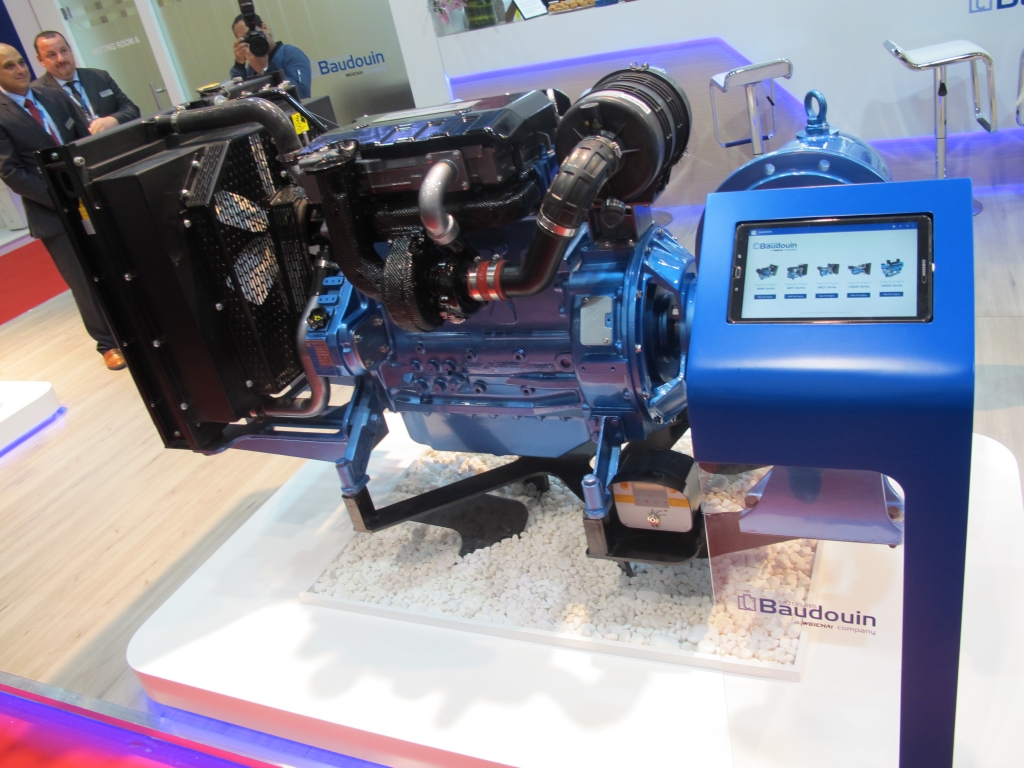 Why do businesses invest in such big engines? Where is the business?
Larger displacement engines are suitable for several applications, from marine and construction machinery to power generation. The technical capabilities and manufacturing techniques required for such engines mean that the number of manufacturers capable of designing and building these products is a lot smaller than those producing small displacement engines. In the power generation market, customers value a single source of supply across a wide range of power, simplifying their supply chains, servicing and support requirements.
As electrical power usage across the globe continues to increase, with more critical infrastructure reliant on large emergency standby, prime power support and long-term continuous power for off grid power networks, these engines ensure that Baudouin can support customers across a wide range of applications.
Does it make sense putting such big engines in smart grids?
Smart grids that incorporate different renewable generation and potentially electrical energy storage technologies are still susceptible to a lack of power generation when the environmental conditions are not suitable. These large displacement products provide a guaranteed source of power to support off-grid and critical applications. Reciprocating engines remain the most reliable source of electrical power generation for off grid and emergency standby installations. Many smart grids incorporate diesel engines to ensure that power remains available regardless of the operation of the renewable or storage elements, although the renewable elements potentially allow for reduced operational costs.
You are working on downsizing of radiators, is it a strategy for all displacements and power ratios?
While open gensets can admit larger engine sizes with no major impact on the final cost of the product, soundproof generators are strongly constrained by the size and dimension of the engine package. We developed a partnership with a major European supplier of radiators and started the re-design project of our PowerKit package with larger engines, prioritising those where we realised to be less competitive in terms of power density when benchmarking other industry leaders.
We are working in further extending and optimising this strategy, so that we will be able to deliver to our customers best in class solutions all around. How do we do it? It's all about flexibility, taking customer's feedback seriously and reacting quickly to their needs. Although part of the very large Weichai group, we are able to move fast and to keep improving our engine offer, outpacing our competitors.