A deeper look at Caterpillar's news from Bauma Munich 2019
At last Bauma Munich 2019, that took place from 8 to 14 April, Caterpillar showcased a lot of interesting news in a really particular booth. Diesel International was there to collect as much information as possible. This is what Caterpillar shared with us. We have some big product launches here, we debut with our new […]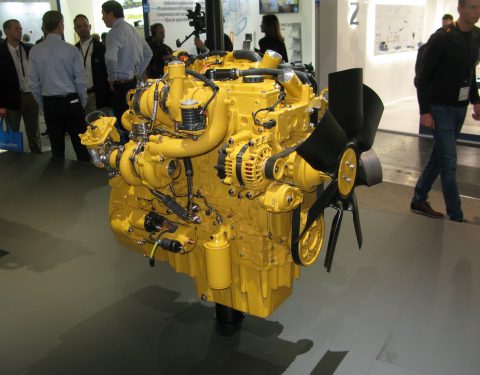 At last Bauma Munich 2019, that took place from 8 to 14 April, Caterpillar showcased a lot of interesting news in a really particular booth. Diesel International was there to collect as much information as possible. This is what Caterpillar shared with us.
We have some big product launches here, we debut with our new C 4.4 Stage V, a big step for us in power density with a 15% increase up to 150 kW, and torque has increased by a 10% as well, so big improvements in power density.
How did you reach this goal?
We invested on the latest, most efficient fuel systems. They return less fuel to the tank and they inject higher proportions of fuel, so the engine is working less hard, the fuel system is more efficient and the air system also is more efficient, so the duct between our twin turbocharger is more efficient losing less pressure. More fuel and more air delivers more efficiency for the system, so more power and more torque. This is critical for OEMs, they are looking to be more profitable, deliver better financial results in a market that's very competitive; we help them to remove costs from their machines because they can downsize their platforms, say from a 6 liter engine to a more cost effective C 4.4 platform, so considerably smaller.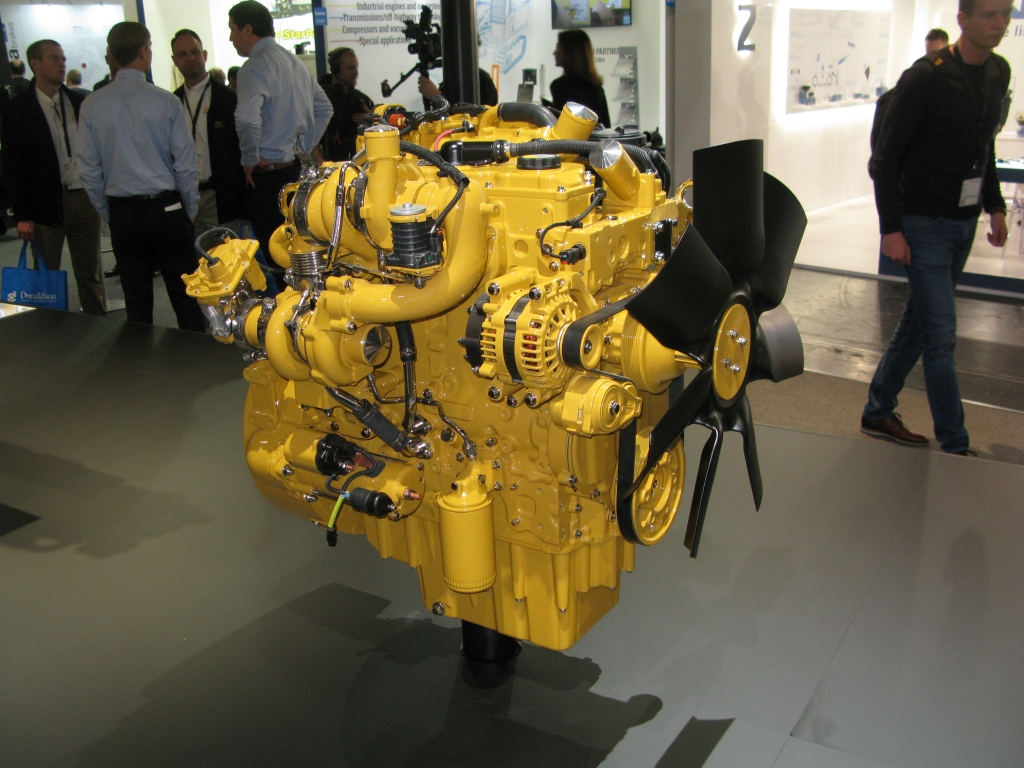 So a C 4.4 delivers the same power levels of a bigger engine…
Exactly. We shaped the engine to be as responsive as a 6 cylinder platform; OEMs and end users want productivity, transient response, and our C 4.4 can deliver very similar levels of response so OEM can reduce their costs without reducing the performance of the machine. Overall it's a very competitive business solution, and the same is for our C13 B platform. This is a 12.5 liter platform and we've increased power and torque about 20%, so more power density again.
All these improvements are focused on captive applications or also on free market?
We feel our engines give the right value proposition to OEMs and we can deliver the right financial solution for them. We have many OEMs on the market with very different applications such as pumps, compressors, etc.

How did you choose this kind of layout for your booth at Bauma?
I think end users, OEMs, contractors value the brand, the dealer support, the product support, and if you're looking for a premium performance and product support with low lifecycle costs the Cat dealer network really adds value to those OEMs, reducing their costs and increasing their revenues. Basically we add value to our customer's products because of our brand.
As Caterpillar which applications are you favorite target? Any synergies with Perkins?
We are operating independently, we have many different applications, they can be anything from industrial to general constructions, paving and rolling machines, pumps, rock drills, screeners, crushers, dumpers. We're always try to be one step ahead of our competitors through better products, better services, better parts availability. The presence of our dealers to many exhibitions is part of our added value for customers.
So you're still strictly operating with your dealer such as Zeppelin, CGT…
We listen very close to our customers, and one of the key thing they tell us is that product support, parts availability in any area of the world is one of our most important added values. It's not just selling products and machines but it's also lifetime support, wherever you are in the world there's a Cat dealer that can support you.
Coming to your Stage V strategy, is EGR still in place?
EGR is used on certain products, it offers certain benefits, absolutely, with a recirculation rate depending on the duty cycle, application and engine power rate. We see on certain products EGR being a benefit so you can reduce DEF consumption, for OEMs who are looking for smaller DEF tanks in compact machines, and again we want help them being more profitable so for compact machines we still use EGR because it reduces DEF consumption, reduces the size of SCR, the canisters, reduces fuel consumption as well, so we feel this is the right proposition for compact machines. 9.3B and C13B have no EGR, while on other products it offers some benefits.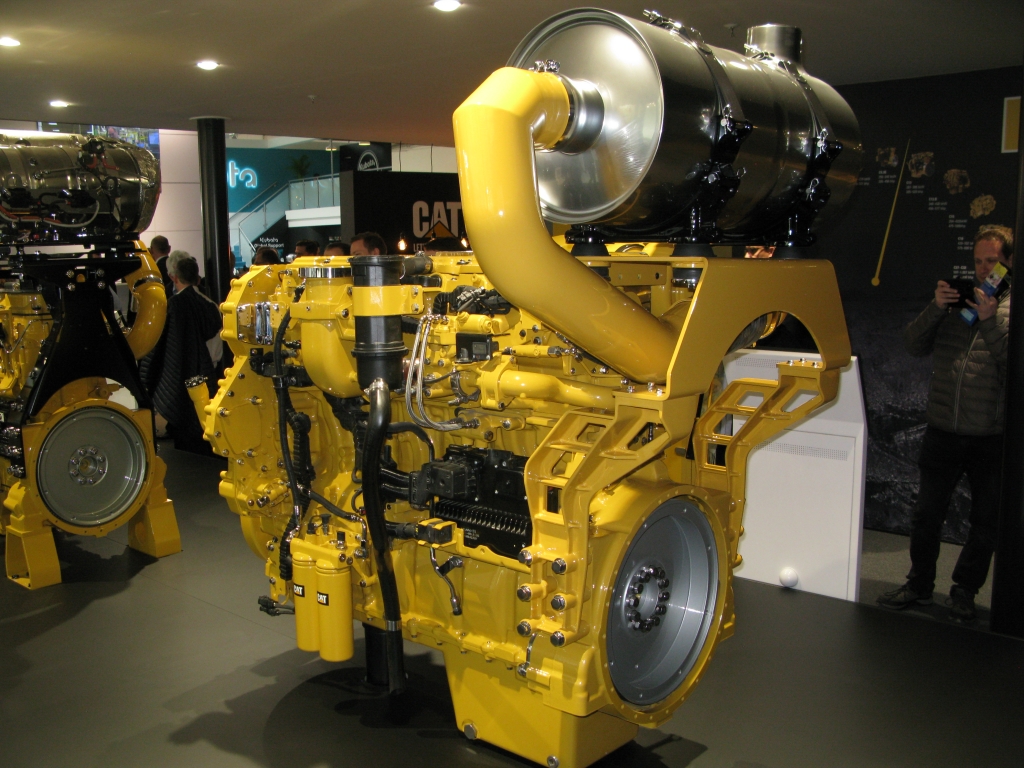 You completed your Stage V strategy adopting SCR, DPF and DOC as well?
Above 56 kW, and we have a DOC only option as well with no DPF and SCR above 560 kW.
Do you see DPF-SCR is the final solution for Stage V? And what after Stage V for diesel engines?
Market regulations are always changing so we can never be certain of what will be the future. Anything that may happen we are not 100% sure, but we are always searching, developing and testing new solutions, so in may be a matter of technology, advanced high grade materials needed for more pressure, high temperatures, smaller engines and after treatment modules, we are always searching what we could do in the marketplace also working with customers. If the market demands higher levels of performance, for example higher injection pressure above 2500 bar threshold, anything may be possible.
So the more realistic strategy to reduce after treatment is hybridization? Which are your prospects in the medium term?
I think Cat serves massive and different industries, different applications, territories, countries, altitudes, operators, so there's thousands of niche applications and operations. For each of those Caterpillar is investing in the right solution, so maybe electrification, energy recovery to have additional energy at the right time, maybe hybrid systems. We as Caterpillar are investing on different types of solutions and electrification strategies for ten years, we've got some concept machines, we have ready technologies for every niche application.
What applications are the best for electric and what for hybrid?
Indoor uses, when you don't want any emissions is a good opportunity for electrification, underground mining where you have to consider ventilation, urban city areas, where noise is a challenge and you want to operate from 5 AM in the morning, there are several applications where electrification could be used. Anyway we're very confident on our current products.
Do you plan to show any hybrid compact solution?
Yes, we do have some examples in other booths.
Talking about market, construction is rising up after the crisis, is still BRICS or just China and India today?
We've been around for about 90 years, we have a long sustainable history, we know that market dynamics across the world fluctuate, but wherever in the world we have product in all the areas, so the market may fluctuate in some parts but we still are going to support all markets. New market may be Nigeria, Indonesia, Vietnam, Mexico, but everything goes of course. Italian market is interesting for Caterpillar of course in marine, but also for its infrastructure market.
What's in the future in terms of technology for Caterpillar?
Today we have ECM modules that enable more data transmission, bigger bandwidth so more data, easier machine and fleet management for our customers. We've also invested in quality process, and we're looking forward to see our Stage V engines at work on our customer's machines.