Deutz: jump in profits in the first half of 2023 
Deutz maintained its growth trajectory in the first half of 2023: adjusted EBIT rises by almost 50 percent to €62.5 million, revenue increases by 10.0 percent.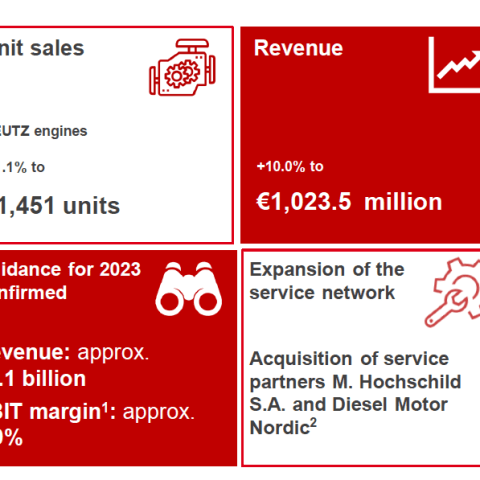 Deutz maintained its growth trajectory in the first half of 2023, with revenue rising by 10.0 percent year on year to reach €1,023.5 million. The drive manufacturer's profitability also improved significantly, as can be seen from the increase in the EBIT margin before exceptional items from 4.6 percent to 6.1 percent. In view of this positive business performance, the Company confirms that its full-year results for 2023 are likely to be at the upper end of the forecast ranges published in March.
"Our results for the first six months of this year show that we are now operating much more profitably. This is hugely important to us because it is helping us to forge ahead with our Dual+ strategy and thus achieve our overarching strategic objectives," says Deutz CEOSebastian C. Schulte. "Underpinned by the improving performance of our Classic business in combination with the ongoing expansion of our service business and the shift toward alternative drives that is now under way, we are excellently positioned to continue on our long-term growth trajectory."
Whereas Deutz registered sharp rises in revenue and earnings in the first half of 2023, new orders were down by 8.0 percent compared with the very high level recorded in the prior-year period. The latter was predominantly attributable to the Asia-Pacific region, where signs of saturation in the Chinese market and, in particular, high inventory levels at construction equipment manufacturers in China led to declining demand.
"Our performance initiatives are not only boosting our earnings but also having a positive impact on our cash flow," adds Deutz CFO Timo Krutoff, commenting on the Group's financial position. "Cash flow from operating activities more than tripled compared with the first half of 2022, and our free cash flow improved by €33 million to €8.3 million."
As well as its operational success, Deutz made further progress with implementing its Dual+ strategy, especially the global expansion of the service and parts business. Firstly, Deutz began the process of acquiring its long-standing service partner M. Hochschild S.A., based in Santiago, Chile, in the reporting period. The transaction was completed at the end of July. Secondly, the Company signed an agreement in July concerning the acquisition of another service partner, the Diesel Motor Nordic Group, which is headquartered in Järfälla, Sweden. The transaction is expected to be completed at the start of the fourth quarter. These acquisitions will expand business involving the servicing of competitors' engines. The two acquisitions should together contribute a total of around €25 million1 to annual consolidated revenue. In the Green segment, Deutz signed a letter of intent for a small-scale production run of hydrogen-powered gensets in the second quarter. Then in mid-July, Deutz Z took a big step toward volume production of hydrogen engines when it chose automotive supplier Mahle to supply hydrogen engine components. Deutz intends to start full production of hydrogen engines for stationary applications in 2024. 
DOWNLOAD THE FULL REPORT HERE 👇